Going into Q3
Glu Mobile (NASDAQ:GLUU) and investors in Glu had a rough first half of the year in 2013. Games were delayed, estimates were missed and revised downwards, and Glu made some perplexing financial decisions (which I have harshly critiqued in prior articles). The stock price has reflected this struggle by staying below $3 for most of the year. I do not think that Q3 will be an exceptional quarter, as it continues Glu's trend of few game releases from the past few quarters, but there are definitely highlights to take from the quarter that may signal better times ahead for investors.
Q3 Performance
For Q3 Glu estimates they will bring in $19.6-21M in revenue and post an adjusted EBITDA loss of $6-6.8M. This estimate is in line with the past few quarters where we have seen unfavorable game release schedule have a negative impact on both top and bottom lines.
As I have done before the last few earnings reports, I put together a chart showing the performance of Glu's titles during the quarter in the U.S. on the iPhone.
| | | | | |
| --- | --- | --- | --- | --- |
| Game | Release Date | Peak Q3 rank | Q3 Peak Date | Rank 9/30 |
| Gang Lords | 9/24/2013 | 1065 | 30-Sep | 1065 |
| Deer Hunter 2014 | 9/17/2013 | 7 | 25-Sep | 9 |
| Odyssey: AOG | 8/1/2013 | 769 | 8-Aug | 1003 |
| BG: Inferno | 7/25/2013 | 211 | 26-Jul | 528 |
| Zombies Ate My Friends | 7/18/2013 | 88 | 5-Aug | 681 |
| Tons of Guns | 7/2/2013 | 836 | 12-Jul | - |
| FC: D-Day | 3/27/2013 | 79 | 1-Jul | 172 |
(all data provided by appannie)
There is one glaring outlier in this chart, and that is the obvious success of Deer Hunter 2014. The early results of this game have been touted since release for good reason. The game set single day download and revenue records for Glu, and each day the top 10 continues to add another day of record or near-record revenue. The unfortunate aspect of this, at least for Q3, is that the game only had 13 days to generate revenue in Q3.
In order to try to grasp what the success of Deer Hunter could mean in terms of revenue for Glu I tried to find a game that has already provided data to benchmark against. The closest match I found was Zynga's (NASDAQ:ZNGA) Poker app in Q4 of 2012.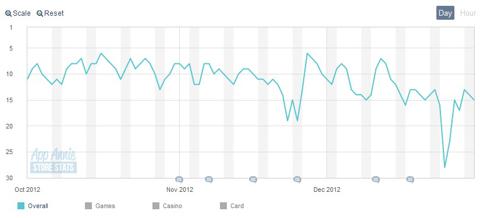 As you can see in the chart above, Zynga's Poker hovered around the top 10 before tailing off later in the quarter. This seems like a best-case scenario for Deer Hunter because Glu's games tend to peak within a couple weeks of release and then taper off. So, what could a best-case quarter from Deer Hunter look like for Glu? Let's take a look at what Poker did for Zynga in Q4, 2012: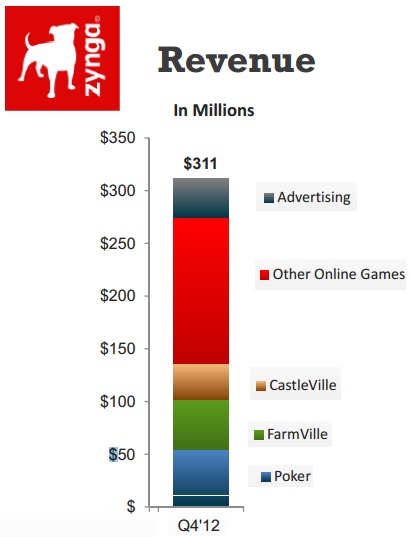 That chart, taken from Zynga's Q4 2012 earnings presentation, shows over $50M in revenue coming from Poker alone. The problem with comparing the this number to DH 14 is that at this point only 21% of Zynga's revenue came from mobile, and therefore the revenue from Poker coming from mobile is likely much less than $50M. On the flip side, Zynga had many games such as "Farmville" and "Cityville" which were played almost exclusively through Facebook (NASDAQ:FB) (not mobile). This would indicate that the % of revenue Poker drew from mobile was significantly higher than 21%. Even using a conservative estimate of 33% of Poker revenue coming from mobile, we can see that about $17M came from Poker's performance on mobile platforms. I would guess that the true % coming from mobile was even higher, but that information is not available.
In order to see how this will affect Glu in Q3 we would have to adjust that number for the number of days the game was available. Zynga's Poker was available 92 days Q4 2012 while Deer Hunter 14 was only available for 13 days in Q3. Taking the $17M figure I arrived at above, and considering the fact that DH 14 was only available a little over 14% of the time Poker was, I think that Deer Hunter 2014 will add at least $2.4 Million to Glu's Q3 results. This will provide a much needed boost to an otherwise uneventful quarter.
It is obvious when turning our attention to the other games that will contribute to the quarter's results that the other games were average at best. The most meaningful second contributor to revenue will be Frontline Commando: D-Day, a game released in late Q1. The Q3 releases besides Deer Hunter ranged from bad to mediocre. These games and previous releases with longer earning tails (Eternity Warriors 2, Contract Killer 2, etc) will likely scrape together enough revenue to meet Q3 estimates but I do not see much upside beyond that for Q3 results.
Looking Forward: Q4
The real success of Deer Hunter 2014 will rely on whether it can sustain a position in the top 50 throughout Q4. The benchmark of Zynga's Poker provides an excellent reference point when looking at the potential of DH 14, and I think a $20M quarter from this single game is possible if it can maintain its top 10 rank on the mobile charts.
Deer Hunter is not the only reason investors should be watching Q4 carefully. There are several other releases which should bring in large amounts of revenue on their own. Eternity Warriors 3, Frontline Commando 2, and Motocross Madness are all slated for release in Q4. Eternity Warriors and Frontline Commando will be extensions of franchises that have already experienced success. Updates to the predecessors in the series, Eternity Warriors 2 and Frontline Commando: D-Day, have already shown improvements in monetization over the original versions. These improvements will already be present in the upcoming titles and should serve to help them generate higher revenues immediately upon their release.
Using the information Glu has given it is possible to produce an exact revenue estimate for Q4. For the first half of the year Glu amassed $47.9M in revenue and forecasted for $19.6-21M in Q3. This means they expect to have YTD revenues of $67.5-68.9M going into Q4. Using the full year guidance they reiterated on the Q2 call of $96.8-98.9M we can deduce that Glu expects revenue in the range of $27.9-31.4M for Q4. This would be a notable improvement over any other quarter in 2013, but if Deer Hunter can sustain any level of success (it remains in the top 10 as of this writing) then the other big-name releases should propel Glu's revenue to well beyond what is estimated.
All of this is assuming that Glu management has straightened themselves out and can successfully execute on the upcoming releases. Investors like me have been burned too many times over the past year to get our hopes too high, but the incredible potential in Q4 is hard to ignore. To put it frankly, if Glu doesn't screw this up they should have a blowout 4th quarter by all measures.
Summary
In an otherwise bleak quarter the success Deer Hunter 2014 gives investors a whole lot to hope for and sets the bar very high for Glu going forward. If DH 14 turns out to be Glu's only hit game we could easily find ourselves back where we started, with a company burning cash every quarter. If Glu can build on this success and produce more games of a similar quality it could be the catalyst that provides explosive growth to Glu's revenue, profit, and consequently share price.
We will have a lot more information about the future after the 3rd quarter conference call in late October, at which point there will also be more information on the longevity of Deer Hunter's success. In all it's been a terrible year for Glu and this could be the turning point that Glu has needed to pull itself from its struggle. Like I said before, if management is able to execute on their strategy going forward shareholders should be reaping the benefits as soon as Q4.
Disclosure: I am long GLUU, ZNGA. I wrote this article myself, and it expresses my own opinions. I am not receiving compensation for it (other than from Seeking Alpha). I have no business relationship with any company whose stock is mentioned in this article.