Altria Group (NYSE:MO) and its successor companies continue to generate massive levels of free cash flows that can be distributed to shareholders. Altria Group is a great investment for investors seeking dividend income and I believe it is trading at a 10% discount to its fair intrinsic value. Due to the cornucopian economic model of the tobacco industry, Altria Group offers an above average dividend yield of 5.5% (as of October 7, 2013) and is a dividend growth champion (Altria has increased its dividend per share (adjusted for the Philip Morris International (NYSE:PM) and Kraft/Mondelēz (NASDAQ:MDLZ) spin-offs) 46 times in the last 44 years). Saibus Research even wrote about how Altria's per share dividend increases are like clockwork around the August/September period, kind of like the Back-to-School season. Looking back on that, I wish my teachers in the Newton Public Schools had taught me about the bountiful economic model that tobacco makers enjoy, rather than demonizing them for providing a legal product that consumers wanted.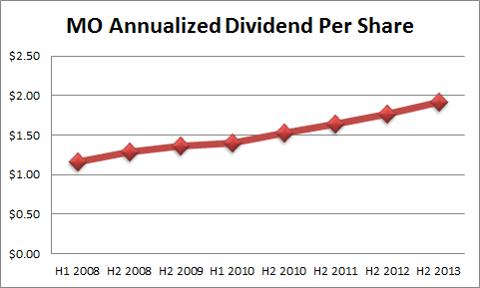 Source: Altria's Dividend Schedule and History
Altria Group keeps on producing consistent performance for its shareholders, which probably explains why it can comfortably pay out about 80% of its adjusted EPS as a dividend and buy back shares on the open market. Altria's smokeable tobacco product segments (Philip Morris USA and John Middleton cigars collectively) maintained a stable shipment volume versus the prior year's quarter. Altria's most recognizable and profitable product is the Marlboro cigarette. Marlboro cigarette volume decreased by 6.7% versus the prior year's period, Philip Morris USA's other premium brand volumes declined by 10.9% and Philip Morris USA's portfolio of discount level cigarettes saw 3.9% volume growth. Marlboro's volume decline was in line with that of the US tobacco market and it maintained its 43.7% market share. Philip Morris USA's cigarette products picked up 30 basis points in market share, largely due to growth amongst its discount brands. Altria's smokeable product generated a 3.8% net revenue decline but reduced operating costs helped it post 1.5% adjusted operating income growth in Q2 2013 vs. Q2 2012.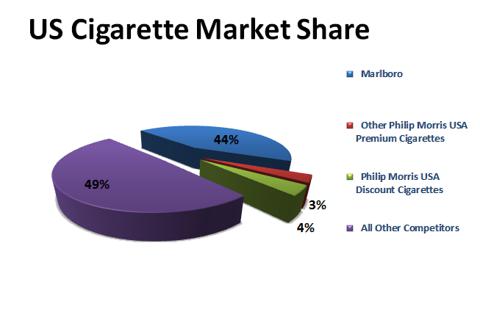 Source: Altria Q2 2013 Earnings Release
Altria's smokeless tobacco segment (U.S. Smokeless Tobacco) continues to enjoy stronger revenue and profit growth in comparison to the smokeable tobacco product segment. Total smokeless tobacco volume grew by 4.6% during the quarter on the strength of products introduced by the company recently under the Copenhagen brand in recent years. Copenhagen's volume grew by 8.8% versus the prior year's period and Skoal saw its volume grow by 1.8%. This volume growth was able to offset volume declines in other areas of UST's product portfolio. Revenues grew by 7.5% and the division enjoyed positive operating leverage enabling its operating income to grow by 12.5% in the period. U.S. Smokeless Tobacco maintained its 55% market share as a 160bp increase in Copenhagen's market share offset market share decline by Skoal and other smokeless tobacco products in U.S. Smokeless Tobacco's product portfolio.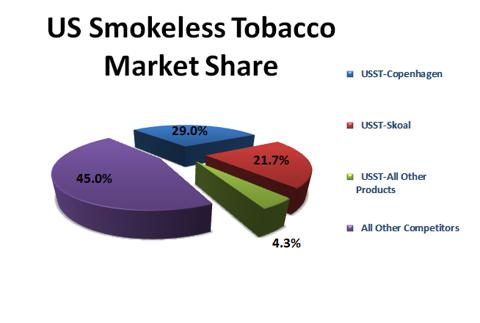 Source: Altria Q2 2013 Earnings Release
Altria's fastest growing segment is its smallest segment (Ste. Michelle premium wines). The wine segment enjoyed a 7.7% increase in cases shipped though incrementally weaker pricing resulted in this segment generating a 7% increase in revenue in Q2 2013 versus Q2 2012. This segment enjoyed positive operating leverage during the quarter to generate an 8.3% increase in operating income during the quarter and 8.6% year-to-date. Although Columbia Crest shipment volumes only grew by 20bp year-over-year in Q2 2013, it grew by 6% year-to-date. 14 Hands grew its shipment volume by 50% due to increased distribution. Chateau Ste. Michelle has enjoyed 4.1% volume growth in the quarter and 2.4% volume growth year-to-date while the division's other wines endured narrow volume declines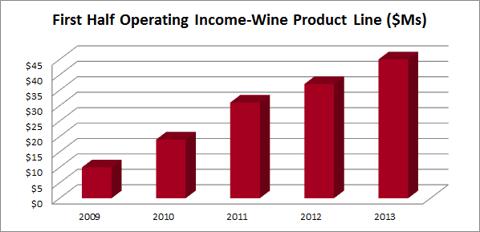 Source: Philip Morris Q2 Earnings Reports: 2009-2013
Altria established Nu Mark LLC (NuMark) focused on developing and marketing innovative tobacco consumers such as electronic cigarettes. As 92% of adult cigarette smokers are aware of e-cigarettes and Altria's competitor Lorillard (LO) acquired e-cigarette maker Blu Ecigs for $135M last year. Lorillard also recently acquired British e-cigarette maker SKYCIG for $49M up front plus $49M in additional contingency payments meets certain financial performance benchmarks. NuMark launched its MarkTen E-Cigarette in August and it chose Indiana as a test market. Unlike many other e-cigarettes, MarkTen e-cigarettes can be used either as a disposable or rechargeable device. Adult vaporers who are looking for a disposable can purchase a single unit that is ready for use right out of the box. To use the product as a rechargeable, adult vaporers may purchase replacement cartridges and an accessory kit that includes charging devices. As of the third week of August, retail stores selling approximately 85% of cigarette volume in Indiana have signed up to sell MarkTen e-cigarettes.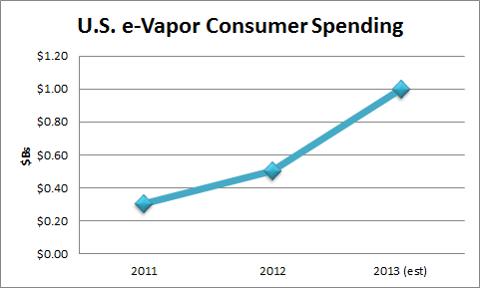 Source: Altria Group 2013 Barclays Back to School Conference Presentation
Altria recently increased its dividend by 9.1% and now sports a 5.5% dividend yield. In Q2 2013, Altria repurchased 3.7M shares of its common stock at an average price of $36.27 for a total cost of approximately $135M, as part of its previously announced $300M share repurchase program. As of the end of the second quarter of 2013, Altria had approximately $165M remaining in this program, which it intends to complete by the end of the year. In May 2013, Altria issued $1 billion of new senior unsecured notes, comprised of $350 million of 2.95% notes that mature in 2023 and $650 million of 4.5% notes that mature in 2043.
In conclusion, Altria Group continues to generate solid financial performance. Altria has shown itself to be a solid high-dividend yielding company and a dividend growth champion in terms of quantity (44 years of consecutive dividend increases) and quality (8.8% CAGR since 2008). Investors should like that the tobacco industry is such a cash generator and does not require much in the way of capital expenditures. This allows Altria Group to service its debt, pay dividends, buy back shares and reinvest in the business. Altria's Chairman and CEO Michael Szymanczyk retired from the company after 23 years last year, including 12 as President and CEO of Philip Morris USA and I do not believe that the company will skip a beat with its new Chairman and CEO Martin Barrington. I would like to remind Mr. Barrington that he should not look back because Lorillard's e-cigarette business could be gaining on Altria though.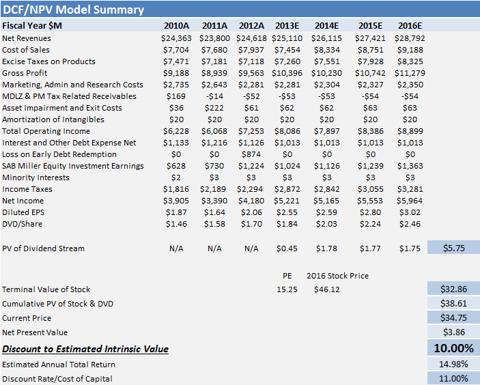 Source: Morningstar Direct and My Estimates
Disclosure: I am long MO. I wrote this article myself, and it expresses my own opinions. I am not receiving compensation for it (other than from Seeking Alpha). I have no business relationship with any company whose stock is mentioned in this article.