Share prices of most companies in the semiconductor industry have seen significant gains since the March lows, with some shares climbing 100, 200, and even 300 percent. Many of these companies have also experienced significant revenue growth, primarily driven by increased sales with the easing of the recession. In the absence of any major tech boom, revenue growth will undoubtedly slow and the share prices in the industry will likely falter. However, some semiconductor companies will continue to see increasing revenue flows, especially those with innovative product offerings and those experiencing increasing demand for their products.
In particular we believe that Skyworks Solutions Inc. (NASDAQ:SWKS) should benefit from the combination of an innovative product line and demographics that favor increasing demand for their wireless line of products. The company makes integrated circuits and semiconductors that are used in wireless telephone handsets and infrastructure, as well as in numerous other products with wireless functionality. Skyworks, which was formed in 2002 with the merger of Alpha Industries and the wireless communications division of Conexant Systems Inc. (NYSEARCA:CNXT), built its reputation as a military contractor, and still serves as sole-source provider of radio frequency components for the U.S. military's Aegis radar system.
The company's success lies in part to the fact that it makes its circuits out of gallium arsenide, a material that performs at higher speeds and with less energy consumption than the industry-standard silicone. And makers of wireless devices are always looking for higher speeds, while those making portable devices are also seeking lower energy consumption so as to conserve battery life. Key customers for Skyworks include Nokia Corp. (NYSE:NOK), Motorola Inc. (MOT), Sony Ericsson (NYSE:SNE), LG Electronics Inc. (OTC:LGERF), Research in Motion Ltd. (RIMM), Dell Inc. (NASDAQ:DELL), Hewlett-Packard Co. (NYSE:HPQ), Apple (NASDAQ:AAPL), and Samsung. The company also has strategic, partnerships with Qualcomm Inc. (NASDAQ:QCOM), Broadcom Corp. (BRCM), Texas Instruments Inc. (NYSE:TXN), Infineon, Marvell Technology Group (NASDAQ:MRVL), MediaTek and ST Ericsson.
Skyworks Solutions describes itself as "an innovator of high reliability analog and mixed signal semiconductors," offering "diverse standard and custom linear products supporting" a wide range of applications, most of which are focused on the wireless field. In fact, the company currently supplies semiconductors to all top-tier mobile phone handset original equipment manufacturers, and claims that it is gaining market share with all market leading smartphone providers. Skyworks is seeing increasing market share with semiconductors supporting "push-to-talk" functionality, and with other wireless applications such as netbooks and pocket computing devices. The company also states that it is "PA/FEM shipments" are "significantly outperforming handset market growth," and that it achieved 34 percent compound annual growth rate between 2003 and 2008, and currently holds more than 40 percent of the worldwide market share.
Along with gaining market share, Skyworks is benefitting from the rapid evolution of wireless applications, or, more specifically, as 2G technologies are replaced by 3G and Edge technologies. While the company considered 2G's market growth low, with many competitors, few opportunities to be a "sole source" provider, and a relatively low "dollar content," Edge and 3G provides a high market growth, with few competitors, emphasis on "sole source" providing, and a dollar content two to six times greater than that of 2G, depending on the product.
And unlike other high tech sectors such as desktop computers, wireless applications–especially cell phones–are still very much a boom market. Demographically speaking, cell phones have proven to be the best-selling consumer product in the world, with the product becoming so ubiquitous that they have effectively started to reach the bottom of the economic pyramid. In just 12 years cell phone sales have grown 10-fold, from almost 108 million sold in 1997 to an estimated 1 billion-plus expected to be sold by the end of this year.
The International Telecommunication Union estimated that mobile cellular subscriptions topped 4 billion by the end of 2008. And even though the market for cell phone sales is considered to be saturated in the U.S. and Europe, there is plenty of room for increasing sales in the developing world. Moreover, even though the developed world market may be saturated, it is estimated that the average American purchases a new cell phone every 12 to 18 months. And with cell phones evolving into "smart phones" with a wide variety of applications far beyond "speak and hear," sales should continue to climb for years to come.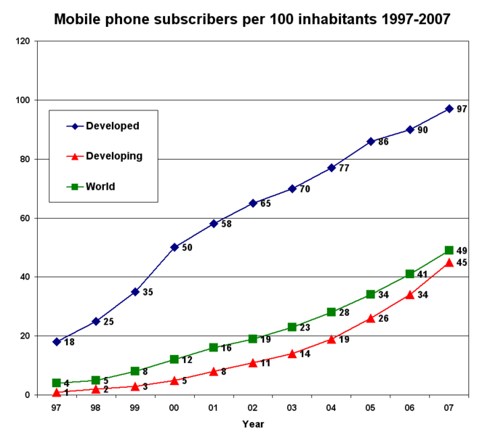 Source International Telecommunications Union

With cell phones and other wireless applications maintaining robust growth, Skyworks is clearly in a strong position to continue growing its revenue stream.
On a trailing 12-month price to earnings ratio of 22, the company's share price, at about $12, seems fair, especially when compared to many other companies in the industry that are trading with much higher P/Es. The shares would seem expensive based on their trailing 12-month P/S of 2.55, but this is justified by the company's high gross margins.
Looking forward, the consensus estimates for the company's earnings give it a P/E of 13.1 as of the company's fiscal year end Sept. 2010, dropping to 11.3 in Sept. 2011. While the consensus earnings per share for fiscal 2011 is $1.05, the high end of the range is $1.28. A P/E of 20 on that high estimate would give the shares a price of $26.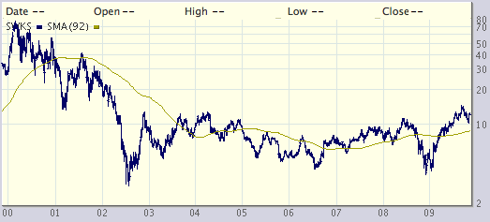 Source: Bigcharts.com

The company reported fourth quarter 2009 earnings on Nov. 5, that beat analyst estimates by .10 per share, and marked a 19 percent increase in revenues over the prior quarter. The company also guided first quarter 2010 revenues and earnings above analysts expectations, and predicted sales would rise 13 to 15 percent year over year. Skyworks CEO David J. Aldrich said the company will continue to benefit from "powerful, multi-year waves" of growth in broadband access, infrastructure capacity and smart grids.
If the company can continue to surprise to the upside–which we believe, for all the reasons highlighted above, it will–then it should generate enough revenue growth to meet the higher estimates, and with an improving earnings outlook, should easily break into new highs not seen since 2002.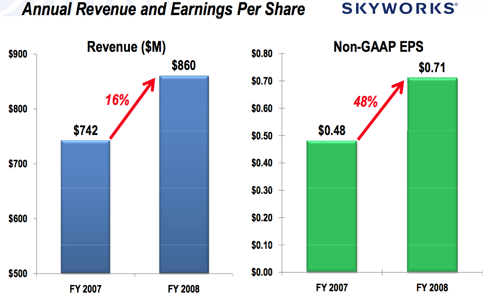 Source: Skyworks Solutions Inc.

Disclosure: Long Skyworks Solutions