Shares of Potash Corporation of Saskatchewan (NYSE:POT) are down more than 15% on fears of a breakup in the oligopoly pricing discipline for potash. The long-term demand from more than seven billion hungry mouths along with significant barriers to entry will support the industry as a whole. Potash Corporation is positioned to outperform the industry on its scale advantage and is significantly undervalued.
Best of Breed in a Long-term Industry
Potash Corporation is the world's largest fertilizer producer by capacity. It is the largest producer in potash and the third largest in nitrogen and phosphate. Without going into a lengthy chemistry lesson, those three numbers you see on all fertilizer products (i.e. 20-10-5) represent the percentage of the three key ingredients; nitrogen, phosphate and potash.
If we want to continue to feed the world's 7 billion plus population, we will always need more fertilizer and more of its three core ingredients.
In fact, we are probably going to be needing a lot more fertilizer over the next several decades. On the current pace of population growth, studies show that we need to double global crop production by 2050 to meet food needs. This would require an annual increase in crop yields of 2.4%, well above the average annual increase of 1.2% across the staple crops - corn, rice, wheat and soybeans. Some research even points to a decline in yields due to extreme weather patterns.
On top of rising long-term demand, Potash Corporation has been able to realize faster growth on its size and operational efficiency. The company supplies approximately 20% of global potash capacity, 5% of global phosphate capacity and 2% of global nitrogen capacity.
Shown in the graphic below, the company has historically been able to realize higher compound rates of growth in volume than achieved across the industry. Management has controlled costs extremely well with a 40% operating margin, better than 99% of peers in the industry, and the company's return on equity of 24% is better than 85% of the companies in the chemicals manufacturing industry.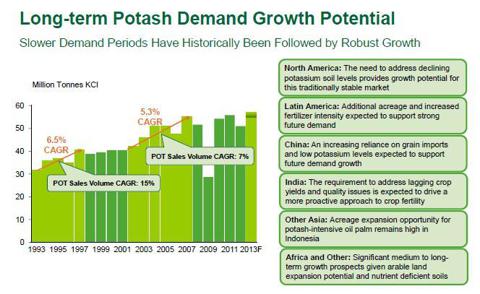 The dividend payout has been increased by 950% since January 2011 and a 19% compound growth rate over the last 20 years. On top of the 4.3% cash yield, the company announced a $2 billion share repurchase authorization in July of this year, representing 5% of outstanding shares through July 2014.
Lower potash prices justify some weakness but long-term thesis still intact
The share price plummeted more than 23% in late July when Russia's Uralkali quit a cartel agreement with the Belaruskali Potash Company. Prices for potash had previously been kept high by lower production, much in the same way that OPEC attempts to control oil prices, but have come down sharply as companies threaten to produce at full capacity.
Shares of potash producers have rebounded lately on news that Russian authorities are putting the pressure on Uralkali to come back to the negotiating table. I am less positive that the rift between Uralkali and Belarusian Potash Company will be mended anytime soon and weakness in potash prices will probably persist well into 2014. Prices in China could fall as low as $300 per metric ton while prices in Brazil should be a little stronger but as low as $350 per metric ton. This would be a significant drop from $400 and $440 per metric ton prices in the second quarter 2013, but I think it has already largely been baked into the shares.
Seeking Alpha contributor Brett Jensen presents a strong case for a resolution between Uralkali and BPC in a recent article. He also names Potash Corporation as his favorite play in the sector and argues that the sustainable dividend puts a floor on the stock price.
The long-term demand for potash, as well as for shares of Potash Corporation, remains strong on yield demand and industry characteristics.
Extremely high costs make new entrants in the industry unlikely. Greenfield projects for potash take a minimum of 7 years and can cost between $4.7 and $6.3 billion while nitrogen or phosphate greenfield projects take between 3 and 4 years and cost between $1.8 billion and $2.3 billion to start.
Over last year, the International Fertilizer Industry Association (IFA) has reported that the timeline for most potash projects has slipped by six to 18 months and several greenfield projects have been canceled. The delays and cancellations have removed approximately 8 million tons of potash capacity from the organization's outlook for 2016.
As we have already seen, the lower prices will result in cancelled projects and it's doubtful that many of the smaller producers can achieve their capacity targets. Over the longer-term, this should provide a great tailwind to Potash in an industry that is already experiencing strong demand growth.
Within the company's own expansion program, 88% of an $8.05 billion potash expansion program has been completed with about $0.97 billion remaining. In light of weaker near-term prices, it is doubtful the company will announce any more large-scale expansions and free cash flow could jump once the project is complete. Capital spending of almost $2 billion in 2012 is forecast to just under $1 billion by 2015. Post-expansion, management expects to begin a cost reduction program through lower per-ton fixed costs and production optimization that could bring costs down by up to 25%.
Shares trade for 12.7 times trailing earnings, a slight premium to the industry average of 12.4 times but well off of the company's five-year average multiple of 18.8 times earnings. In the near-term, expectations are fairly low with revenue projected to decline 2.2% this year to $7.27 billion and drop to $7.22 billion in 2014. Expectations are for a 4.6% decline earnings to $2.30 per share in 2014 which would mean a net margin of 28%, under the company's five-year average 31% margin. With a significant cost cutting program on the way and a share buyback, there is a strong chance for an upside surprise in the shares.
My estimate for the share's fair value is based on 10% dividend growth over the next four years, followed by 7% growth through the next six years and a 3% terminal growth rate. This is extremely conservative given the company's history and future demand for fertilizers but still produces a $39.02 present value on the shares.

Adding to my Long-term Growth and Dividends Portfolio
I am taking advantage of the recent weakness to add shares of Potash Corporation to my Long-term Growth and Dividends Portfolio. The company's position as the market leader should stabilize returns near-term and supply disruptions could provide a significant long-term upside.
The addition follows Peabody Energy (BTU) on strong long-term coal demand and Annaly Capital Management (NYSE:NLY) on a strong business model and coming diversification into commercial loans. I will probably add a position each week for a total of ten holdings and then update monthly.

Ever since Thomas Malthus made his 1798 forecast that the world would run out of food, we have nervously watched the population grow and demand more calories. While his prediction never came true, demand for food will increase quickly on 9 billion hungry mouths by 2040. With a finite amount of plantable acreage, this is going to require higher yields and more fertilizer. Potash Corporation is a best of breed company in an industry with significant barriers to entry and strong long-term demand. Take advantage of recent fear in the market to add this to your long-term portfolio.
As always, I look forward to your comments and suggestions for the portfolio.
Disclosure: I am long NLY, POT, BTU. I wrote this article myself, and it expresses my own opinions. I am not receiving compensation for it (other than from Seeking Alpha). I have no business relationship with any company whose stock is mentioned in this article.