Annaly Capital Management Inc. (NYSE:NLY) is one of the largest, if not the largest, mortgage REITs in the U.S. It tends to be slower moving than many of the others. However, it also weathers the economic storms better than many of the others. NLY has gained over 500% since 1997. Over the same period the S&P500 has gained roughly 100%. NLY has performed approximately five times better than the S&P500 when you include both dividends and stock price appreciation. Plus it is more diversified that many other REITs. This can confer more safety, just as diversification is thought to confer safety on a stock portfolio.
NLY recently completed the acquisition of CreXus Investment Corp. (NYSE:CXS). This is now operated under the name Annaly Commercial Real Estate Group. The name itself should tell investors that CreXus was a diversification from NLY's core business of Agency RMBS investments. Other subsidiaries of NLY are Merganser Capital Management Inc. -- an SEC registered investment advisor, FIDAC -- another registered investment advisor, which externally manages Chimera Investment Corp. (NYSE:CIM), Charlesfort Capital Management Inc. -- a middle market lender, RCAP Securities Inc. -- a FINRA broker/dealer, and Shannon Funding LLC -- a warehouse lender.
The above is important for the current situation. NLY saw huge interest rate and mortgage rate rises in the latter half of Q2 2013 of roughly 100 bps. This led to large book value losses by NLY (-14.2%), and other mortgage REITs such as American Capital Agency Corp. (NASDAQ:AGNC) (-11.8%), Armour Residential REIT (NYSE:ARR) (-18.8%), and Hatteras Financial corp. (NYSE:HTS) (-21.3%). NLY with its diversified structure weathered the rate rise storm comparatively well.
When rates continued to rise in the first two months of Q3 2013, many worried that the mortgage REIT sector (and NLY) would continue to lose book value. However, both MBS prices and 10 year U.S. Treasury yields retraced considerably in September. The chart below shows the performance of the 30 year FNMA 3.5% MBS. This is reasonably representative of the performance of NLY's Agency MBS.
As investors can see, the value of this MBS had dropped significantly by early September 2013. However, it recovered from there to finish Q3 approximately 1% higher in value than it began the quarter. Considering NLY's leverage at the end of Q2 2013 of 6.2x, this approximate 1% appreciation in MBS book value translates into an approximate 6% rise in the Agency MBS portion of NLY's portfolio. Since this is still the bulk of NLY's holdings, this means NLY should gain appreciable book value on its MBS's. The table of NLY's Agency holdings is below.
The portfolio value is substantially below the book value of December 31, 2012. Part of this is due to book value losses in both Q1 and Q2 of 2013. Part of it is due to NLY's management strategically lowering the leverage of the Agency holdings. This lower leverage may hurt the dividends a bit; but it will help to ensure that NLY does not have huge losses in book value if interest rates and mortgage rates keep rising. Since the value of Agency MBS rose about 1% in Q3 2013, this will not be an issue for Q3 2013. However, it is possibly relevant for future quarters.
NLY is also hedged against interest rate rises. The chart below of the 10-year U.S. Treasury Note yield shows that that instrument saw an increase in yield from 2.49% on June 28, 2013 (the last trading day of Q2 2013) to 2.61% on September 30, 2013.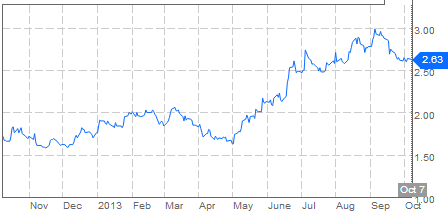 For Q3 2013 there was a rise of 12 bps. This means that NLY probably gained book value in Q3 2013 on its interest rate hedges even though its Agency MBS also gained in value in Q3 2013. A ballpark guesstimate for the combined book value gains might be about +5%.
NLY is also in the CMBS business with the acquisition of CreXus. I will not try to estimate the gains or losses in this area at this time. However, in general CMBS values should go up as the U.S. economy and the U.S. housing markets continue to improve. The table below shows NLY's commercial real estate holdings relative to its Agency MBS holdings as of June 30, 2013. Keep in mind that the commercial real estate holdings are leveraged very little. The Agency RMBS holdings are leveraged 6.2x as of June 30, 2013.
NLY management plans to expand this area of the business to roughly 25% of its equity investment. It has a long way to go; but this may be a good thing. The Fed recently downgraded U.S. GDP growth forecast for Q4 2013 from 2.3% to 2.6% to 2.3% to 2.0%. It downgraded its forecast for 2014 too. The World Bank downgraded its GDP growth estimates for China to 7.5% from 8.3%. It now expects GDP growth of 7.1% in East Asia for 2013. This is down from the previous estimate of 7.8%. The World Bank also voiced worries about China's shadow banking system. Further Greece needs another bailout. The other PIIGS are still viewed as high risk areas; and countries such as Slovenia, Slovakia, Malta, and Luxembourg are viewed as probably needing bailouts soon. This is without even mentioning the U.S. Congress showdown with Obama over the budget and the debt ceiling. These present a small possibility of a U.S. default. Together all of the above could add up to considerable problems for the stock market and for the economies involved.
The above may mean the U.S. (and others) will see lower than expected or even negative GDP growth in 2014. If this happens, interest rates will likely continue to be low; and the Fed might even come up with new programs to push interest rates and mortgage rates down from their current levels. Alternatively, a U.S. default could lead to an explosion in U.S. interest rates. This would be catastrophic for the U.S. and other economies. That is why I do not expect it to happen. The bond markets apparently does not expect it either, as the U.S. Treasury long bond yields have moved up very little due to this risk. Instead I expect that interest rates are likely to be up slightly to possibly down a little bit over the next year. There will likely be more upward risk as 2014 nears its close. This should be an excellent environment for a primarily Agency RMBS investment company such as NLY. It should also provide NLY with an opportunity to establish a bigger position in the CMBS market at huge discounts to face value. When the U.S. and the world eventually do recover, these currently heavily discounted CMBS should then be a source of huge book value gains. This makes NLY an excellent buy at this time. This is especially true when most other investors have not realized that Q3 did not bring more book value losses for NLY. When they do, more will want to buy NLY. It is already seeing a small amount of insider buying.
The two year chart of NLY provides some technical trading guidance.
The slow stochastic sub chart indicates that NLY is near oversold levels. The main charts shows it has been in a downtrend recently; but it has apparently bottomed. The fundamentals mentioned farther above tend to substantiate a bottoming action on the chart. Further the book value was $13.03 as of June 30, 2013. The stock price ($11.49 at the close on October 7, 2013) would have to appreciate 13.4% just to reach that level. If my ballpark estimate far above of an approximate 5% gain on book value in Q3 2013 is roughly correct, the stock price would have to appreciate roughly 19% to reach its end of Q3 2013 book value. On top of this NLY's quarterly dividend of $0.35 per share will pay investors another 12.18% per year in dividends; and with the probable increase in the net interest spread during Q3, that dividend rate should be relatively safe. NLY is a buy. However, the overall market has been trending downward lately; and this could continue. Even with a Beta of 0.18, NLY could get dragged down by a falling market. However, it does have a Beta of 0.18. It is set up to rebound both technically and in book value. With its large discount to its book value, it is still a buy, although cautious investors may wish to average in. Still more cautious investors may wish to wait until after the U.S. debt ceiling issue is resolved.
NOTE: Some of the above fundamental financial data is from Yahoo Finance.
Good Luck Trading.
Disclosure: I have no positions in any stocks mentioned, but may initiate a long position in NLY over the next 72 hours. I wrote this article myself, and it expresses my own opinions. I am not receiving compensation for it (other than from Seeking Alpha). I have no business relationship with any company whose stock is mentioned in this article.