Barrick Gold (NYSE:ABX) which is the largest producer of gold we believe still has much further downside and we believe it is hard to justify buying it moving forward.
We vehemently disagree with the article recently published claiming that Barrick has '68% upside.' We are not quite sure how gold will increase as it has in the past - while gold prices are more likely to decrease. We estimate Barrick has at least 30-35% more downside from current levels for a number of reasons.
Bank of America (NYSE:BAC) cut its forecast for the 2014 gold price to $1,294:
"Gold prices have stabilized and they could remain supported as the U.S. reaches the debt ceiling. However, we believe the focus of investors remains firmly on a gradual normalization of U.S. monetary policy. Hence, our base case anticipates sustained headwinds to gold prices," says Daniel Lian and other analysts in a note.

"Given the unfolding rebound of global economic growth, we believe the more cyclical precious metals, including silver, are likely to outperform gold."
Goldman Sachs (NYSE:GS) sees at least a 20% drop in gold prices in 2014. We believe there are a lot more drops in store for Barrick Gold for the rest of 2013 and into 2014:
"given the recent string of slightly disappointing US economic data, we remain neutral relative to gold prices until the end of this year. In particular, our US economists' expectations for a "dovish" taper and gold's recent decline will likely limit the downside to gold prices heading into the September FOMC. Importantly, we continue to expect that gold prices will resume their decline heading into 2014 when we expect economic data to solidly confirm a reacceleration in US growth and warrant a less accommodative monetary policy stance. Our end of 2014 price forecast therefore is unchanged at $1,050/toz, implying 20% downside potential from current prices…"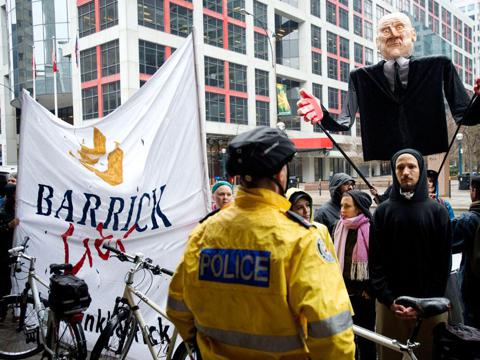 Click to enlarge
Barrick is dealing with lackluster gold prices, excessive compensation for its underperforming executives as well as having to sell assets to raise capital at firesale prices. These problems in turn will further depress the share price over the near term.
The chairman of Barrick was recently paid almost $12 million to join the company. Does not sound like it is tied to genuine value creation:
"Barrick Gold Corp. investors including Canada's six biggest pension fund managers criticized as excessive a $11.9 million signing bonus paid to John Thornton, co-chairman of the world's biggest gold producer.

The eight investors, who collectively manage $916 billion, will vote against Toronto-based Barrick's resolution on executive compensation and the election of the members of its compensation committee at the company's April 24 annual general meeting, they said in a statement today."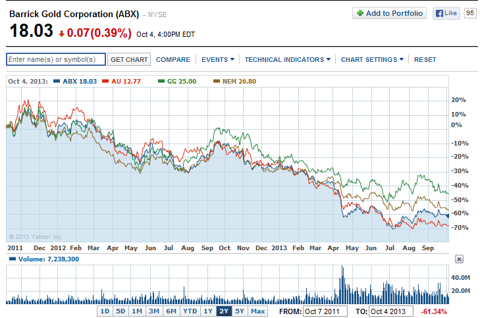 Barrick Gold is the miner with the most debts of over $14 billion in debts:
"Investors who choose Barrick as a means of playing a gold rebound, however, could be in for a long, painful slog if the metal's price languishes.

"In the current environment, they've really taken it on the chin," says analyst Adam Graf of Cowen and Co. "You have to ask yourself if the stock price has fallen off enough to make it attractive and how vulnerable the stock is if gold were to move lower. I don't think Barrick has [declined] enough to say the strong leverage it has to the upside more than offsets the risk to the downside."
In Barrick Gold's recent results, they took a huge $8.7 billion of write-downs in the second quarter, and cut its dividend to improve its liquidity.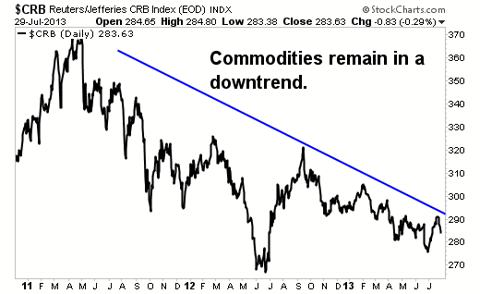 Click to enlarge
In conclusion, we believe a highly leveraged large gold miner such as Barrick Gold is a very poor choice for a play on declining gold prices throughout 2014. We would suggest avoiding this company until gold prices are in a better position and they have sold off lots more assets to have less debt and have better management.

Click to enlarge

Click to enlarge
Disclosure: I have no positions in any stocks mentioned, but may initiate a short position in ABX over the next 72 hours. I wrote this article myself, and it expresses my own opinions. I am not receiving compensation for it (other than from Seeking Alpha). I have no business relationship with any company whose stock is mentioned in this article.