There will be very little economic data out this week with the government shutdown and it now appears that the monthly data could be compromised and delayed with many government employees not manning their posts. It seems to us that we have hit a bottom in public perception as it relates to this shutdown, and after the war of words that culminated yesterday, we think that both sides will have to finally sit down and negotiate as more and more of the country focuses upon this issue.
Chart of the Day:
The US Dollar Index finally broke below 80 yesterday as it fell into the close and actually closed sub-80. The longer this government shutdown runs, the lower it shall fall, and the fall will only hasten if a compromise on the debt ceiling is not reached before technical defaults are triggered.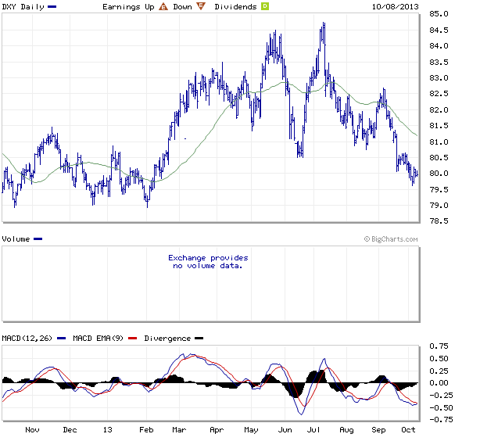 Click to enlarge
Source: Big Charts
We have no economic news today due to the government shutdown.
Asian markets finished mostly higher today:
All Ordinaries -- down 0.24%
Shanghai Composite -- up 1.08%
Nikkei 225 -- up 0.30%
NZSE 50 -- down 0.37%
Seoul Composite -- up 0.42%
In Europe, markets are lower this morning:
CAC 40 -- down 0.33%
DAX -- down 0.10%
FTSE 100 -- down 0.72%
OSE -- down 0.78%
Coverage Initiation Bullish for CVS...
Jefferies came out and initiated coverage on CVS Caremark (NYSE:CVS) shares with a 'Buy' rating and placed a $71/share price target on the stock. That is a pretty significant call as the shares currently trade around $56/share and we have seen all of the drugstore companies rally significantly over the past few months. CVS is a good name in the sector, but as we have informed readers in other articles, it is our opinion that there are better ways to play the space than just simply buying CVS. The Jefferies initiation is quite bullish, however, and does give the market an indication that analysts still view the name as having value at these levels.
CVS has had a nice run over the past 12 months, but Jefferies' initiation should indicate to the market that the shares are heading higher, which we do believe.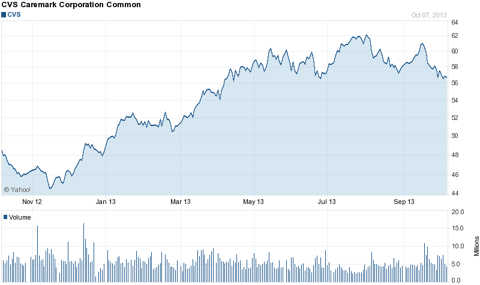 Click to enlarge
Source: Yahoo Finance
While Another Retailer Reports Its First Good News In A While...
In yesterday's session J.C. Penney (NYSE:JCP) shares closed at a new multi-year low on strong volume. It has pretty much been nonstop bad news since the beginning of the year for the company, but this morning that kind of changed. The company released their same-store sales for September and reported improvement month-over-month against August while also stating that they are seeing an improvement across much of their business (see Bloomberg article here). Although sales were still down, the rate of decline has flattened a bit and certain key segments are actually rising which could be indicating the return of customers that the company chased off under Ron Johnson's leadership. The shares are up over 7% in pre-market trading and we would not be buyers, but we do find it interesting that the company may be seeing the return of its traditional customer already, just in time for the holiday season.
Two More Names Struggling Right Now...
It should be no secret that we dislike the prospects for BlackBerry (NASDAQ:BBRY) at this point, nor should it come as a surprise that we highly doubt any of this buyout talk holds any weight right now. If you do not want to take our word for it, simply look at what the market is telling you by the price action. Shares have fallen below $8/share and even with yesterday's nearly 4% rally remain below that level. The talk of the Canadian Warren Buffett buying the company seems to be overdone as the financing is still being assembled and there appear to be few lenders willing to do the deal (we always thought Warren Buffet-type investors kept a few billion around, if this Canadian does not have $4 billion sitting around, he should be forbidden from associating himself in any way with Mr. Buffett). The latest we heard yesterday is that the company is in talks with some bigger tech names and exploring a possible sale whereby the company is broken down into pieces and sold. With all of the troubles that BlackBerry faces, we hardly see that as the way to maximize value for shareholders as the real possibility exists where what is left is a money losing, low margin at best, handset assembler.
Our view is that BlackBerry will lead to a trail of tears for investors. It already has for many, but even the new investors appear poised to experience some pain as management seems to lack a plan.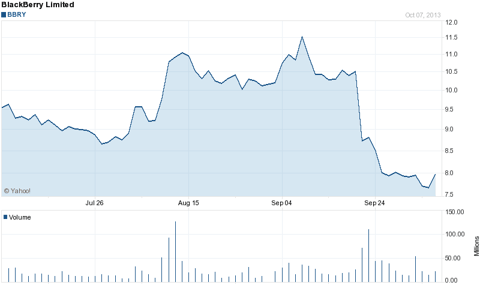 Click to enlarge
Source: Yahoo Finance
The situation at BlackBerry is bad, but investors in Arena Pharmaceuticals (NASDAQ:ARNA) have to be getting fed up with the price action in their shares. Arena shares have been precipitously falling over the past few months and yesterday hit a fresh 52-week low of $4.72/share while the shares finished just above the low of the day...hardly bullish. Those who are bullish of the shares keep pointing to what should be a ramp up in the sales of their weight loss drug, but that has not gone according to schedule, not even along the lines of those who were erring on the conservative side. We are leery right now, but still watching for some good news from the company.
Custodian Changing The Game...
Charles Schwab & Company (NYSE:SCHW) has long been the leader in the custodian business for investment advisers, small broker dealers and the hybrid institutions that incorporate the two. They were a first mover in the business and since have always been the biggest. As others have moved into the space, Schwab has intensified their efforts to attract firms and done so successfully, but we recently found out that they have closed their door to those firms with less than $10 million in assets under management. It used to be that these smaller firms could pay to be included on the Schwab Institutional platform, but no longer. Now Schwab has taken a page from some of its competitors and placed strict minimums on new business. This should be good for the short-term results for the company, but we wonder what upstarts in the industry may benefit from grabbing a big chunk of these sub-$10 million AUM firms and how much the big discount brokerages will pay to buy them down the road.
Disclosure: I have no positions in any stocks mentioned, and no plans to initiate any positions within the next 72 hours. I wrote this article myself, and it expresses my own opinions. I am not receiving compensation for it (other than from Seeking Alpha). I have no business relationship with any company whose stock is mentioned in this article.