We admit that we never really understood the reason for Jamba Juice's (NASDAQ:JMBA) existence ever since we saw them popping up in Manhattan in pricey locations in 2004. They always seemed empty. In fact, until the latest transcript for JMBA's conference call surfaced on the SA news scroll, we didn't even know Jamba was a public company. After quickly going through the filings and price history, the only ones who got juiced at JMBA seems to be its investors. First a look at their chart since IPO:
Not very pretty to say the least. In fact, the company did 5 for 1 reverse split earlier this year recapped here from SEC filing:
The plan was approved on May 14th, 2013. Let's take a look at the chart since the approval:
The brief rise was quickly met with a continued downdraft in their share price. When you take a look at the history of losses and the company's latest disappointing update and guidance for FY'13 and FY'14, more on this below. In our opinion, this update won't do anything to reverse the shareholder equity picture from JMBA's latest 10Q:


(Click to enlarge)
In fact, with accumulated losses of $361 million in building out a franchise which seems to have little unique appeal and product offering to the consumer, we think the losses in addition to marking all assets to market due to their expensive lease locations, could result in negative shareholder value. Furthermore, there is no real insider ownership here to drive management to build value for shareholders.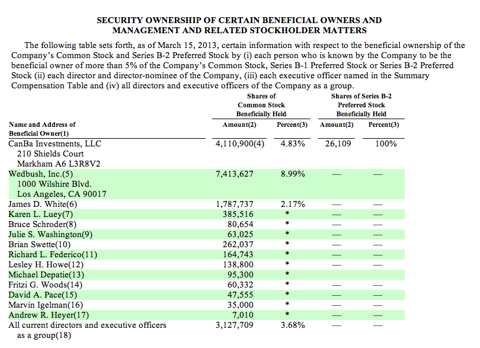 (Click to enlarge)
This is completely the opposite situation we described in our article about Lumber Liquidators (NYSE:LL) where there is at least 7 institutions that own enough shares to keep the pressure on the company and its shares to prop them up for quite awhile. There is only one shareholder with greater than 5% ownership, broker dealer Wedbush, Inc. with almost 9%. Jamba actually looks like an store design spending spree bundled up in a public shell. Management, furthermore, under the guise of being transparent with their projections and updates, seems to have no real handle where there business is or where it is going. Here are a few quotes from the conference call transcript which caught our attention and are the underpinnings for our negative opinion on management:
"Fortunately, as I noted, Jamba is well positioned to deal with what I believe is the new normal, where competition will continue to be intensified and consumer confidence constrained by the ongoing employment uncertainty and diminished discretionary spending, and over time, positive and negative weather impacts that offset it. .... We enjoy a very advantaged position and a very advantaged healthy beverage and food segment. And within this segment, we are the leaders in smoothie and now also a leader in premium juice, which is enjoying double-digit growth. ..... Progress is continuing on all of our key growth initiatives that include the expansion of fresh juice platform, ongoing store refreshes and remodels and the growth of JambaGo and Smoothie Stations; superior marketing efforts that include increased media investments and exciting new loyalty program. We continue to open and are developing a deep pipeline of new stores in the U.S. and internationally. .... And the ongoing strengthening of our California development program, as well as the new phase of refranchising some company stores, will increase our ability to invest in accelerated growth option. ..... As we now look at the full year, the macro environment plus the weather impact mean that we are adjusting some of our annual targets. .... our analysis indicates that consumer spending slowdown will reduce comp store sales comparisons by 3% to 4%. Current campaigns that did not have the same impact as the prior year represent 1% to 2%, and adverse weather will further reduce our same-store sales by 1% to 2%. Industry reports show retail sales are down, reflecting a downturn in consumer spending. Therefore, preliminary same-store sales results for Q3 reflect a decline in system sales of 3.4%, a decline in company store sales of 5.5% and a decline in franchise store sales of 1.3%."
First of all, they seem to be talking up the opportunity of operating in a decelerating marketplace with increased competition and blaming the weather as a reason for lower sales. The use of weather is always a red flag in our experience, especially when used in an explanation of new trends. Moreover, it seems that the only way the company is going to raise cash to shore up its dwindling working capital through the sale of the company owned stores to franchisees. This is not a sustainable business operation. Looking at the most recent short interest, we see the following from Nasdaq: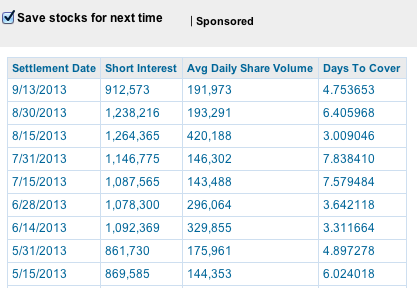 As you can see from above, the short interest is relatively stable and represents a small percentage of the ~16.5 million shares outstanding. The borrow is readily available, and there is no negative rebate therefore can be shorted easily. We don't like to short stocks in this environment. However, it is rare you see a management so clueless and unable to answer simple analyst's questions as we saw in the transcript above. We think Jamba has no juice and therefore is a safe short until they find a better management team.
Disclosure: I have no positions in any stocks mentioned, but may initiate a short position in JMBA over the next 72 hours. I wrote this article myself, and it expresses my own opinions. I am not receiving compensation for it. I have no business relationship with any company whose stock is mentioned in this article.