On October 7, 2013 we wrote an article titled: "Apple at $800: flight delay or cancellation?", where we concluded that Apple, Inc. shares (NASDAQ:AAPL) will yet make new highs and reach the $800 level. Such conclusion was driven by a combination of attractive share price metrics for Apple shares, such as a low adjusted forward price/earning ratio (excluding cash and long term investments) of 7.48 for the year ending September 2014, as well as encouraging prospects for strong demand for Apple products such as the iPhone 5c and iPhone 5s. As we expect demand for Apple products to exceed expectations, then a natural beneficiary would be various Apple suppliers such as ARM Holdings, plc (NASDAQ:ARMH).
ARM Holdings is headquartered in Cambridge, England and describes itself as the world's leading intellectual property (IP) supplier. ARM engages in the design and licensing of semiconductor chip technology rather than the actual manufacturing and selling of such chips. It is estimated that over 20 billion ARM based chips have been shipped so far, with more than 800 royalty based licenses sold to more than 250 companies.
Current smartphones are powered by 32 bit processors. Meanwhile, Apple just introduced the first 64 bit processor phone, the iPhone 5s, powered by Apple's A7 chip. As reported by BBC technology reporter Leo Kelion on September 12, 2013, the implications are quite significant, as the amount of RAM on the processor (random-access memory) that can be addressed increases from 4.3 billion to 18,400,000 trillion values. As Kelion points out, this speeds up processing time as data can be locally retrieved:
As a result, operating systems written for 32-bit chips can only access up to 4GB of RAM, but those written for 64-bit processors can, in theory, support up to 16 billion gigabytes of RAM.

If a program has been written to take advantage of a 64-bit operating system, it should mean the processor can access data that is in this larger memory rather than retrieving it from, for example, the hard disk.

This speeds up the whole processing chain.
Apple has already taken costly architectural license from ARM, while it is expected that the A7 chip, or a variant, will also be used in future Apple iPads. Samsung (OTC:SSNLF) has also announced future 64 bit cell phones, while some have also speculated that Apple may ultimately in the future also opt to use ARM based chips in its desktops and laptops at the expense of Intel.
Although the future for ARM is quite bright, its share price has already captured some of this optimism. ARM's stock price is currently up 24.45% year-to-date from $37.38 on December 31, 2012 to $47.08 on October 7, 2013.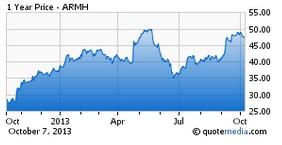 ARM has a market capitalization of $21.93 billion. With analysts' earning estimates of $1.04 per share for the year ending December 2013 and $1.34 for the year ending December 2014, ARM boasts hefty price/earning ratios of 45.27 and 35.13 respectively. Meanwhile, it also boasts other expensive ratios such as price/book ratio of 10.5 vs. an industry average of 2.7 and a price/sales ratio of 21.1 vs. an industry average of 2.6, Meanwhile, ARM shares have a dividend yield of 0.4% vs. an industry average of about 2.2%.
Despite ARM's hefty valuations, given its future growth prospects as outlined above, its share price can still appreciate further. ARM enjoys a 5-year average revenue growth rate of about 17.3%, the highest among 25 of its peers (with the exception of Cree, Inc.). Furthermore, given ARM's unique business model of generating revenues from developing intellectual property and licensing, with no associated manufacturing, its peer comparison needs to be kept in such perspective, hence allowing for higher valuations for ARM.
On a seasonal basis, during the past 10 years, ARM shares have appreciated by an average of about 20.96% between the month of October and the month of April of the following year, gaining between 1% and 78.5% in 8 out of 10 years, and during the 2 down years, dropping 9.8% and 35.2%:
ARM October to April Stock Price Change - 2003 to 2012
| | | | |
| --- | --- | --- | --- |
| Year | October 1 price | April 1 next year price | Change |
| 2012 | $32.17 | $46.64 | +44.98% |
| 2011 | $27.73 | $25.01 | -9.81% |
| 2010 | $17.36 | $30.98 | +78.46% |
| 2009 | $7.08 | $11.19 | +58.05% |
| 2008 | $4.5 | $5.13 | +14.00% |
| 2007 | $8.70 | $5.64 | -35.17% |
| 2006 | $6.08 | $7.39 | +21.55% |
| 2005 | $5.29 | $6.84 | +29.30 |
| 2004 | $4.89 | $4.95 | +1.23% |
| 2003 | $5.24 | $5.61 | 7.06% |
Prices are dividend and split adjusted - Data Source: Yahoo Finance.
Given ARM's bright prospects for IP licensing revenue growth as Apple, Samsung and others migrate to 64 bit ARM architecture processing in mobile devices (and possibly desktop and laptops), our expectations for Apple iPhone sales and revenues to exceed expectations hence driving Apple shares back toward $800, in addition to positive seasonal factors where ARM stock has increased in 8 out of the last 10 years by an average of 21% between the month of October and the month of April for the following year, we recommend buying ARM shares at these levels, despite recent appreciation and high valuations.
At the same time, in order to hedge against downside risk given ARM's elevated valuations, we would also recommend buying puts expiring in April 2014 with a strike price of $40 for a premium of about $2. We would buy such puts on a ratio of 2 to 1, hence buying puts on 200 shares for every 100 shares of ARM stock purchased on an outright basis. Such strategy would provide a break-even level of about $34.46 to the downside, and $51.08 to the upside. In such strategy, maximum downside potential would be $11.08, in case ARM shares drop to $40 and maintain such level by April 2014.
Disclosure: I have no positions in any stocks mentioned, and no plans to initiate any positions within the next 72 hours. I wrote this article myself, and it expresses my own opinions. I am not receiving compensation for it (other than from Seeking Alpha). I have no business relationship with any company whose stock is mentioned in this article.