A year-and-half ago we saw one of the biggest and most hyped tech IPOs from Facebook (NASDAQ:FB). Many investors, who had scrambled to get their hands on Facebook stock, saw the share price dip by over 50% in the months following the IPO. It took more than 14 months for Facebook stock price to recover to its IPO level. We now have another "social network" lining up for its IPO.
Twitter (NYSE:TWTR) filed its S-1 form (the general form for registration of securities) with the SEC during the last week. The filing brought the financials of the 140-character service into public view for the first time. Today we are going to estimate the value of Twitter based on the financials filed in its S-1. We will look at two key aspects of a business: revenue growth and operating margins. We'll then compare the current performance of Twitter to the pre-IPO performance of Facebook. We believe comparing the two will give us the best possible estimate of Twitter's valuation, considering that both are social networks with similar revenue models -- although they do operate at a different scale.
Revenue Growth
Twitter is a firm in the early stages of its life cycle. Any company in this phase experiences significantly high growth in revenue, and Twitter is no different with a three-year average revenue growth of 170% per annum. As a comparison, Facebook's three-year average growth rate pre-IPO was 87%, significantly lower than what Twitter has generated. However, a very important fact to consider is that Facebook had pre-IPO revenue that was over 10 times what Twitter currently generates. Facebook had revenue of $3.7 billion in its pre-IPO year compared to Twitter's revenue of $316 million in 2012.
Click to enlarge images.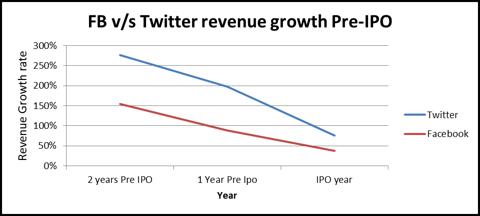 Sources: Based on Twitter's S-1 filing and Facebook's S-1 filing.
Operating Margins
We believe operating margin is a fair reflection of business performance. While Facebook had broken even before its IPO, we expect Twitter to break even in 2014, driven by growth in its user base. As per its S-1 filing, Twitter currently has over 215 million users out of the total 2.4 billion monthly worldwide Internet users and 1.2 billion monthly smartphone users.
Twitter's user base is a very small proportion of Facebook's user base, which currently stands at 1.11 billion monthly unique users. According to Twitter's filing, the growth in its user base will drive growth at the company. Twitter's operating margins, which have been improving, can be expected to improve even further as the company benefits from increasing its scale of operation as its user base continues to grow in the coming quarters.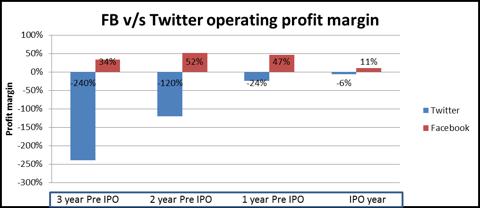 Valuation: Our Estimate
Considering the fact that Twitter hasn't generated any earnings as yet, we estimate the value of the company based on its comparison to Facebook using the price-to-sales (P/S) multiple. Facebook currently has a P/S multiple of 14.3 with a market value of $123 billion as of Oct. 7. Assuming that the market will value Twitter at twice the P/S multiple of Facebook, we get a current valuation for Twitter at $15.92 billion, or $27.60 per share.
However, considering that Twitter's absolute revenue is only one-tenth the revenue of Facebook, the estimate seems to be too optimistic. Adjusting the P/S to reflect a conservative estimate, we apply Facebook's current P/S multiple of 14.3. The conservative estimate gives us a valuation of $7.96 billion, or $13.80 per share. The average of our estimates comes in at $11.94 billion, or a price of $20.70 per share.

At this point, it is important to note that our value per share of Twitter is based on the diluted number of outstanding shares as of June 30, 2013. The IPO will see a proportion of fresh shares issued to the public. The new shares issued as part of the IPO will lead to a dilution of the per-share value of Twitter.
Conclusion
In all probability, this is an IPO that is bound to be surrounded by a lot of hype. Though the resulting market sentiment might push the IPO valuations to a high level, we believe anything above or around $12 billion will be more of a risky bet rather than a safe investment. Investors will do well to remember the chaos that followed Facebook's IPO and left bitter memories in the minds of many of the IPO investors. We estimate the fair value of Twitter to be $14-$20 per share, whereas a price in excess of $20 will be expensive or overvalued.
Disclosure: I have no positions in any stocks mentioned, and no plans to initiate any positions within the next 72 hours. I wrote this article myself, and it expresses my own opinions. I am not receiving compensation for it. I have no business relationship with any company whose stock is mentioned in this article.
Additional disclosure: The article was written by Virendra Singh, Equity Analyst at Amigobulls.com. Amigobulls Mediatech Pvt. Ltd. is not receiving any compensation for this article (other than from Seeking Alpha). Amigobulls Mediatech and Virendra Singh do not have any business relationship with any of the companies mentioned in the article.