Gramercy Property Trust Inc. (NYSE:GPT) announced this morning that it would be reinstating the dividends on its Series A cumulative preferred stock (GPTPrA). From the release:
Gramercy Property Trust Inc., a real estate investment trust, today announced that along with its $47.4 million equity raise that it has an identified $130 million investment pipeline. Additionally, the Company intends to resume timely payments of dividends on the Company's Series A cumulative redeemable preferred stock, beginning with the dividend due for the fourth quarter of 2013.

In connection therewith, the Company intends to satisfy and pay all accrued but unpaid preferred stock dividends for prior periods.
From the company's presentation, we see that the accrued dividends will be $37.6 million ($8.04/share) at 12/31/2013. As of this date, accrued dividends are $7.58/share ($8.04 - 87 days). Using this data we get:
| | |
| --- | --- |
| Price | $34.74 |
| Par | $25 |
| Dividend Rate | 8.125% |
| Clean Price (Price minus accrued dividend) | $27.22 |
| Current Yield (annual coupon/clean price) | 7.46% |
Let's compare that to other "net lease" REITs - Realty Income (NYSE:O), National Retail Properties (NYSE:NNN) and Monmouth REIT (NYSE:MNR):
| | | |
| --- | --- | --- |
| REIT | Pref Series | Current Yield |
| Realty Income | Series F | 6.80% |
| Natl Retail Properties | Series D | 7.25% |
| Monmouth REIT | Series B | 7.70% |
When the "tried and true" are paying near or above the "new", I go with the tried and true. No, Gramercy is not truly "new," but it has refocused its business and intends to pay the preferreds accrued and potentially a dividend on the common in 2014. I'll call that new enough.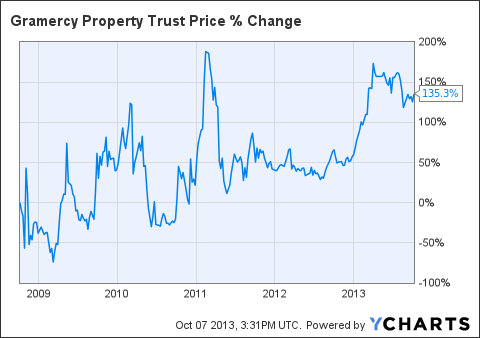 Bottom Line: I intend to follow up with a more in-depth look at Gramercy for opportunity and prospects, but I am not a buyer of its preferred despite its announcement that it will be paying the accrued. At par, perhaps, but not at below 7.50%.
Disclosure: I am long MNR, O, MNRPrB and OPrF. I wrote this article myself, and it expresses my own opinions. I am not receiving compensation for it (other than from Seeking Alpha). I have no business relationship with any company whose stock is mentioned in this article.