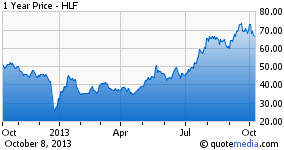 Shareholders in Herbalife (NYSE:HLF) are eagerly awaiting a massive share repurchase program that they expect would drive the stock price further up. It is widely believed that the release of the audited financial statements is the last hurdle that the company has to clear before this buyback becomes a reality.
There is a major problem with this line of thought, though: the company already has $787.6 million remaining under the stock repurchase program authorized in July of 2012, but it did not buy a single share in the second quarter after spending a very substantial $162.4 million in the first quarter. The company has $850 million in cash and cash equivalents on its balance sheet - cash is not the problem.
Sometimes companies stop repurchasing their own shares if the price gets too high. This is not the case here as prices in the second quarter were similar to prices in the first quarter, and prices in April were even lower than in January. So, what happened? Why did the company suddenly stop buying its own shares?
While there was no explanation in the latest quarterly report, I see two possible causes.
First, in early April KPMG resigned as the company's auditor. While Herbalife said that this event "will not result in a default under Herbalife's existing credit facilities," the lack of audited financial statements almost certainly constitutes a breach of covenants under the company's main credit facility. Most likely, the company was given a time to cure this breach, but it had to stop its share repurchase program until it does.
A second possibility is that the company ran into the other covenants under the same credit facility that prevented it from continuing to buy back its shares. This is a very plausible explanation, considering that the company's net tangible assets were a negative $73.6 million at the end of the first quarter.
It is also possible that both factors applied at the same time. We will know the answer when the company releases the third quarter results on October 28. If Herbalife repurchased more shares during the quarter, it means that it found more room on its balance sheet after making $143 million in net income in the second quarter. This will be bad news, by the way, for investors waiting for a big future buyback: the more shares the company already purchased, the fewer shares it can purchase in the future.
This leads us to another important question: is a massive share buyback even possible?
There are two approaches that banks use when evaluating a credit: earnings potential and assets. Herbalife made $499 million in net income over the past 12 months. We have to adjust this number by the total amount of dividends that currently run at the rate of $124 million per year. $375 million in free cash flow implies a borrowing capacity of $1.5-2 billion at most. The company already borrowed $963 million as of June 30, 2013. This means the company can probably borrow an additional $0.6-1.1 billion, enough to buy 8-15 million shares (7.7-14.2 percent of all shares outstanding) at $75 per share. While significant, this is hardly an earth-shattering event that investors are looking for.
I have to dampen their enthusiasm further by pointing out that banks also want to make sure that their borrowers have adequate assets. When a company takes a loan to build a new plant or expand its operations, banks may expect that most of the borrowed money will end up on this company's balance sheet as tangible assets (buildings, machinery, inventory, etc.) When a company uses borrowed funds to repurchase its own shares, however, the money is gone - there will be no new assets to support an increased debt load. Therefore, banks will have to look at Herbalife's current balance sheet to see what assets it already has. I don't think they will find it reassuring.
First of all, we have to point out that the company had tangible assets of $4 million at the end of the last year, which is basically a rounding error compared to the size of its balance sheet. By the end of the second quarter tangible assets improved to $17 million, which is still less than 1 percent of its total liabilities. Note that banks usually apply a significant discount to the book value of property, plant and equipment ($255 million in the most recent quarter) and inventory ($332 million) when calculating their liquidation value. Items such as "Other Assets" ($47 million) and "Deferred Long-Term Asset Charges" ($31 million) also don't make for a good collateral. Even net receivables ($162 million) would get a haircut in this evaluation process.
If Herbalife meets analysts' expectations for the remainder of this year, the company will add around $170 million to its balance sheet in the third and fourth quarters (assuming no share repurchases and the same dividend rate as in the prior quarters).
On the other hand, Herbalife consolidates assets that it may not have the right to consolidate. If the new auditors force the company to make adjustments, assets will suffer. And even if auditors let the balance sheet stand as it is, the banks would be smart to at least exclude Venezuelan assets, because of the difficulty of getting any money out of the country.
Depending on how prudent the banks are going to be in their due diligence process, their estimate of Herbalife's liquidation value will come up $200-300 million short of zero. Will you personally lend your own money to a company with a negative liquidation value?
I am very careful when it comes to predicting what banks will or will not do: banks have proved on more than one occasion that they can make irrational decisions. Still, I don't think that banks will lend billions of dollars to Herbalife for share buyback as many investors seem to expect. At most the company will be able to spend $200-300 million over the next several quarters on share repurchases, which at the current stock price won't make much of a difference.
While some investors talk up the possibility of a large share buyback as a tactic to scare shorts and drive up the share price, I find this an empty threat. Given the legal issues and the uncertainty regarding the certification of the company's financial statements by its new auditors, I continue to believe that Herbalife remains a good short opportunity.
Disclosure: I am short HLF. I wrote this article myself, and it expresses my own opinions. I am not receiving compensation for it (other than from Seeking Alpha). I have no business relationship with any company whose stock is mentioned in this article.