Just short of three years ago, in November 2010, I made my first trip ever to mainland China, and I just returned a week ago from my second. I specify "mainland" for in my younger days in the early '70's, as a US Marine Corp pilot, I made many a trip to Taiwan (the mainland was off limits to Americans at that time) and was enamored by the people, culture and business acumen. So much in fact that on my last trip to Taiwan prior to rotating back to the US, I had a houseful of custom hand-carved furniture made that I still use and enjoy today. Why it took me almost 40 years to visit the heart of the culture I have endeared for so long, I can only blame on little desire to travel and the total misconceptions about China and its people heaped on Americans by the US media and politicians. Were it not for my discovery seven years ago of a then tiny China based, Nasdaq-listed off-road vehicle maker, Kandi Technologies (NASDAQ:KNDI), it is likely I would never have returned and lived out my life under misconceptions about these warm, humble and incredible intelligent people. As a fairly staunch Conservative, I can assure you; these are words I never would have thought I would be publicly stating as recently as a few years ago.
But back to the topic of this multi-part article; my recent second visit to KNDI.
What a difference just three years makes. Or does it? Wall Street certainly doesn't think so, as can be seen by this chart. Yes, coincidentally, each time I visited China, the stock made a multi-year high while I was there. $7.25 on Nov. 15th, 2010 and $9.20 on Sept. 26: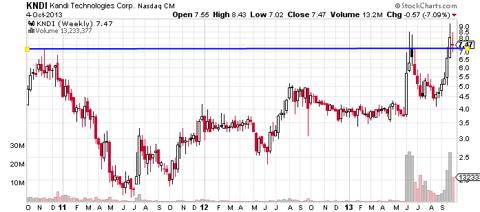 Now you can go way back to April Fool's day, Apr. 1, 2008 and see the stock also topped out that day at $7.25. So in reality, over six years, the stock has been totally left behind by the US equity markets. Ironically, when it hit its 2008 high, KNDI's current position of being China's EV "Golden Child" blessed by the PRC Government as having developed the "Preferred" model for EVs in the future wasn't (at least publicly) even a twinkle in the eye of its Founder/CEO, Xiaoming Hu. Here is a direct link to the PRC Policy Paper (pg.2) "Hangzhou Condi mode" they issued last Sept. and a link to a Seeking Alpha article I published titled; "PRC 'Policy Paper' Favors Kandi Technologies' EV Program For All Of China" that more clearly explains the translated policy paper. At that time, KNDI was looked at as a baby Polaris Industries (PII). Seems Jim Cramer still feels that way based on his response to an investor question on last Thursday night's "Lightning Round" segment of his show. His response to a "what do you think" type question was;
"Kandi Technologies (KNDI_): "I think that one's OK. I like Polaris Industries (PII_)."
The fact that KNDI was even involved in EVs was never brought up by either party.
I have been accused by several short-oriented Seeking Alpha authors of only writing about one stock; KNDI. That is a fact and I make no apologies for it. I write only about KNDI and under my real name, since, at least as of this time, it is the only stock trading above the SA guidelines of $1 a share that I know well enough to stake my long and hard earned reputation on for international distribution. But let me be clear, contrary to what naysayers might want you to believe, my publicly stated reason to write on KNDI has, and always will be for one reason only; to increase the audience on this, beyond personal question, the most exciting company I have ever run across in my 40 years as an investment pro. So this time when I went to China to visit the Company, along with a few shareholders, I also brought along an entourage of professional researchers with "no holds barred" or any limitations on reporting what they have discovered. All involved paid their own travel and lodging expenses, with the Company only picking up a half dozen meals. These professionals include:
Daryoosh Ardalan, a Professional University of Colorado Urban Planner who has extensive knowledge of China as a guest lecturer in the China. Daryoosh is also a Seeking Alpha author who recently published an exceptional study on KNDI titled: Kandi Technologies: Exceptional Strategy For China From An Urban Planning View and as promised in his last article will also be writing a follow-up article for SA on KNDI soon based on his "boots on the ground" findings.

Aaron Rockett, an acclaimed Washington DC based Video Documentary producer who will be producing a Documentary on KNDI and its leadership role in EV's in China. Aaron only returned to the US Saturday having remained in China, working with Daryoosh an extra week on his documentary.
And joining us after accepting my invitation for the three day tour of KNDI's amazing facilities and projects were two China-based bilingual "Buy Side" Financial Analysts (one an American Chartered Financial Analyst (CFA) who provide independent research on China-based companies to Brokerage Firms and Funds based on Wall Street, Hong Kong and other World markets. Out of respect for their independence, I will not mention their names here, nor do I know for sure if they will be initiating any coverage as KNDI's first Research Analysts. But what I can attest is that they saw everything that we did which makes it hard for me to believe that they will pass at this rare opportunity to be first to cover this still fledgling but inevitable long time to come public leader in China's potential trillion dollar EV space. To be clear, due to their home base in China being several hours' flight from Hangzhou, along with other expenses, I am sure they also have a few thousand dollars invested in their visit.
While it is impossible to ever totally quiet public naysayers and writers whose agenda likely differs to long shareholders, my thought in assembling this group was to once and for all, totally debunk these cynics irresponsible diatribes against this conservative reporting, emerging EV giant. This goal will be accomplished with words, pictures and video that will soon all be made available for all interested parties.
This first article will cover some background as to why KNDI is so perfectly positioned at this time, with a unique business model to lead the EV generation in China. Included will be what we witnessed on our visit to the first, "built from the ground up," pure EV manufacturing facility in Changxing, China. This facility is located some 105km from KNDI's Executive Headquarters in Hangzhou. The Changxing facility was built and completed by KNDI just prior to KNDI entering into its 50-50 Joint Venture with Geely Auto, China's #1 Passenger car manufacturer. Recently, after the recent closing of the JV, this plant is soon to be repositioned from KNDI ownership to the Kandi-Geely JV.
Background leading up to this trip
It would take volumes to cover all of the amazing accomplishments of KNDI in just the China EV sector which dates back less than four years. For those who really want to dig into all of it, I recommend going back to my past SA articles which can be found at this link. But for the sake of this report, I am going to assume most interested readers are already somewhat familiar with the past highlights and accomplishments. However, I do want to refresh one main point going back prior to this year and that is KNDI's strong public relationship through two Partnerships going back to mid-2010 with China's Mega-electric utility, State Grid (SG).
By multiples, SG is the world's largest single electric utility company, which covers 88% of the land mass and over a billion population. State Grid is ranked #7 in Fortune's Global 500 of the World's largest corporations. It is a State Owned Enterprise (SOE) owned 100% by the PRC and if you are going to be in the EV business, no better partner could be envisioned. This statement based on SG being tasked with building China's "Smart Grid" EV infrastructure. SG's attraction to KNDI, has been built around KNDI's proprietary Disruptive Technology allowing one minute Quick Battery Exchanges (QBEX), which China refers to as the "for Power mode," rather than the conventional "plug-in" choice long endorsed by the major automakers. Simply put, the old line auto makers have been fighting for the "plug" as it is much easier and cheaper to convert an Internal Combustion Engine (ICE) driven vehicle into an EV if you don't have to put the battery power packs all in one easily accessible location. The desire of the major automakers is to be able to put several battery packs in different "nooks and crannies" all leading to one plug for charging.
KNDI, on the other hand developed their patented QBEX which require complete "built from scratch" electric vehicles that positions the batteries under the floorboards between the front and rear wheels. Because of the location of the batteries, they can be quickly changed robotically in less than one minute, or manually at any location through a mobile unit in two minutes, once the mobile unit is on site. (This video news clip features the "Three Parties Partnership" in Jinhua China with the three parties being State Grid, Kandi and Tianning Power, a battery manufacturer).
State Grid has been enthralled with KNDI's QBEX for it ties in beautifully with State Grid's goal to shift EV battery charging from a drain on the Smart Grid which is what happens when 20-30 minute quick charging is being used, to a back-up electric supply source which can be called on to augment the Grid during peak demand hours. In the two videos in the prior paragraph, you will see battery cabinets on either side of the car. These cabinets are plugged into the "Grid" where they can either drain the grid to charge depleted batteries, or reverse the excess stored battery power back into the grid forming a modified "Vehicle to Grid" (V2G) procedure called Battery to Grid (B2G). It works by State Grid keeping a surplus of maybe a two for one ratio of batteries in the charging racks to batteries installed in vehicles. This creates the primary advantage in using KNDI's QBEX, that of being able to charge most of the batteries over night during low peak hours when most Grids worldwide will even give away power for free rather than having to shut down their turbines and generators. This is not all that dissimilar to what Nasdaq-listed Tesla Motors (NASDAQ:TSLA) does with any left over power from their solar powered charging SuperStations. Major difference being State Grid actually owns and controls the batteries for the QBEX and effectively provides them for free to the EV consumer. This is the case in Kandi's current 20,000 EV Hangzhou long-term leasing program (more on this later). In TSLA's case, TSLA builds and owns the superstations and sells back the excess solar power to the US Smart Grid.
Geely Automotive Kandi's JV Partner
While most US investors are not familiar with Geely, when reminded that it was Geely who bailed out Ford (NYSE:F) by buying Volvo during the World banking crisis in 2009, they start to get a feel for the power of this rapidly growing KNDI partner. In just 14 years, Geely has come from out of no-where to be China's #1 passenger vehicle manufacturer. (note: in the translated Geely chronology in the prior link, though only published two weeks after the JV was announced, KNDI and the JV are featured as a major milestone)
The Kandi-Geely 50-50 Joint Venture
February 1, 2013, Geely was the first to file a notice on the Kandi-Geely JV on the Hong Kong Stock Exchange. Three days later, Feb. 4, KNDI made a news release of its own: "Kandi Technologies Forms Joint Venture With Geely Auto to Create a New Era of EV in China"
To the average US investor, this might not mean much, but to the few who understand the auto business in China, this must have been a real "eye opener." Why would China's fast growing #1 passenger car maker, the same company that helped bail out Ford in 2009 by buying Volvo and was being talked of in the US press at the time as the lead to bail out Fisker, feel the urge to be a 50-50 partner with a "go cart" company to develop EVs in China? Well, KNDI's stock didn't react much that day, just up a few cents and even went red for a while. Distractors were saying; "it is just a "framework agreement" signed, not the actual JV, and there is no comment from Geely in the PR, so it's probably just some 'hype' announcement." Right? Wrong.
The China media had no problem lauding this announcement at that time; it was repeated thousands of times for weeks after by news outlets and websites throughout China. In a research note reconfirming its "Buy" recommendation on Geely, Nomura Securities (top investment bank in Asia) analysts Steve Man and Joseph Wong complimented KNDI's contribution to the auto giant company by saying:
"Geely announced it has entered into an agreement to form a 50/50 joint venture with Kandi Technologies (KNDI.US, not rated), to develop and market electric vehicles (EV). We do not expect the JV will make any contributions to Geely's 2013 earnings; however, we believe this is positive for Geely in the long run.
Given the recent headlines on smog, we believe China will continue to aggressively push for the adoption of alternative vehicles, including EV, in the long term. In our opinion, Geely and other automakers must remain at the forefront in the development of EV. Since EV technology has yet to reach market wide acceptance, we believe a JV is the best strategy to minimize development costs and risks.
Kandi Technologies has embraced a concept similar to the vehicle-to grid (V2G) technology. Other than the fact that both companies are based in Hangzhou, we believe Kandi's application of V2G is a major reason for the cooperation. We believe V2G is one of the more viable concepts in the EV industry. In Kandi's case, used EV batteries are swapped with recharged batteries. Recharged, unused batteries are connected to the grid to balance loads during peak load demands."

Source: Nomura Institutional Research Note on Geely dated February 3, 2013
And; in a translated April 17th Institutional research note by Guotai Junan, one of China's top Investment Banking firms, analyst Wang Xin Yuan sets Geely's price target 24% higher, the KNDI/Geely JV was the highlight with the following translated quote:
"…Multiparty cooperation to increase joint venture electric car business is a long-term highlight…

Early company subsidiaries with condi (Kandi), 1 billion yuan ($162 million USD) joint venture companies incorporated, developed electric vehicle business, each holding 50%. It is understood that the electric cars of the future will be fed into the Hangzhou market as rentals, rent 800 yuan per month ($130 USD), there is a price advantage. Because the industry as a whole is in the early stages of development, Geely, the short failed to contribute profits, but in the long term, the public demand for clean power, coupled with government support, the electric car business is the company's long-term point. Fang Kangdi auto joint venture companies, as Condit technology (KNDI US) mainly engaged in all-terrain vehicles, karting, new energy development and design of car sales. In addition, the company increasingly close cooperation with Volvo again, helps companies accelerate research and development of high-end cars."

And on April 19th, Director of Research at Hong Kong based Kinston Securities, Huang Few, in a short translated Geely research note says:

"…In addition, the parent company of Geely Holding and Volvo Car Corporation last year to expand technical cooperation with a view to create a new generation of mid-level models modular architecture and related components to meet future market needs. The same time, the Group has also set up joint development of new energy automotive business with Condit car industry to bring new sales growth momentum."
Now if these four analysts believe that Geely's half of the 50-50 JV was noteworthy enough to highlight as a significant contributor to multi-billion dollar Geely's future growth, it doesn't take much imagination to envision what the other half could mean to $280 million KNDI's future, particularly since KNDI's CEO, Mr. Hu, was tapped by Geely to run the JV.
While just establishing the JV with Geely was amazing in its own right, even more amazing is how fast and easily KNDI came up with not only their 500 million rmb ($80 million USD) half of the capital contribution for the JV, in spite of the fact that the actual JV agreement gave both companies two years to fully fund their share. Both Companies reported in their respective June 30th regulatory filings that full funding was already paid in by both. Even more impressive when reading KNDI's Q2 10Q, is to note that in addition to their $80 million JV funding, KNDI also managed to increase its Q over Q cash position by $10 million, inventory by $10 million and advances to suppliers by $26 million. And they did this all before being able to utilize the $26 million from the July 1, financing which will show up on the next Q3 10Q. This all based on the company's strong banking relationships and CEO Hu, personally guaranteeing most of the company bank debt. So much for the fear mongering spread by ignorant naysayers in their published diatribes over the past three months recently culminating with a crescendo last week.
Back to the KNDI visit
Each of us arrived in Shanghai, on either Sunday or Monday, the 22th or 23th. KNDI's US based IR, Kewa Luo arrived on Sunday by the way of Beijing. Tuesday afternoon the 24th, Daryoosh, Aaron and I took the high speed bullet train from Shanghai to Hangzhou 160km away, with a cost about $13, it only took about 50 minutes. What a pleasant experience. We could have passed on the bullet train and arrived 20 minutes later for less than $5. This totally backs up Mr. Hu's later comment to us that "the vast majority of China's urban consumers don't need or want to own a car for long distance travel; they just need it to get around the city, day to day. As KNDI expands its CarShare program to other cities, the cheapest and easiest solution will be train between cities and CarShare at the destination city."
Interestingly, on the way to the Shanghai train station in a taxi from the hotel, I noticed all of the high-end cars on the streets. Bentleys, Rolls, many Audi A8's and many high end Mercedes and BMWs that reminded me of this recent Sept. 17th article in the China media on vehicle purchase restrictions put in place by the Shanghai Government. As you can see from the article, just to get a license plate for a new car you have two choices; you can either participate in an auction which at last tally would cost you 92,000 rmb or around $15,000 USD. Or if you can't come up with the whole amount, a cottage industry has sprung up where companies are buying the license and they will lease the license to you for monthly rates up to $1000 USD. Now that is just to get the license plate! So if you have enough money to get the license, you cannot afford to waste this cost on a cheaper car. From the article:
"China Economic Weekly" finishing 2013 auction records found that in Shanghai, the amount of the monthly license plate auction in 9000 to 10,000 between January to August this year, the average bid price was 80,600 yuan. In March this year, Shanghai license plate in the monthly average price was as high as 91,900 yuan.
It should be no wonder why on August 13, Shanghai, with a population of 23.5 million, sent a delegation to KNDI to finalize the agreements to have KNDI expand its Hangzhou CarShare program to Shanghai by the end of this year. Simply, EV licenses are exempt from the auctions program and are available either for free, or token payment:
Kandi Technologies Hosts the Senior Officials From Shanghai New Energy Vehicle Promotion Office

"…Mr. Xiaoming Hu, the Chairman of Kandi & the General Manager of the JV Company provided to the delegation a detailed introduction on the Hangzhou public EV sharing system as well as the potential pilot project of public EV sharing system in Jinshan District of Shanghai. During the meeting, Mr. Hu also reported the progress of establishing Kandi Electric Vehicles (Shanghai) Co., Ltd ('Kandi Shanghai'), which has just received the approval for business license in Shanghai. Kandi Shanghai was established by Shanghai Maple Guorun Automobile Co., Ltd. ('Shanghai Maple'), a subsidiary of Geely Automobile Holdings Co., Ltd. and the parent company of Zhejiang Kandi Electric Vehicles Co., Ltd. Shanghai Maple will contribute Kandi Shanghai to the JV Company pursuant to the joint venture arrangement with Kandi.

The pilot project for Public EV sharing project is very well received by Jinshan District of Shanghai and the local government is in the process of the location selection. The trial operation of Shanghai's public EV sharing system is expected to be launched before the end of 2013.

Mr. Hailin Chen (from the Shanghai delegation) said in his remarks: "The public EV sharing system is highly recognized and we look forward to adopting this system in Shanghai. Furthermore, we are very confident about Kand's expansion in Shanghai…"
If Hangzhou will ultimately need 100,000 KNDI cars, Shanghai with its much larger population and more restrictive vehicle policy would likely need a quarter of a million.
The evening of Tuesday, the 24th, we met up with KNDI IR Kewa Luo and joined Mr. Hu for dinner in Hangzhou. The two analysts met with us at the restaurant that evening. No real business was discussed, just warm camaraderie influenced heavily by World the renowned Chinese tradition of toasting with "distilled spirits" in the form of 100+ proof "maotai" to create an environment of "good relationship" or Guanxi. (luckily, each toast is done with a small thimble sized glass, for there were many toasts that evening) Mr. Hu seldom drinks alcohol as I remembered from my last visit he toasted with water. But as he declared, he was breaking his pattern due to his pleasure of having us all come from afar to visit and actually toasted with thimbles of red wine himself.
Mr. Hu did have one last surprise for us upon leaving the restaurant that evening. He left the room a minute ahead of us so as we exited into the parking garage, he was sitting in a KNDI JNJ6290, smiled as we took a few pictures and then he peeled rubber as he sped away. This was quite an exhilarating experience for our first view of this snappy little EV.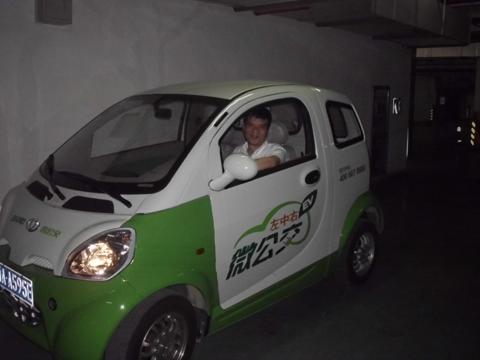 Click to enlarge
Chairman/CEO Xiaoming Hu in a Kandi JNJ6290EV
Wednesday morning, we began our 105km trek to Changxing from Hangzhou to visit KNDI's new facility which is in the final steps of being totally turned over to the JV by KNDI. While all of us had seen an exterior picture of this brand new mammoth facility at the time of the opening ceremony, I don't believe any of us were prepared for the immense it really is. Upon entering the front gates, aside from noticing the massiveness of the building, the eye was immediately drawn to a large portion of the parking lot in front of the building being used as a staging area for delivery of completed vehicles. This several acre area contained many rows of tightly packed KNDI EVs, all being the new 10kw lithium powered two seater named the JNJ6290EV which are being used in both the 20,000 EV Hangzhou Long Lease and 100,000 unit Hangzhou Carshare Program. While the JNJ6290 is not a JV car, but a KNDI car, it was the only car being assembled in the Changxing, soon to be JV facility. At this point in time, while KNDI still maintains ownership, I assume no or little fees to the JV are necessary. After final transfer this month, it would appear that the JV will start receiving a fee per car, but upon sale, the sale proceeds of this specific vehicle which is outside of the JV will go to KNDI, less a 300rmb ($50USD) license per car fee paid to Zoyte Automotive.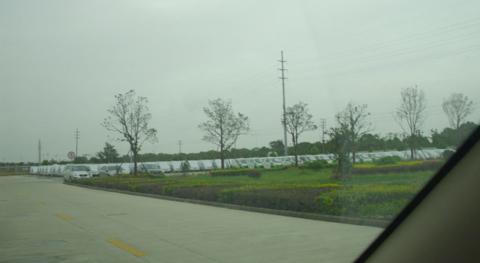 Changxing Outside Staging Delivery Area Filled With JNJ6290EV's.
As you can see from this translated article released in Changxing earlier this year, the current facility is designated as being first phase, has an annual capacity to assemble and deliver 100,000 EV. The current land area of 500 mu equates to approximately 3.5 million sq. ft and the two buildings cover approximately 1.1 million sq. ft. (the 10 million in the translated article, is being mis-interpreted by Google Translate. It should read 100,000 sq. m 1.8 million sq.ft.). Going back to the time of initial construction in Dec. 2010, you will see from this article, that the ultimate capacity of this single facility when expanded past the first phase will be 300,000 EVs per year. This plant currently employs approximately 500 workers.
What our group found most surprising was that KNDI is truly building and assembling the whole vehicle to include stamping out body parts from flat sheet metal as you can see from this picture. While this plant was very automated, to include computerized robotic spot welding units putting together the bodies, admittedly it does not compare to the fully automated lines like TSLAs. But there is good reason for this. In addition to encouraging more use of EVs on the road in China, the subsides were put in place to also help employment. With the low cost of labor in China, the trade-off against full automation at this time, a cheap expense to keep the Government happy.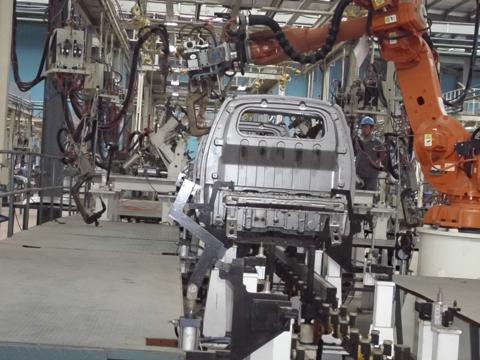 Click to enlarge
Computerized, Robotic Body Spot Welding Unit.
From prior news releases, we have been told in August that KNDI expected to be delivering between 5,000 and 10,000 JNJ6290's to the CarShare program over the next 12 months, though as you can see from this recent China Media article which includes an interview with the CarShare operator, ZZY corp executives. (Translates to Left, Left, Right Corp.) The thought in China is it will be developed considerably faster. Not surprising in that KNDI's CEO's biggest difference with TSLA's Elon Musk, is that he is very conservative and tends to wait until after an event happens, rather than to just create anticipation.
"…Left, right, Zhejiang Electric Vehicle Service Co., Ltd. General Manager Liu Jinliang said that the future will take the car to help themselves, within the main city of Hangzhou can vary by over yet. In the future, using a mobile phone or computer can directly find the nearest outlets, will be able to swipe the car drove away. The whole process is like public bicycle rental can achieve the same car in different places..."

"…According to the left, right, Zhejiang Electric Vehicle Service Co. relevant responsible person said, Lake District as a pilot model city, according to plan will be put into operation before the end of this year more than 40 pure electric vehicle smart charging for electric parking garage, supporting the delivery of about 5000 - 10000 between..."
This was also reported by the company in August, but with CarShare locations to be opened by this year's end showing a range of 30-40, an amount reinforced again by CEO Hu on this trip.
My point in expanding this discussion under the Changxing visit portion of this report is to perhaps give just cause as to why so many JNJ6290 EVs were currently being built and stored while we were at the facility. Particularly when you factor in Hangzhou long lease sales which now that the National Subsidies have been announced, should open the door for at least 2000 additional EVs ordered, of which 1900 have yet to be delivered to Hong Kong Stock Exchange listed Sinopoly. In April, Sinopoly placed their order for 2000 EVs, taking 100 immediately and the balance by the end of this year. Point of interest: At that time, Sinopoly did issue their own similar release on the HKSE, and a few days later on May 2, Forbes #8 wealthiest man and wealthiest man in Asia, Li Ka-shing, bought a $220 million rmb ($71 million US) private placement in Sinopoly "mainly" to fund Sinopoly's participation in KNDI's 20,000 EV Long lease program.
Li Ka-shing $ 220 million behind in fundraising to expand production capacity polymer battery

2013-05-02 02:40:48 Source: Daily News

For SINOPOLYBATTERY (00729, the closing price of HK $ 0.315) investors, the disaster came a bit sudden, happiness comes the same people what to do.

In early April, Sinopoly three consecutive trading days the cumulative decline to about 20%. 10 days after, but successful implementation Sinopoly counter-attack, four days rose up to more than 30%. "Daily Economic News" reporter noted that the stock price soaring with the company two announcements are closely related. Where an announcement will cost about 80 million yuan for the company purchased 2,000 electric cars in the leasing business, and the other's announcement is the Li Ka Shing Foundation and participating companies spent $ 220 million private placement, its stake further to 15.68%.

Li Ka-shing holdings by placing

April 21, Sinopoly announcement said the company, a subsidiary of $ 4 million, respectively, and 75.6 million yuan total purchase 2,000 electric vehicles for the Group recently launched an electric car rental business, mainly for the Hangzhou government-driven " Private rental electric car "project.
It should be noted that even though at this time, the same JNJ6290EVs are being used in each program, the significant per vehicle sales price between the two programs have to do with the battery. The EVs for the CarShare program are being sold by KNDI with the approximate $4000US battery included, whereas the Hangzhou lease program cars are sold without the battery.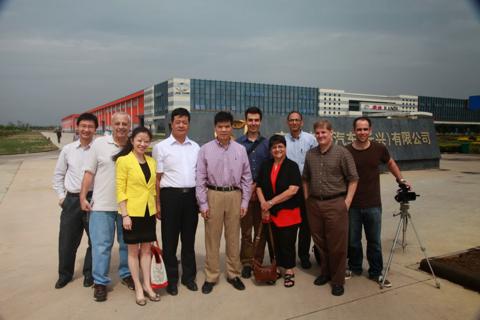 Our entourage along with Mr. Hu, Kewa Luo and Plant Management.
As I am bringing this first part of this multi part article to a close, I want to leave you with a sobering thought which ties in directly with my Headline and is as real as today.
Today ends China's second largest holiday, "Golden Week," where all take a week long vacation at the same time. Here is an article that just came out a few minutes ago highlighting China's dilemma with internal combustion engine cars. The city of Beijing had to turn to the desperate measure of closing down parts of their highway system and airports due to the overwhelming smog. This cannot and will not continue if the PRC wants to avoid Anarchy. Kandi has delivered a logical giant step in solving this problem once and for all. This clearly shows by the overwhelming praise in the China Media the Company has received over the past year for their unique solutions to this deadly problem; major cities like Shanghai and Hangzhou are listening. Beijing and the rest of China's smog troubled cities cannot be far behind.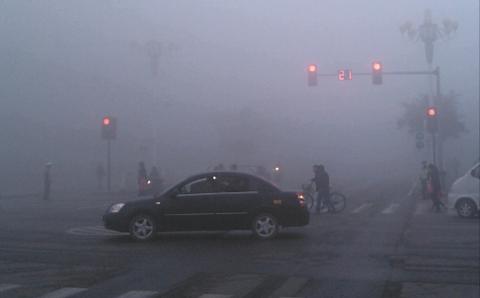 This concludes the first part of this multi-part article covering my recent visit to the Company. The next portion will include the visit to the company's original Jinhua facility where currently production of the new four door Kandi-Geely Panda is actively being manufactured, along with the company legacy Off Road Recreational Vehicles. It will also cover in detail with video and pictures, the rapid CarShare program build-out in Hangzhou which along with the Long Lease program could bring KNDI's 2013, 2nd half top line in between $80 and $100 million, and net per share between $.60 and .70, and ending with a look into 2014 and beyond.
Just an obvious afterthought during these trying days in the US stock markets. Irrespective of what Washington decides to do to our US markets, in reality, select China stocks like KNDI will not be negatively affected as there are always savvy investors looking for US Market, "defensive" issues. Whether the Beijing Government keep heaping benefits on EV producers in general to help alleviate their smog problems, or takes the aspect that they need to get as many constituents into climate controlled four wheeled vehicles which can carry home larger consumer discretionary items than a motor scooter to help their economy; low entry point EVs such as that KNDI provides will be big winners.
Here is a gallery of some pictures taken by me during our visit at the Changxing Facility.
Below are some short video outtakes posted on YouTube by Documentary Producer Aaron Rockett. These are just teaser snippets with his ultimate goal being to promote his finished hour long documentary of how Kandi is revolutionizing the EV industry in China to various US media outlets.
Disclosure: I am long KNDI. I wrote this article myself, and it expresses my own opinions. I am not receiving compensation for it (other than from Seeking Alpha). I have no business relationship with any company whose stock is mentioned in this article.