I watched the pitch zing straight into the catcher's glove. Twice. I have struck out on two of the year's most spectacular opportunities in the intellectual property ("IP") sector: Spherix's (NASDAQ:SPEX) 120% springtime rally from $6.74 to $14.89 per share and its 584% summertime rally from $4.07 to $27.86 per share. These rallies were infuriatingly not due to unforeseeable luck, as I knew how to predict their beginnings. I was simply not focused on playing the game, my mind adrift somewhere in the dugout, maybe shelling peanuts or humming tunes alongside the Hammond organist. As a result, I missed profits that dwarfed decades of single-digit returns most of us hope to earn from broad market indices. I am determined to not strike out a third time. Here is how I am getting my head in the game.
Instant Replay #1
I missed Spherix's 120% springtime rally due to laziness. After Vringo (VRNG) quintupled and overtook the fame of VirnetX (NYSEMKT:VHC) as investors' favorite Patent Assertion Entity ("PAE"), I knew that I should have been tracking the moves of its insiders. While most blog-reading investors awaited the next "pick" from Vringo's celebrity investors James Altucher and Mark Cuban, I knew that Vringo's original investors had been institutional all along. More than a year before these men announced their Vringo investment, capital funds Hudson Bay and Iroquois Capital had invested in Vringo. These capital funds were the most successful institutions in the IP sector, and I should have set alerts for their SEC filings. I yawned a seventh inning stretch and grabbed another beer instead.
My laziness cost me an opportunity to buy Spherix as early as February 14, by which point both funds had disclosed their investments: Hudson Bay with a 7.47% stake and Iroquois Capital with a 6.8% stake. At that time, Spherix was thinly trading in the $6 per share range and winding down operations in blatant preparation for pivoting into IP (exactly like Vringo before its merger with Innovate/Protect). As these capital funds prepared Spherix for one of the largest IP launches of the year, speculators discovered the Vringo connection and soon confirmed its new IP division per a February 22 regulatory filing. Speculative trading soon tripled its share price to $14.89.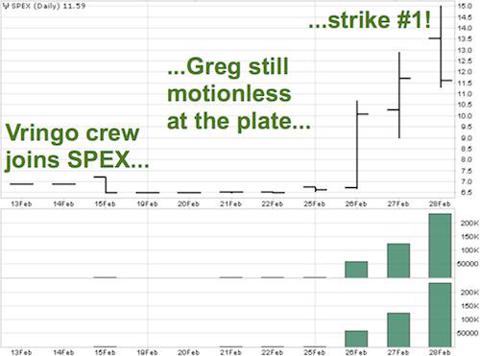 I lost a night of sleep writing How They Found the Next Vringo as self-punishment for missing that rally. Apparently, I failed to learn my lesson.
Instant Replay #2
With six months still remaining until the IP kickoff scheduled for August, Spherix's share price drifted lower. If I had been paying attention during this lull, I could have purchased shares at half their February price. I also would have benefitted from a near-term catalyst: Spherix's August 31 deadline for the appointment of Anthony Hayes as CEO. Hayes was an AmLaw 100 attorney whose work with a public company delivered up to 614% returns for shareholders and who also managed a $30 million patent monetization fund compounding some 30% annually.
Instead of placing bids, I daydreamed while Spherix rallied 584% from a low of $4.07 per share to a high of $27.86 per share. When did this stunning rally occur? In August, on schedule, immediately before Hayes was scheduled to become CEO. I must have been grabbing another hot dog instead of looking at my calendar.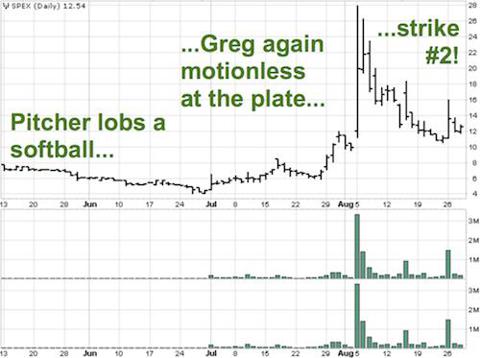 I explained this summertime rally before it occurred (July 23 at $6.26 per share) in my article Spherix's Low Float Overhaul, but I was too conservative to swing for what would have been a home run.
Third (and Final?) At Bat
Today, once again, the stock price of Spherix has pulled back 70% from its highs. Will I keep my eye on the ball this time?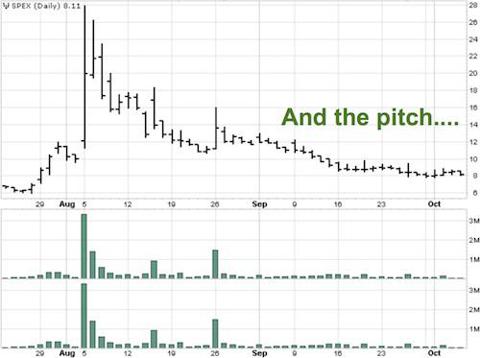 Let me summarize this third pitch, as much has changed with Spherix since Hudson Bay and Iroquois Capital arrived in February. The story began when Spherix started winding down operations in late 2012 and generating revenues of just $5,761 in the first half of 2013. It crawled into a cocoon with an interim CEO in order to fully transform into a PAE by summer 2013. Although Spherix was founded 1967, all its debt and operations (aside from a sugar-free sweetener that continues minor research through a legacy subdivision) were eliminated for a "clean slate" IP launch in August.
On August 5, Spherix announced a lawsuit against T-Mobile USA; on August 15, it retained a patent licensing team; on August 20, it raised $2 million; and on September 3, Spherix announced that it had filed patent lawsuits against VTech Communications and Uniden, two cordless telephone manufacturers.
By this time, as was becoming apparent, Spherix's IP business was advancing to coincide with the appointment of Hayes as CEO. Hayes joined through a merger with his earlier company, North South Holdings, and he brought with him 222 patents "principally covering wireless communications" developed at Harris Corporation (NYSE:HRS) plus a small portfolio from CompuFill. In addition, Rockstar Consortium had sold patents to and became a shareholder of Spherix at $5.65 per share with a $13 strike price contingency clause, adding its prestigious members Apple (NASDAQ:AAPL), Microsoft (NASDAQ:MSFT), EMC, Sony (NYSE:SNE) and Ericsson (NASDAQ:ERIC) as investors by association. By September, Spherix also kicked off its investor awareness campaign and will likely continue to clarify its new business in the coming months to retail investors, presumably amid even more lawsuit and licensing announcements.
Assets
Aside from a few million dollars of cash for operations with no debt, almost all of Spherix's assets are patents. Unfortunately, no one knows how much patents are worth as an asset class in the first place, and they certainly cannot calculate their value for Spherix's precise situation. Using Spherix's 52-week stock price range as a proxy for the range of estimates, Spherix's patents could be worth anywhere from $50 million to $350 million. Even worse, this enormous spectrum could be extended further to the upside or downside as the fair value of these patents is progressively evaluated during the next few months by courts, contingency firms, licensees, and ultimately Spherix investors.
Nevertheless, Spherix certainly has patents of real value, and its mountainous stock price rallies prove that these patents are compelling to some investors. This type of IP-fueled transformation in the span of just a few months has plenty of precedent. Former penny stock Vringo attained a half billion market capitalization in a few months because of one patent portfolio. Likewise, no one expected that VirnetX would have captured $2 billion in market capitalization as a PAE with only 11 employees, or that Sterling Partners would have acquired IP firm MOSAID for $590 million, or that Motorola Mobility would have monetized its patent portfolios into $12.5 billion... or that essentially worthless stock of Mango Capital, when it was barely trading even at a couple pennies per share, would receive a $0.34 per share cash dividend thanks to Hayes, who is now Spherix's CEO.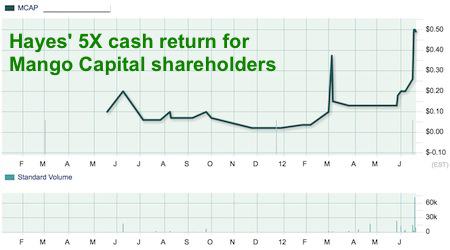 IP is secretive, difficult to value, and often surprises everyone when it suddenly generates revenue. In the real-life example above, Mango Capital shareholders barely knew that their company had any meaningful assets, let alone patents that could be monetized and paid out to shareholders in cash above all legal fees and taxes. Literally overnight, worthless stock became cash because of secret patents. In the case of a company like Spherix, which owns hundreds of patents, even if a few of its patents fizzle into duds, the enormous number of its patents provides diversity and renders valuation calculations almost impossible to perform.
Moreover, the market realizes that a CEO of Hayes' caliber would not likely have joined Spherix unless it provided him the opportunity to make a few million dollars, which he was already doing on his own. He was already a partner at a prestigious law firm, co-founded JaNSOME IP, operated North South Holdings, and launched a $30 million patent monetization fund by himself. His deals were earning 200-400% on average, he explained in an interview, so what type of offer would have appealed to Hayes?
Just One Risk
Aside from standard risk disclosures boilerplated into SEC filings, only one risk is salient for investors: valuation. Spherix significantly expanded its share structure when it merged with North South Holdings, and its market capitalization now fluctuates around $100 million fully diluted. This makes it a relatively large company in the patent sector, and almost all of this valuation depends on the quality of its patents and the ability of management and legal teams to monetize. I see no red flags from Hayes' background, so the only question investors need to ask is how much they are willing to pay for Spherix's patent portfolio.
I will add that the large size of Spherix was the reason many conservative investors (myself included) were scared to participate in the momentum and low float trading action earlier in the year. Admittedly outside of my comfort zone, I have recounted in this article how my laziness and overly conservative mindset caused me to miss two of the largest NASDAQ trading opportunities of the year. What I did not understand is that low float IP stocks are in a class of their own. PricewaterhouseCoopers reminds me that 2012 was a record year for patent infringement litigation, and patent monetization activity has increased even more this year. The IP sector is indisputably one of the newest and most rapidly growing sectors on Wall Street. Patent lawsuit filings are increasing by approximately 30% every year, and courts are awarding the largest patent infringement damages of all history.
IP is not a value sector. It is pure growth. Spherix is a wild, low float, volatile, momentum NASDAQ trading vehicle. Long term investors trust in Hayes' ability to generate outstanding returns through his personal connections, deal flow and legal expertise. The single, serious risk is that this self-made millionaire will not be able to scale his abilities to Spherix's corporate scale. I cannot assure anyone that he will. As with any growth stock, even great business results do not guarantee higher share prices, as momentum stocks are best understood as perception-driven marketplaces.
Conclusion
My eyes are focused on this pitch. Spherix is unlike anything I have ever considered buying, but its volatility is inescapably alluring. I will not miss this final swing, as it might be my final at bat. I know that the capital structure at Spherix comes with downside exposure, but my caution has already cost me hundreds of forfeited percentage points. I feel like I should be able to pull out a few percentage points out of the thrashing stock price somewhere. I will be carefully timing my bids and offers, although I own no position as of this article's publication.
Despite its risks, I should have known that 1) the reputation of "the Mango Capital dividend guy" Hayes, 2) the $5.35 per share cost basis and $13 strike clause of Rockstar Consortium's investment, and 3) investor speculation surrounding the value of hundreds of patents from a defense contractor founded in the 1800s (Harris Corp.) would have sent this low float NASDAQ stock into a frenzy.
Fortunately, I have the benefit of time on this final pitch, able to place bids and determine when and how much to trade. Obviously, the major catalysts will be licensing announcements, new lawsuit announcements, and progress updates on existing lawsuits.
I am also curious how Hayes plans to execute his business plans outside of the courtroom. From interviews during the past few years, he has boasted of his work in consulting, brokering patent sales between buyers and sellers, patent price arbitrage, financing third-party patent litigation and investing in other companies that own patents. He insists on a broad IP monetization strategy for Spherix, as well, and I expect that he provides investors with concrete details soon. These could provide surprise catalysts.
In all, Spherix is exhilarating and frightening at the same time. It is certainly not the stock for everyone, and it has a large market capitalization for its age. Yet if volatility is prerequisite for short-term returns, and it is, then Spherix is where I am bidding for short-term returns. Stepping up to the plate, I promise to keep my eyes on the ball, swing only if the pitch is good, and regardless, ignore the stadium distractions.
Disclosure: I have no positions in any stocks mentioned, and no plans to initiate any positions within the next 72 hours. I wrote this article myself, and it expresses my own opinions. I am not receiving compensation for it. I have no business relationship with any company whose stock is mentioned in this article.