Analysts that issue downgrades and sell recommendations on precious metals are generally, if the metals aren't in a major bubble, doing it for the short-term. I'd contend they're either trying to knock the price down or play a short-term dip. It's my opinion that no serious financial analyst anywhere is going to tell you that holding gold for the long-term is a major risk.
Goldman Sachs (NYSE:GS) has made two such downgrades this year, the first coming roughly a week before they completely changed their position, and the most recent coming Tuesday morning. I'm starting to wonder if Goldman's commodity analysts know what this looks like from the outside looking in.
Gold (NYSEARCA:GLD) has had an astonishing run over the last 10 years, as I've pointed out in a lot of my bearish sentiment articles. While over the past couple of years gold prices have pulled back, you can see its performance over the span of just 10 short years below.

For those of you that have been living on Mars for the last 140 years, Goldman Sachs is an investment banking firm that makes their money through worldwide banking, investment management and multiple other financial services with both individual and corporate clients. in addition, the company acts as a market maker and also performs services in the field of private equity.
Goldman Sachs, as an investment vehicle, has yielded 29% over the last twelve months for its investors.
Interesting chart, on a side note. Sure looks like a good time to buy around $155 and ride it back up to $170 again. But, I digress.
This article isn't concerning too much with investing in Goldman as it is to suggest blatantly ignoring (and possibly doing the opposite of) Goldman's investment advice on the precious metals. What I'm referring to is a Goldman analyst, Jeffery Currie, coming out Tuesday morning and calling gold a "slam dunk sell" after the government shutdown is over.
Bloomberg reported Tuesday morning:
Gold, set for its first annual loss in 13 years, is a "slam dunk" sell for next year because the U.S. economy will extend its recovery after lawmakers resolve stalemates over the nation's budget and debt ceiling, Goldman Sachs Group Inc.'s Jeffrey Currie said.

The bank has a target for gold prices next year at $1,050 an ounce, Currie, Goldman Sachs's head of commodities research, said today on a panel in London. The precious metal has tumbled 21 percent this year to $1,322.28 an ounce on speculation that the Federal Reserve would reduce its $85 billion monthly bond-buying program, known as quantitative easing, as the economy recovers. Lawmakers probably will reach an agreement on raising the debt ceiling before the Oct. 17 deadline, Currie said.

"Once we get past this stalemate in Washington, precious metals are a slam dunk sell at that point," Currie said. "You have to argue that with significant recovery in the U.S., tapering of QE should put downward pressure on gold prices."
Oh, Jeff - there's so many things that I think are wrong here. But, don't you wonder why the major banks still hold gold in reserve? Could it be because they understand, like these analysts, that gold is really the only non-inflated, non-renewable finite resource that we're going to gauge our currency against for many years to come? But, let's push that aside for a second.
First, let's quickly address the term "slam dunk" when used by analysts that are representing multi-billion dollar companies. This is boiler room talk that does well to sensationalize a headline for retail investors, but couldn't be further from what a gold sell would yield you. Am I the only one that's been burned on an investment from someone that's presented them with a "slam dunk", "touchdown", "hole in one", or any other sports related analogy investment idea?
Secondly, he's calling for a gold to plummet after QE ends? That makes precisely zero sense. As QE tapers, regardless of whether or not the boobs in the government have reconvened, people are going to have uncertainty about the markets a bit more than while QE was in place. Uncertainty causes people to hedge, and gold is arguably the most common and effective hedge against the equity markets that exists. So, while I don't want to say Mr. Currie has things completely wrong here - it appears he might have things completely wrong here.
Thirdly, they're issuing a downgrade after gold is already off 20%+ for the year. This could, to some people, reek of desperation to take a long position at even lower prices.
Fourth, this is the fourth time this year that Goldman has changed their mind on gold - going from bullish to bearish in April, back to bullish in April again, and now bearish again? We still have 2 months left in the 2013 season; Goldman's commodity analysts could be going for the flip flop record this year!
Earlier this year, you may remember, Goldman issued a downgrade on gold in April - right before they covered their short at a 15% discount and then went long.
On the heels of Goldman's downgrade in April came a barrage of headlines the following days, all of which advising that the gold "bubble" was about to burst. Subsequent to that, gold prices got absolutely demolished: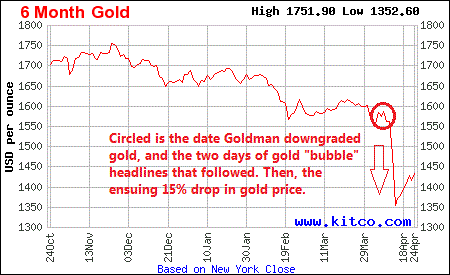 After the downgrade was issued, I penned an article on April 15th called "Goldman's Gold Analysts Fail to Grasp Reality". In that article, I made some suggestions, saying it was not totally out of the question for Goldman to possibly be manipulating the price of gold for them (or their clients) to buy at a lower price (bold emphasis added for the purpose of this article):
[Gold] is a non-complex issue that economists like to make sound complex in order to further their temporary need for market stimulation. Anyone that tells you that the result of Nixon shock is any more complicated than supply and demand methods learned in an ECON 101 class is trying to pull the wool over your eyes. What I mean by that is that this is a far less complicated issue than many economists will have you believe. It has to do with the amount of money in the supply versus the finite, unchangeable amount of gold available worldwide.

So, the wool that Goldman could be trying to pull over your eyes here could be the same tactics used by analysts, market makers and hedge fund traders everywhere: create a trend and buy/sell the opposite into it. If you think Goldman could not possibly be buying gold on their very own downgrade and assumed corresponding price decline, then I have some real estate in Alaska I'd like to sell you.
Imagine my surprise on April 23, less than two weeks after Goldman's massive downgrade, I see front page on CNBC.com with the headline "Surprise! Goldman Covers Gold Short" :
Goldman Sachs on Tuesday reversed its high-profile call to short gold, which it made two weeks ago, just before the metal sunk into bear market territory.

The firm's commodities research team said the decline in gold was more rapid than it expected, and it exited the trade with a potential gain of 10.4 percent, below its original target price of $1,450.
Interesting. Goldman was short gold before issuing a "world is going to end" style downgrade on gold and then covered their entire short after the market and the common folk sold off to bring gold down about 15%?
That's certainly an interesting set of coincidences. How can anybody take Goldman seriously at this point? I sure don't.
Conclusion
When I wrote my first couple of articles about Goldman and gold during the beginning of the year, the SA editors were wary - claiming that I was making bold claims (that I later qualified to make nice) based on speculation. Now, I'm making these claims based on proof - Goldman Sachs pushed gold prices down earlier this year so they could cover a short - and this downgrade might not be any different.
I continue to remain bullish on gold - regardless of what the headline the "analyst-o-the-week" over at Goldman throws against the wall.
As I stated in my article "Gold 101: Do You Pass?":
However, gold remains the perfect hedge against financial meltdown. As early as the 1970s, gold was being used as a major hedge against inflation and it was working effectively. During the beginning of 2011, gold had a massive rally on the news of the U.S. debt being downgraded and economic issues overseas. The fact that gold never really moves in direct correlation to stocks or bonds makes it a great place for a permanent small part of your portfolio.

Buying actual gold isn't just safe -- it's pretty cool. If you find a dealer or broker that has been established for many years and has small premiums, you can easily build a physical gold position. Take a cue from the way that the large banks operate. The same way that banks hold the precious metal in reserve is could be used as a macrocosm of how you hold gold in reserve. Why not take a small physical position and store it in a home safe or security box at your local bank?

Physical gold is great because it's known worldwide, and will always have some sort of value because it's non-renewable. The small list of cons of physical gold basically revolve around the inconvenience of having to physically buy and sell it, as well as having a secure place to store it. Also, gold doesn't pay dividends or have any guaranteed yearly yield.

The other common way to invest is through gold ETFs such as iShares Gold Trust (NYSEARCA:IAU), which basically track the price of the commodity by physically purchasing bullion. ETFs are an incredibly easy way to trade gold in the account that you already have and can be traded very quickly, unlike physical gold. Gold ETFs are a much quicker and much more convenient way to trade gold (and other metals).
The facts are that regardless of what Goldman Sachs is prattling on about this month, buying gold with the intention of holding 10, 20, or 30 years is in no way a bad idea, and does well to limit a lot of long-term risk. Just ask Ron Paul, who keeps 64% of his portfolio in gold and silver mines. Sound crazy? Sure, it does. Has he yielded amazing results in the last 30 years? You bet he has.
So, yes, there is some short-term risk associated with gold and these momentary downgrades and upgrades; although this investor sees the risk decreasing with the longer you intend on holding your gold position. Since gold has peaked in 2011, it's been down nearly 35%. I contend that these short-term pullbacks are normal, as analysts (for their own reasons) continue to upgrade and downgrade gold. Corrections are fine when the long-term price trend is steadily heading upward, like gold continues to do. Savvy investors that are long gold see these dips as a chance to add to their respective positions on the way up.
As always, it's nice to try and level the playing field for some retail investors and give some insight as to exactly how analysts can sometimes work. Don't forget, as I've often said, 99 out of 100 people that want to give you advice have a stake in the game somewhere. It's something to be wary of and perspective that's important to have. As always, best of luck to all investors.
Disclosure : I am in no way accusing Goldman of blatant market manipulation, rather just pointing out things I find extremely coincidental and trying to possibly "pull back the curtain" a bit. I have no positions in any stocks mentioned, and no plans to initiate any positions within the next 72 hours. I am long GOLD. I wrote this article myself, and it expresses my own opinions. I am not receiving compensation for it (other than from Seeking Alpha). I have no business relationship with any company whose stock is mentioned in this article. I hold physical gold and silver.