"A nation that is afraid to let its people judge the truth and falsehood in an open market is a nation that is afraid of its people." - John F. Kennedy
Much attention has been focused on US markets and the powerful rally that has gotten many bulls excited about their stock portfolios in 2013. Those who have been patient and believed in the "Bernanke Put" have certainly been rewarded given the runaway move, and the feeling of consistent gains which has been uncharacteristic of equities post financial crisis. With the media coverage on Washington's dysfunction, however, some are arguing that a debt default would cause an immediate collapse in all stock markets, evaporating gains in the S&P 500 (NYSEARCA:SPY) this year.
While I agree that such an event would make Lehman look like a walk in the park, no politician has any incentive to cause an end to the world. On Bloomberg, I argued that one should not be concerned about the incompetence of our political leaders, which seems to be a constant over time. The bigger issue is more the overbought nature of US averages which seems to be ignored by most analysts still buying past returns.
Take a look below at the Russell 2000 (NYSEARCA:IWM) going back to 1979 on a rolling 52 week return basis. Note that we are at overbought levels from a longer cycle perspective, and that prior spikes above this level were preceded by big declines (which has not occurred this time around).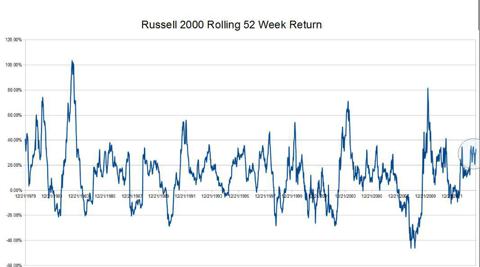 It should make sense to be careful of US averages here independent of this chart. First, consider the fact that a rotation out of developed markets into emerging ones seems to be underway. This is a rational allocation being made by smart money given similar momentum to US averages since June with cheaper valuations. Second, consider that there is no reflation which confirms the bull thesis. Homebuilders (NYSEARCA:XHB) have been weak, inflation expectations have not trended the right direction, and averages are pricing in growth which is now being downgraded across the board for 2014. Third, while everyone focuses on the idea that stimulus is bullish, if the stimulus is not effective, it is bearish.
From an asset allocation perspective, both long duration bonds (NYSEARCA:TLT) and emerging market stocks (NYSEARCA:GMM) offer interesting opportunities for the near-term. US stocks could pause or correct. For our ATAC models used for managing our mutual fund and separate accounts, we are likely to rotate between the two depending on how aggressive beta overall behaves in the weeks ahead. Badger on.
Disclosure: I have no positions in any stocks mentioned, and no plans to initiate any positions within the next 72 hours. I wrote this article myself, and it expresses my own opinions. I am not receiving compensation for it (other than from Seeking Alpha). I have no business relationship with any company whose stock is mentioned in this article.
Additional disclosure: This writing is for informational purposes only and does not constitute an offer to sell, a solicitation to buy, or a recommendation regarding any securities transaction, or as an offer to provide advisory or other services by Pension Partners, LLC in any jurisdiction in which such offer, solicitation, purchase or sale would be unlawful under the securities laws of such jurisdiction. The information contained in this writing should not be construed as financial or investment advice on any subject matter. Pension Partners, LLC expressly disclaims all liability in respect to actions taken based on any or all of the information on this writing.