The solar industry is the comeback kid of 2013. Over the last few years, major solar index trackers tumbled up to 90% from previous heights, resembling the infamous dotcom crash. The bottom certainly lies in the past now, and share prices of nearly all solar stocks made multi-bagger gains this year. But not every solar company is the same. Some are near bankruptcy while others are doing great. But we found one solar stock that absolutely skyrocketed to almost solar levels. We are talking about Canadian Solar (NASDAQ:CSIQ). We think its ten-bagger rally is way overblown, providing an excellent short opportunity.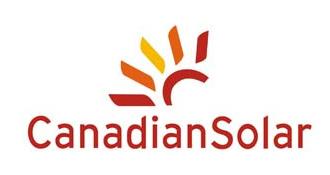 Company overview
Canadian Solar engages in the design, development, manufacture, and sale of solar power products worldwide. The company offers solar wafers, cells, and solar module products that convert sunlight into electricity for various uses. Its products include a range of standard solar modules for use in a range of residential, commercial, and industrial solar power generation systems. The company also designs and produces specialty solar modules and products consisting of customized solar modules that its customers incorporate into their products, such as building integrated photovoltaic modules, or BIPV modules; and specialty products, such as portable solar home systems and solar-powered car battery chargers. In addition, it sells solar system. Further, the company implements solar power development projects; and performs the engineering design, procurement, and construction work for the solar project. Canadian Solar was founded in 2001 and is headquartered in West Guelph, Canada.
Parabolic 1000% rise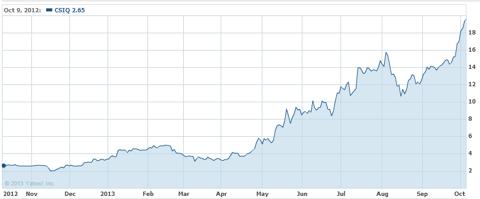 Canadian Solar's share price went parabolic. It surpassed the major solar ETF's (TAN and KWT) by a landslide, they 'just' tripled in price. Stock market history proves parabolic rises of this magnitude are not to last long. Therefore, we stress investors to be cautious at least.
What about the fundamentals?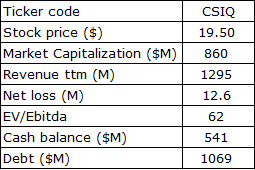 As per June 30, 2013 level of revenue is adequate and the company appears reasonably valued if one only looks at the price-to-sales ratio.
revenue:

But the growth in revenue is not material.
Looking at revenue only would be flawed anyway, as the product pricing is too low, pushing margins in the red.
cost of goods sold:


Cost of goods sold rise as well, so this offsets the rise in revenue.
net loss:


The company still is incurring losses. There is also no realistic outlook on profitability.
Further, the EV/Ebitda ratio is very high indicating overvaluation. But worse than that; the balance is weak. The next findings should be disturbing for investors:
Cash balance:

Cash level is actually on the decrease since last year.
Long term debt:


And long term debt doubled.
Summarizing: We noticed several red flags in Canadian Solar's finances which should worry investors. Also, there is an increase in net foreign exchange losses, indicating their treasury department is not doing a good job at hedging exchange rate related risks. Overall, despite the reported revenue numbers, in our view, the negative margins, weak balance sheet and net losses do not make the current market capitalization good.
Problems with the SEC
Reuters reported last July that U.S. federal regulators tried to persuade a judge to sanction the Chinese arms of the world's top five accounting firms, saying their refusal to hand over audit work papers has hindered investigations into fraud at U.S.-listed Chinese firms. In testimony during a hearing at the U.S. Securities and Exchange Commission, an SEC official alleged that Deloitte's failure to turn over audit records has stalled a three-year-old probe into financial fraud at a large solar power company. This large solar company is Canadian Solar (link). As a result, the company had to revise their 2009 and 2010 results. The case appears to be over now, but investors should be reminded that this may well happen again. In our view, this is not the first, but certainly not the last time, that Chinese US-listed companies apply negligent accounting methods.
Dependency on government policies
A problem is that the solar sector is more dependent on government policies than sound economics. The list of government interventions in an otherwise free market is extensive;
Some pay utilities for increasing their use of renewable energy, others give homeowners tax breaks to install solar panels, and still more pay small producers inflated rates for feeding electricity back into the grid, etc. But politicians are short-sighted, and their decisions can alter fast. When sound economics comes into play again, Canadian Solar could take a hit as soon as the subsidies fade out. The Globe and Mail had a nice article about this (link). We think this risk is not priced in enough.
Technically overbought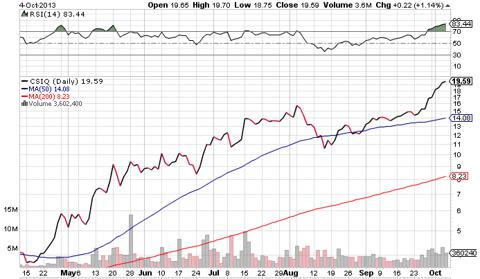 RSI indicates the stock price is overbought for a week now. This probably won't last long. The price could return to its next support level, the MA50 at $14. Canadian Solar is a sell from a technical point of view.
No Insider Is Buying
From nasdaq.com: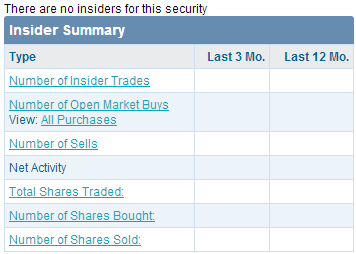 No insider is buying. Perhaps the steep rally caught them by surprise as well, but it is telling that at these levels no insider is taking a long position. We can't even tell whether they own the stock. A red flag in our opinion.
Rising Short Interest
From nasdaq.com: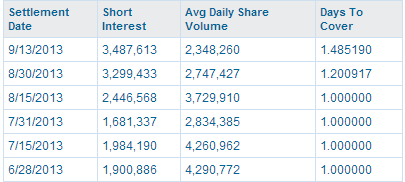 In general, the smart money is short. According to the table, short interest is rising. Another red flag.
Conclusion
After a ten-fold increase in price, we think the market has significantly overpriced the stock. There are too many red flags at work now. The accounting was shady at best, and the dependency on politicians is a major risk the market is not taking into account well enough. The technical chart indicates the stock is way overbought. Also, the balance sheet continues to be weak and we do not see a turn-around happening in the short term. We say take the profits and run, and speculative investors could, just like the smart money, enter a short position.
Recommendation: Short/Sell, short-term price target $12.
Ticker code: CSIQ
Listing: NASDAQ
Market capitalization: $860 million
Average daily volume: 3.1M
Next earnings date: November 11, 2013
Disclosure: I am short CSIQ. I wrote this article myself, and it expresses my own opinions. I am not receiving compensation for it (other than from Seeking Alpha). I have no business relationship with any company whose stock is mentioned in this article.