Mini-Bubble in Singapore Dies Sudden Death
Recent events in Singapore's stock market slightly influenced the performance of the gold mining junior ETF GDXJ, as the ETF's largest component stock is,, or rather was, Lion Gold (with a weighting of 4.78%). Lion Gold is a gold investment company that has its main listing in Singapore and plunged by 71% in a single trading day. Luckily for holders of GDXJ, the ETF's other component stocks rose enough to produce a positive close for GDXJ on Monday in spite of Lion Gold's collapse.
What makes the event so interesting to us is that similar to what has recently occurred elsewhere, an enormous speculative bubble in small-cap stocks had developed in the otherwise staid Singapore stock market (we are lately observing bubbles of varying intensity in small and micro-cap stocks across the globe). Stocks in companies with a few million dollars in revenues soared to market caps in the billions. All seemed well until the plug was suddenly pulled two days ago, seemingly out of the blue.
As the WSJ reports:
Shares of some small-cap stocks in Singapore have soared in recent months, in some cases nearly tripling in value in just two weeks, even as local brokers tried to keep clients away from them. Then on Friday, three of the hottest stocks fell between 42% and 61%, wiping out about US$4 billion in market value, sending other small-cap stocks tumbling as well. What happened to these three companies has weighed on people's minds, but the general market sentiment has also been weak," with investors concerned about the U.S. fiscal impasse, said Kelly Teoh , a Singapore-based market strategist at brokerage IG Markets.

Friday, the stock exchange, Singapore Exchange, suspended the three stocks- Blumont Group Ltd., Asiasons Capital and LionGold Corp. -citing concerns that the market that might not be "fully informed" about developments at the firms, its first such action in 13 years. On Sunday, the exchange barred short selling and margin trading in the shares.

But when the market opened Monday, the three stocks tumbled again, falling as much as 92% and pulling down small-cap shares broadly. By the market's close Monday, the Straits Times Small Cap index had dropped 3.1%, after a 4.1% decline on Friday. The large-cap Straits Times Index, meanwhile, ended flat.
(emphasis added)
When stocks tumble "up to 92%" in a single trading day, it amounts to one of the biggest crashes ever witnessed - especially as the same stocks had already been cut down mercilessly the previous trading day (and some of them have since then continued to fall).
Interestingly, no-one seems quite sure why this happened, although a number of theories have been forwarded. However, as Bob Prechter once pointed out (we are paraphrasing): "The values of securities exist only in our head."
We continually agree on prices for securities in the marketplace, and it is usually assumed by most investors that prices won't change much in the immediate future, unless unexpected major news reach market participants. However, there is nothing 'objective' about the prices quoted for stocks. Their prices only express the subjective value judgments of traders, and these value judgments can change - and sometimes they can evidently change quite a lot in an instant.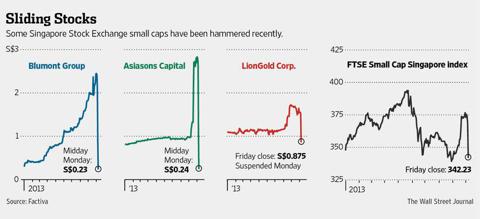 Selected small cap stocks crash in Singapore as the mini-bubble bursts
More from the WSJ story:
The selloff started Friday. Shares of Blumont, which provides sterilization services for consumer products, food packaging and medical devices, had risen more than eightfold in the first nine months of the year, boosting its market value to S$6.3 billion (US$5.05 billion) from S$508 million. This placed Blumont-which earned just S$4.4 million in revenue all of last year-among Singapore's top 50 companies by market capitalization.

In a filing to the stock market on Friday, Blumont said it canceled a plan to take over Australian coal miner Cokal Ltd., a deal it would have paid for by issuing 72.2 million new shares at S$2.02 each-its closing price Thursday. The company attributed the deal's collapse to the drop in its share price, which fell to 88 Singapore cents before trading was suspended. On Monday, Blumont's share price dropped by as much as 87% to 11.5 Singapore cents, before ending at 13 Singapore cents.

Shares of Asiasons, an investment firm, lost as much as 92% of their value to reach 8.5 Singapore cents before ending at 15 Singapore cents. The stock lost 61% on Friday, falling to S$1.04 before it was suspended. LionGold, an investor in gold-related businesses, closed 71% lower at 25 Singapore cents on Monday. It fell 42% on Friday to 87.5 Singapore cents before trading was suspended. Asiasons is LionGold's largest shareholder, with an 8.9% stake as of Aug. 20.

Friday, the companies responded to SGX queries about their share-price drops. Blumont cited its proposed takeover of Cokal as a possible factor. Asiasons said it was hit by rumors that Singapore regulators were investigating the firm and denied that a probe is underway. LionGold said it was in advanced talks to buy out a gold-mining company, which it disclosed on Monday to be Peru's Minera IRL Ltd.

[...]

Singapore's small-cap stocks can be volatile and are often traded by aggressive investors looking for big wins. There is no evidence the selloff in small-cap stocks is hitting the Singaporean economy or any of its blue-chip stocks. Recent strong showings by small-cap companies had already drawn scrutiny. At least one brokerage took steps to protect investors against what it saw as excessive investor enthusiasm about some of these stocks.

In recent months, UOB Kay Hian Holdings Ltd. blocked clients from trading 20 stocks, including Blumont, Asiasons and LionGold, online via their accounts with the firm. People who want to buy more than S$30,000 of the shares via brokers at the firm have to pay cash upfront, as opposed to trading on margin, with borrowed money. Blumont and LionGold on Friday cited the curbs as a possible factor behind their share-price declines.
(emphasis added)
Our guess would be that the several factors cited above all conspired in causing the sell-off. There were probably too many traders who had bought these bubbling stocks on margin. News of the U.S. government shutdown, the planned takeover deals and the tightening of margin requirements by some brokers then caused the initial wave of selling, which in turn triggered all sorts of sell stops and induced more and more forced selling by traders on margin. It is nevertheless quite fascinating that the collapse of these stocks was so immense and happened so fast.
Can It Happen Elsewhere Too?
Below is a chart of the Russell Microcap Index Fund IWC. Consider that this is an index, which contains a smorgasbord of winners, losers and stocks that have gone sideways. Considering its huge advance since the 2011 low, we would wager that it does in fact contain a number of "bubble stocks."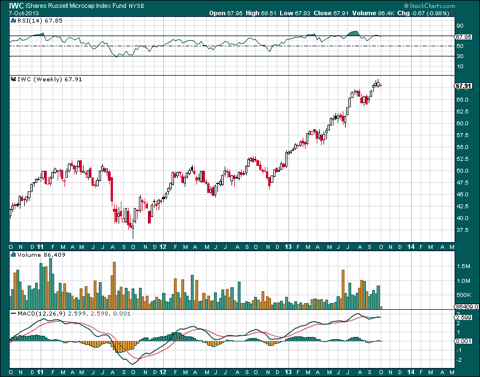 ICW weekly chart: a meteoric rise in U.S.-listed micro-caps since the 2011 low
Stock markets around the world are experiencing a surge in highly speculative trading, egged on by extremely loose monetary policies everywhere, with the U.S. Federal Reserve and the BoJ lately especially active in terms of monetary pumping. In U.S. stock markets we have seen speculative darlings like TSLA, FB, AMZN, NFLX, CRM, GOOG, HLF and so forth, rising to levels probably very few people expected to see in the current bull market cycle. Most of these so-called 'momentum' stocks are supported by 'earnings momentum' or a 'good story', or ideally both. Valuation is not a concern for the traders flitting in and out of these issues.
A lot of the trading in such shares is also done by high frequency trading [HFT] algorithms and fully automated systematic black box trading systems. The latter trade mainly on technical signals, but have become ever more sophisticated in recent years. For instance, these days we also find trading systems that are scouring Twitter, stock trading forums, news sites and various social networks for the background chatter on specific stocks and the market in general, trying to gauge the evolving mood.
Since the ability to efficiently execute systematic strategies is highly dependent on liquid markets, the ongoing demise of specialists and other market makers who used to provide liquidity in the open outcry markets may one day well be rued. Today HFT systems provide the bulk of market liquidity, and as could be seen on occasion of the May 2010 'lash crash, they will withdraw from trading as soon as the market becomes too volatile. Then there is a sudden liquidity vacuum, and even staid blue chip stocks can go bidless. The emotion-less machines then seemingly "panic." Below is an intra-day chart of Procter and Gamble - one of the most boring stocks in the market - on the day of the flash crash: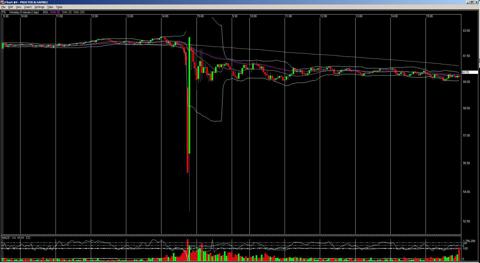 P&G, tree minute candles on 'flash crash day' in early May 2010. Within just three minutes, P&G crashed, only to fully recover the loss over the subsequent three minutes
One important point is that all technically oriented black box systems are employing the same basic tactical signals to make their decisions. In short, what causes such 'machine panics' is the very fact that the recipes used are necessarily very similar in all systematic trading approaches. Moving averages and other technical yardsticks that are used as inputs in buy and sell decisions are the same everywhere. In addition, a great many human short term traders are also relying on the same, or very similar inputs.
Thus breaks of price levels that are considered technically important can easily result in market crashes. Consider e.g. gold's price crash in April, which followed right on the heels of the metal breaking below the then technically very important $1,525 level.
Are there any other similarities to the Singapore situation that we should be concerned about? We would argue that apart from valuations and the artificial distortion of prices due to monetary pumping, there is at least one: soaring margin debt.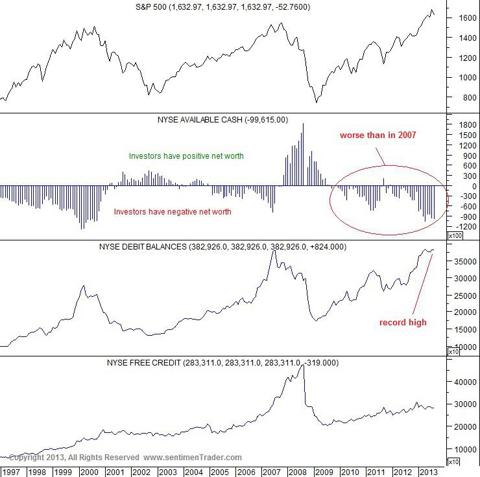 NYSE margin debt, via sentimentrader. The absolute level of margin debt is at a record high, while the extent and duration of investor negative net worth is second only to the situation during the bubble of the late 1990s - click to enlarge.
Of course the fact that a huge amount of margin debt is outstanding is not per se a reason to expect an imminent market decline (if that were so, a big decline would have happened already). However, it is a strong hint that the risk-reward equation is tilted ever more toward risk. Once a market decline reaches a certain unknowable threshold (namely the point at which a critical mass of margin traders is getting margin calls), the decline can begin to snowball due to forced selling. Combine this forced selling effect with systematic trading algorithms all selling their long positions and shorting the market concurrently and you have the ingredients for a 'mass-correlated hyper-volatility event' to use Bob Bronson's colorful definition of a crash. Usually such crashes spread into other, normally uncorrelated markets as well (the 'mass-correlated' part of the MCHVE phrase), as traders and investors scramble for liquidity.
Conclusion
What just happened in Singapore is a warning shot - a reminder that there is indeed a lot of risk out there and that it can manifest in a very short time, giving people barely a chance to react. What triggers such moves is not knowable in advance, but as the Singapore example shows, there may not even be a single, clearly identifiable 'reason' in hindsight (this is a similarity to the 1987 crash, the causes of which are debated to this day).
Be careful out there - there are proverbial sharks in the water and proverbial asteroids hurtling through financial space. The values of stocks are only in our heads, and a reset of these values can happen very quickly and unannounced.
Charts by: Acting Man, StockCharts, Sentimentrader, WSJ