This morning, AudioCodes (NASDAQ:AUDC) made a timely announcement that killed two birds with one stone. In a monster press release, AudioCodes introduced the "One Voice for Hosted Services program" that will enable it to leverage its One Voice campaign to industry heavyweight BroadSoft (NASDAQ:BSFT) for deployment to service providers and enterprises. In my opinion it makes AudioCodes bigger and a lot more predictable with BroadSoft now alongside Microsoft's (NASDAQ:MSFT) Lync . The announcement also negated this morning's downgrade of the shares by Oppenheimer's analyst Andrew Urkewitz on valuation. AudioCodes' announcement tells me that Oppenheimer has limited visibility into AudioCodes' strategies and technology prowess and reinforces my call that AudioCodes wants to be the One Voice to the Unified Communications (UC) world a reality. Today's announcement speaks volumes to the upside and respect AudioCodes garners in its industry.
Oppenheimer's research note was overall very positive and the analyst made note that the downgrade was based solely on valuation, there were a few key points that I wanted to highlight.
Oppenheimer's Positive Notes on AudioCodes
"We do believe the pieces are there for an elevated, sustained growth trajectory beyond next year."
"Management's focus on One Voice for Lync, software-based SBC's and a full end-to-end solution for small/medium enterprises has reinvigorated AudioCodes."
"Its differentiated strategy has positioned it well against competitors, and we believe it's the basis for sustained growth."
"Bottom line - there's a lot to like."
Here's why AudioCodes' One Voice partnership with BroadSoft and other hosted players makes it worth a factor of the $244 million market capitalization that it has today:
Rebuttals to Oppenheimer's Note:
The analyst said he wanted to get more comfortable with the industry spending environment/UC adoption rates. I believe that BroadSoft's CEO Michael Tessler answers this question in the press release today;
"We view the AudioCodes One Voice program as an accelerator for deployments of BroadCloud(NYSE:R) and BroadWorks(R), AudioCodes One Voice reduces deployment costs and simplifies the buying, integration and support processes, enabling BroadSoft service providers to concentrate their efforts and resources on delivering revenue-generating Unified Communications services for their enterprise customers."
The analyst said AudioCodes only deserves a 1.7 EV/sales valuation compared to Sonus' (NASDAQ:SONS) EV/sales valuation of 2.6 because Sonus serves the carrier space. I believe today's partnership announcement with BroadSoft opens AudioCodes up to this market overnight as Broadsoft serves the top 25 carriers in the world. I believe AudioCodes CEO Shabtai Adlersberg said it best in the press release;
"The demand rate of Hosted PBX and SIP Trunking services is driven by the value it brings to business customers in cost savings and productivity, but is slowed by the complexity inherent in effectively delivering it to the customers' premises. One Voice addresses this exact challenge, by letting service providers focus on innovation, rather than connectivity and delivery of the services."
The analyst noted that the stock is trading at highs last seen 5 years ago. He points out that at that time AudioCodes booked $0.12 in EPS on revenues of $41 million versus last quarter's $0.03 in EPS on $34 million in revenue for a P/E of 35. I find this comparison most troubling because anyone that has followed AudioCodes in 2011 when it reported the $41 million in revenues, knows that it wasn't anything near as solid, or as diversified as it is today. This is a terrible mistake. You value companies on growth prospects, product offering and management. In 2011 AudioCodes had most of its revenues coming from legacy products (chipsets, blades and gateways) versus today's revenues coming from SBCs, IP phones, services, gateways, software solutions and mobile OTT. AudioCodes is down to 10%-12% legacy and all of its other products are being driven higher. Today's press release opens the door to a full out relationship to BroadSoft and allows AudioCodes to offer services and products to a very strong UC company to both carriers and enterprises across the globe. This relationship will bring hockey stick growth in 3 to 6 months. By the way, this relationship started two years ago and probably got stronger after Oracle (NYSE:ORCL) acquired Acme Packet. I can't stress how important this is to AudioCodes today, tomorrow and for the years to come.
Chart :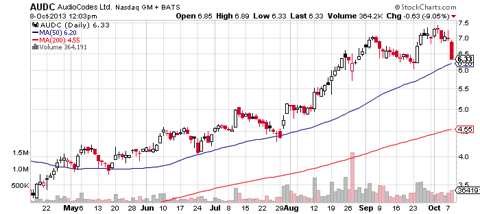 If you believe in channels and charts then you have to own AudioCodes as it comes down to test its 50 day moving average (NYSE:MA). As you can see, every time it has come down to its 50 day MA it has been a great buying opportunity. I liken today's action to that of July - August when the stock pulled back to the 50 day MA and then went from $4.50 to $7.00. Today's news out of AudioCodes and the positives from Oppenheimer's note reinforce that this is a great buying opportunity.
Sector:
This past month, we saw another VoIP player, Ring Central (NYSE:RNG) go public. The company has a $1.1 billion market capitalization and losses of $23.9 million on revenues of $73 million (this past six months). This week another VoIP company, Mavenir filed an IPO for $86 million dollars through Morgan Stanley and Merill Lynch and has losses of $8 million on revenues of $48 million (this past six months). Mavenir is very much like MailVision (AudioCodes' acquisition which has yet to be addressed in public). This sector is on fire. AudioCodes that trades at 1.68 times my 158 million 2014 revenue estimate is too expensive compared to these new entrants will not stay for long.
The growth in the SIP trunking market is real as an Infonetics report in the Q1 2013 noted: "The SIP trunking market is expected to grow from 6.8 million sessions to almost 40 million sessions in 2017." In addition, Jefferies Equity Research estimates that VoIP business seats will grow from 44 million in 2012 to 149 million in 2017, representing almost 50% of all global business voice lines.
Increased Investor Awareness:
AudioCodes needs to conduct an analyst day in the immediate future to allow current and new analysts to look under the hood. It's a must. I always said, AudioCodes was a 2014 story, so why would a downgrade occur just prior to its strongest quarters? I believe if there's any new analysts lurking they'll strike in the next 2 - 4 weeks as Oppenheimer has given us longs a great buying opportunity and hopefully brings more visibility from the company. Oppenheimer has just changed the game very positively for the longs as Investors become aware of how strong and big AudioCodes can become in the next year.
Intangibles:
Many consider the smartest investors in the stock market to be the shorts. If a stock is overvalued, they will find it and prove they are right by shorting the stock. So what are the shorts saying about AudioCodes? From June to October, AudioCodes' stock went from $4.00 to $7.50 while the short interest went from 75,000 to 111,000 on 38 million shares outstanding. The smartest people in the marketplace are clearly telling you that AudioCodes is not overvalued. With my recent call and the shorts backing, I believe that AudioCodes will soon be hitting new highs again
Conclusion:
I'm glad Oppenheimer has exited the shares because as a long term holder I believe Oppenheimer didn't do strong due diligence on the name. The analyst publicly admitted a mistake on his estimates back in January causing the shares to crater, only to pop back up. He fell asleep as the shares plowed thru his $5 target and now his argument is looking weak when compared to today's press release. The timing of the two events is evidence of this and I think the true value comes from the institutional base that has been growing in the shares since August. I think today's partnership with BroadSoft will increase that base and it opens the mind to what other partners will come to AUDC for their Voice needs. I'm believing the sector and the institutional interest is telling us AUDC 's time is coming sooner than later. This is a pullback to remember for those who recall my last "Pullback to Remember"
Disclosure: I am long AUDC. I wrote this article myself, and it expresses my own opinions. I am not receiving compensation for it. I have no business relationship with any company whose stock is mentioned in this article.