Crude oil is at a two-year high, around $110 per barrel. The oil price surged from $87 a barrel to almost $110 a barrel in less than six months, which is a gain of 26%. Stocks of major integrated companies in the oil and gas industry moved from a decline of about 1% to a gain of 16% over the same period owing to the jump in prices. Therefore, Exxon Mobil Corporation (NYSE:XOM), the largest publicly traded oil company, is a great case study to understand the impact of the recent hike in oil prices on its stock price.
World Economy and Demand for Oil and Gas
Oil and gas will likely have a limited demand growth in North America and Europe over the next few years owing to slow economic recovery in these regions. Majority of the marginal growth in oil and gas will arise from the rebound of emerging market economies, such as China and India. It is expected that China's annual oil and gas consumption will rise by 9% and 23%, respectively. Thus, high demand for oil and gas in emerging economies will lead to a high growth in the company's revenue.
The world's real gross domestic product will rise by an average of 3.6 percent per year, from 2010 to 2040. Emerging countries outside the Organization for Economic Cooperation and Development (OECD) will experience a combined GDP growth of 4.7 percent per year. In the OECD regions, GDP will grow at a much slower rate of 2.1 percent per year until 2040. Mature economies and a slow population growth rate will add to this factor. Strong growth in the real GDP of non-OECD countries will drive the fast-paced growth in future energy consumption. Thus, I believe that the high demand for energy will ultimately contribute to the higher margins of the industry.
From 1990 to 2010, China and India were the fastest growing nations with an annual GDP growth of 10.4% and 6.4% per year, respectively. I believe that the growing demand from economies like China and India will hike the oil prices in the further. The following graph explains the historical trend and future projections of energy consumption over the next three decades.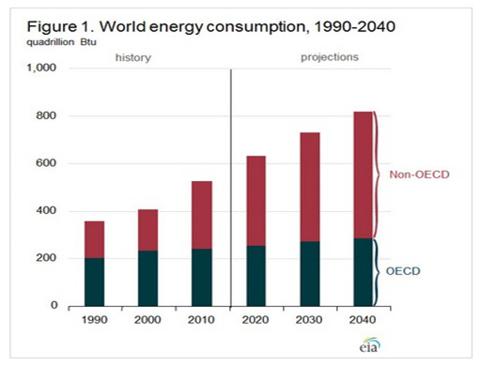 Recent Developments
Exxon, with a market capitalization of $389.10 billion, closed at $88.40 on Friday. The stock price remained within the range of $84.70 to $95.49 during the last 52 weeks. Exxon has a dividend yield of 2.9%. The company is heading towards lower profits for the fiscal year 2013. Oil output is decreasing as the fields mature. On the other hand, natural gas volume is being held back by poor prices in North America. Assuming that these trends will continue till the end of 2013, I expect a decrease in earnings per share in the fiscal year 2013. Given the company's performance in the past and its new projects, I do not expect the continuation of this trend in the long-term.
Historical Performance
Exxon generated 91.91% of its total earnings from upstream, 5.77% from downstream and the remaining 2.32% from its chemical segment during the second quarter of the current fiscal year. Exxon acquired 27.10% revenue from its operations in the United States and the remaining 72.90% from outside the US.
Exxon's revenue deteriorated by 16.40% in the second quarter of FY13, reaching a level of $10.6 billion. The decrease in Exxon's revenue was primarily driven by the lower production of oil and natural gas during the second quarter of fiscal year 2013 as compared to the production level of the second quarter of fiscal year 2012.
The company's cost of revenue decreased in absolute terms in 2QFY13. Although as a percentage of net sales, the cost of revenue witnessed a YOY increase and reached a level of 72.61%. Gross margins also witnessed a significant decrease and reached 27.39%. Revenues grew by a CAGR of 0.25% over the last four years.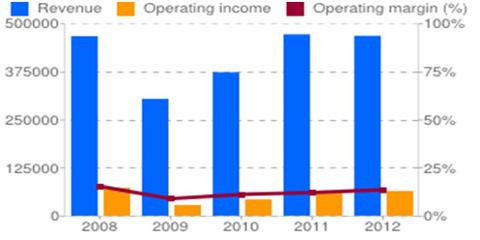 Source: Google Finance
By looking at the graph it is clear that the company's revenue declined significantly during the recessionary period, from $477 billion in 2008 to $311 billion in 2009. Later, revenue surged from $311 billion to $482 billion over the next three years, witnessing a CAGR of 15.73%.
Net income from continuing operations, for 2Q13, decreased by 61% YOY. The core reason behind the decrease in income from continuing operations is the suppressed revenue during the same period. Operating margins in the second quarter of the fiscal year 2013 decreased significantly as compared to the operating margins of the second quarter of last year as shown in the following graph.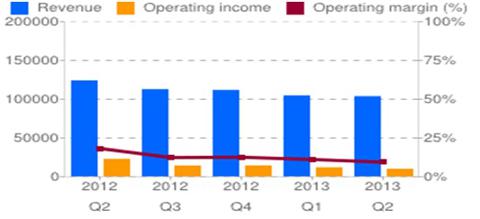 Source: Google Finance
Second quarter earnings were $6.9 billion, down 57% YOY. If you exclude the prior year's extraordinary items from its earnings, 2Q13 earnings are lower by 19% as compared to the prior year's earnings.
Exxon reported upstream earnings of $6.3 billion in the second quarter of the fiscal year 2013, down $2.1 billion from the second quarter of the fiscal year 2012. Upstream earnings increased by $90 due to a higher natural gas realization but partially offset by lower liquid realizations. Moreover, $2.1 billion decrease in the upstream earnings reflects the absence of a prior year gain in Angola and higher operating expenses. Exxon generated 17.38% of its upstream earnings from the United States and the remaining from its operations outside the US.
Exxon's downstream earnings were lower by $6.3 billion in 2QFY13, as compared to the second quarter of fiscal 2012. Downstream earnings from non-US operations, in the US and outside the US, decreased by 97.45% and 70.26%, respectively. Decrease in downstream earnings was owed to a $5.3 billion gain with the Japan restructuring, which is a non-recurring event.
Earnings in the first half of 2013 decreased by approximately 36% as compared to the first half of 2012. Exxon distributed $6.8 billion to its shareholders in the second quarter through share repurchase and dividends. Moreover, its diluted earnings per share decreased by 32% in the first half of fiscal year 2013.
Growth Opportunities and Recent Development on Projects
Exxon plans to spend $38 billion per year in capital spending over the next five years. The company is targeting over 31 projects, which will deliver 1 million barrels of oil equivalent per day, by 2017. The major projects that are expected to be brought online include Kashagan Phase 1 project in Kazakhstan, Kearl Oil Sands Project in Canada and a few in Africa. Its recent deal with Rosneft to explore in the Arctic and Black seas could generate long-term dividends for the corporation. The Kashagan project is seven years late and $24 billion over budget. It will take another $100 billion, from the consortium of companies working on the project, to produce 1.5 million barrels per day. In my opinion, it will take too much time to generate a return on such a lengthy and capital bounding project. Moreover, both the companies, Exxon and Royal Dutch Shell (RDS), estimated that they will need to be involved in the project beyond 2040 to generate a desirable return.
Conclusion
Despite the increase in oil price, Exxon's stock decreased by 1%, whereas its competitors' stock gained up to 16%. Furthermore, Exxon's trailing P/E is 11.1, which is higher than the industry's P/E of 9.5. It has witnessed revenue growth of 15.8% over the last three years, which is also well below the industry's average annual revenue growth of 23.4%. Its PEG ratio is 6.99, whereas its competitors such as Total SA (NYSE:TOT), Chevron Corp (NYSE:CVX) and ConocoPhilips (NYSE:COP) have a PEG ratio of less than 2.5.
In recent quarters, Exxon was unable to report decent results as compared to the industry. High capital expenditures and investments in the project like Kashagan, from which it will be able to generate desirable returns only after 30 years, do not sound good to me. Despite the decent outlook of the industry, I believe Exxon will not be able to take advantage of high demand for oil and gas in the future because of its investment in projects with a high Capital Expenditure and slow production process. Its price multiples are also not higher than the industry average. Furthermore, a slower revenue growth, as compared to the industry, and an increasing operating expense compel me to give a SELL recommendation to Exxon.
Disclosure: I have no positions in any stocks mentioned, and no plans to initiate any positions within the next 72 hours. I wrote this article myself, and it expresses my own opinions. I am not receiving compensation for it (other than from Seeking Alpha). I have no business relationship with any company whose stock is mentioned in this article.