Intel (NASDAQ:INTC), the microprocessor and semiconductor giant, reports its third calendar quarter financial results on Tuesday, October 15, 2013, after the closing bell.
Analyst consensus is expecting $0.53 in earnings per share [EPS] and $13.467 billion in revenues, for expected year-over-year growth of -7% and 0% respectively.
With the second-quarter earnings release, INTC guided to revenue of $13.5 billion, plus or minus $500 million, and a gross margin of 61% plus or minus "a couple of percentage points."
From this analysts arrived at a consensus for q3 '13 of $0.54, which has slipped a penny to $0.53 since July. In general the erosion in estimates has been much less during q3 '13 than in past quarters.
Q4 estimates as they stand currently are expecting $0.54 and $14.06 billion, which is year-over-year growth of 4% and 13% respectively.
Intel is lapping very weak comps from late 2012 and early 2013 thanks to the launch of Windows 7, and what looked like the complete evaporation in PC demand in late 2012.
The outlook for PCs is still pretty bleak. PCs are still being cannibalized by the tablets, and I do think the best we can expect going forward could be mid-single-digit growth for PCs as the replacement cycle drags out in the next few years.
If the fourth-quarter numbers don't change, and INTC gets to 4% revenue and 13% EPS growth, it would be the best quarterly growth for the giant since q4 2011.
The stock is up 10% in calendar 13 YTD, not including the dividend.
There is no question that what has kept us in the stock for clients has been valuation, with INTC trading at 4.7(x) cash-flow (ex-cash), although earnings growth has been negative the last two years at -11% and -12%.
Morningstar has an intrinsic value on the stock of $25, while our earnings-based model, has an average "intrinisc value" over the last 3 years, of $35 per share. Again, splitting the difference, we still think INTC could trade to $30 easy, on some PC growth, and slightly better revenue and earnings growth.
We've tracked INTC since the late 1990s, modeling results every quarter, and there has been very few quarters until lately that we have seen INTC at 4.7(x) - 5(x) cash-flow.
Like a lot of companies, INTC bought back a lot of stock in 2011, when the stock was trading up from the low to high $20s, but has actually reduced share repurchases to under $1 billion per quarter the last two quarters. I hope that is not a signal that management thinks the stock is overvalued.
The giant is returning about 80% of free-cash-flow to shareholders versus the 150% in 2011, so maybe that game is played, and INTC has become a "consumer staple" of the tech sector, i.e low to mid single-digit earnings and revenue growth with a 3% - 4% dividend, being the best we can expect.
From what we've read by the excellent technologists on Seeking Alpha and elsewhere, INTC is transitioning to mobile as PC-related revenues have fallen from over 80% of total revenues to 62%. That is a positive, but forward revenue estimates are still forecasting just 2% - 3% revenue growth in the next few years.
If we get a surprise for q3 and q4 13, it will likely have to come from gross margin, as gross margin has compressed from 65% in June 12 to 58% as of June 13, while, the operating margin has compressed from 30% to 22%. INTC's model is built on revenue growth, and it just isn't there.
Technically, the stock is at a critical juncture. We would like to see INTC hold $22 - $23 and according to this monthly chart, start to work back to the mid $20s.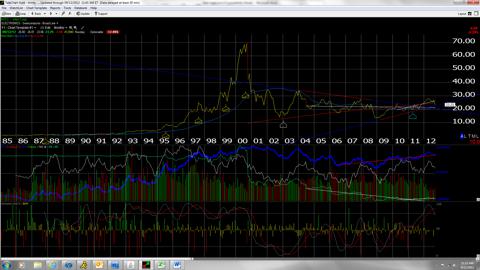 INTC needs a catalyst, and we are getting impatient.
Weaker comps over the next 6 - 9 months, easy compares, and some newer markets in the mobile and tablet segments, might be the catalyst we are looking for.
Disclosure: I am long INTC. I wrote this article myself, and it expresses my own opinions. I am not receiving compensation for it (other than from Seeking Alpha). I have no business relationship with any company whose stock is mentioned in this article.