Texas Instruments (NYSE:TXN) has continued to outperform the market over the past 3-months, year-to-date, and one-year periods. That outperformance leaves the shares overvalued in the market.
Overall, I'm bullish on the company, but the financial performance is acting as a headwind. The industry, monetary policy, and dividend policy and share repurchase program are tailwinds for the valuations. That said, I think the share price is near a top.
The share price of Texas Instruments has reached the $40 per share level at which I modeled a top. From here, we'll see if the share price declines to the $28-$34 range. Under this assumption, the share price decline would be a calendar fourth quarter story. I will look to accumulate shares in that range.
Recent Developments
Texas Instruments introduced new envelope tracking power supply solutions to support 3G and 4G LTE multi-mode, multi-band RF power amplifiers. The LM3290 and LM3291 enable the use of envelope tracking techniques in RF transmitters to reduce the power amplifier temperature by 20 degrees C and reduce overall power consumption by 25 percent.
The company also introduced a family of four digital-input, closed-loop I2S amplifiers for mid-power stereo audio applications including TVs, soundbars, portable docking stations, Bluetooth speakers, and aftermarket automotive audio products.
The quarterly dividend was increased 7% to $0.30, or $1.20 annualized; the dividend increase should increase the valuation of the company.
Financial Performance
Texas Instruments reported strong second-quarter results. With that in mind, I'm going to increase my forecast for the full year. That said, the company is still facing top-line headwinds as management unwinds the Wireless segment. Profitability has been solid in fiscal 2013. Overall, the financial performance paints a mixed picture.
In the second quarter, revenue came in at $3.05 billion, which was above my forecasted range and above management's guidance. Also, gross margin expansion and a $315 million gain on a technology transfer increased operating income to $906 million, which was well above my forecast. Excluding what I consider to be non-reoccurring items operating income would have been $710 million, which was above my forecasted range by slightly more than the amount of the revenue outperformance. Also, net income came in above my forecasted range.
Thus, I'm increasing my full year forecast. I expect revenue in the $11.8 billion to $13 billion range. Operating income should be about $2 billion and net income should be about $1.6 billion, excluding the gain on the technology transfer.
Relative to 2012, the financial performance would be roughly flat, but would have declined compared to 2011 and 2010. The financial performance should act as a headwind for the valuations.
Valuations
I'm going to use a few models to value the common equity shares of Texas Instruments. I'll use a discounted cash flow model and a few multiplier models. At the end of this section is a conclusion based on the valuations.
I think Texas Instrument's sustainable growth rate is 4%, which is in-line with the 10-year average revenue growth rate. A lower growth rate would adversely impact the valuation and vice versa for a higher growth rate. Using an adjusted required rate of return in the discounted cash flow model, the intrinsic value of Texas Instruments' common shares is $32. This model suggests shares of Texas Instruments are 23% overvalued.
Using a momentum model, shares of Texas Instruments are overvalued as the share price is near a recent peak and above the 2007 high. Lastly, using the historic multiplier model average valuations and S&P 500 valuations, shares of Texas Instruments are overvalued.
All of the models suggest Texas Instruments is overvalued; I think the valuations have benefited from the substantial increase of the dividend and the share repurchase program. Using my previous model of a share price top at the $40 per share level, I would accumulate shares in the $28-$34 per share range.
Technical Analysis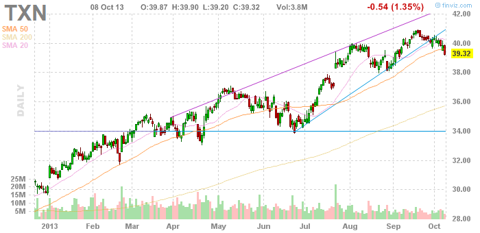 Shares of Texas Instruments are trading in a bull market of primary degree. Currently, the share price is in a corrective wave of intermediate degree. Further, the primary degree bull market may have run its course and investors may be in for a bear market of primary degree. An alternative is that the impulse wave extends and the bull market continues. I'm looking for a sharp correction this time as the correction during the summer was a flat; a pull back to the 200-day moving average appears likely.
Disclosure: I have no positions in any stocks mentioned, and no plans to initiate any positions within the next 72 hours. I wrote this article myself, and it expresses my own opinions. I am not receiving compensation for it (other than from Seeking Alpha). I have no business relationship with any company whose stock is mentioned in this article.