The landscape of Big Oil has changed over the last six years. In a recent Economist article about the global oil industry, the top ten oil companies were listed based on production. A top twenty oil firm ranking based on production of 2007, before the financial crisis, was also identified. A comparison between top tens follows below. In 2013, six of the top ten were national oil companies (NOCs); in 2007, eight were NOCs.
Some interesting shifts are taking place. Government-owned Pemex of Mexico dropped from third place in 2007 to eighth in 2013. Pemex is trying to attract more private investment to ramp its production back up and produce its own energy renaissance story like the U.S. According to a recent Forbes article, the government reckons Mexico contains "proven, probable and possible reserves of more than 45 billion barrels of oil and in excess of 500 trillion cubic feet of natural gas." The Energy Information Agency says Mexico has 10.2 billion of proven reserves as of 2011.
Iran's national oil company (NIOC) was ranked number two in 2007, but moved to number three in 2013. Gazprom knocked it out of the number two slot. (Gazprom was not listed in 2007, possibly because of its focus on gas versus oil.) Note Iran's reserves of 311 billion to Saudi Aramco's 307 billion. Even the lowest producing firm, Chevron (NYSE:CVX), with its 2.9 million b/d (and formerly no.14 of the top twenty ranking 2007), produces more today than PetroChina (NYSE:PTR) in 2007.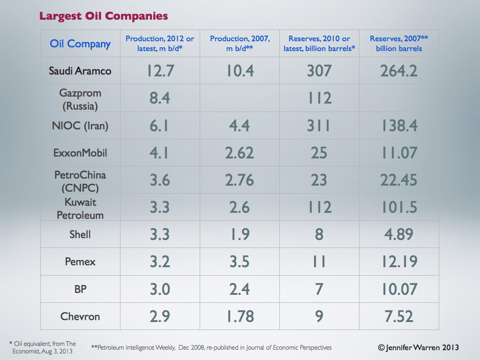 All of the largest oil firms are producing more barrels per day in recent years compared to 2007, save Pemex. High oil prices have played a role in the shifting landscape. In 2007, the year ended with $90 Brent, climbing to $132 (monthly average) in July 2008. Then oil tanked to $35 by year-end 2008 as the financial crisis crimped demand induced by recession. Prices then doubled by end of 2009, to find the $100 mark in early 2011 to today. Other shifts such as fuel substitution and changing demand patterns have also played a hand. Notably, demand growth in emerging economies is taking up any supply excesses.
U.S. Shale's Impact
The big change in the industry was the discovery of unlocking natural gas in shale formations, or source rock, through hydraulic fracturing. Natural gas supply from the U.S. shale plays -- the Barnett, Haynesville, and Marcellus -- then took center stage in 2008 onward. Natural gas, with its lower carbon profile, became more popular, accessible and then overproduced. But natural gas demand will increase as it is used more in power generation, transportation, and industrial uses worldwide.
The gas gale morphed into an oil boom. One result of the increased production of U.S. oil is less importing of crude. U.S. production increases will continue for the foreseeable future.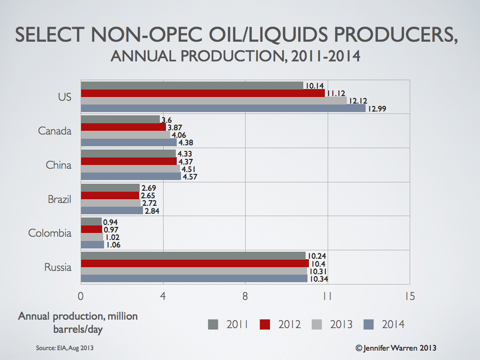 The U.S. oil and gas revival, largely from the shales, has given the U.S. an increased competitive advantage with manufacturing implications for the U.S:
According to the IHS report on America's manufacturing renaissance:
• Over $31 billion in new capital investments are expected to drive more than 16 million tons of added chemical capacity by 2016. Cumulative investment will grow to more than $129 billion by 2025, in new chemical, plastics, and related derivative manufacturing facilities.
• In 2016, this equates to an increase in GDP of $500 to $600 billion, and continues at a slightly declining trajectory for years.
• In 2012, many energy-intensive manufacturing industries outperformed the total manufacturing index average growth of 1.3%. Outperformance is expected in subsectors such as:
Iron and Steel Product Manufacturing (6.7% in 2020; 7.4% in 2025)
Basic Organic Chemical Manufacturing (7.1% in 2020; 9.5% in 2025)
Resins and Synthetic Material Manufacturing (6.0% in 2020; 8.1% in 2025)
Agricultural Chemical Manufacturing (6.9% in 2020; 7.7% in 2025)
The obstacle to these boons from the U.S. oil and gas revival would come from federal, state or local level policy risk. Of course, recession and steep commodity price gains or losses impact the continuation of the revival. Economic risk is more of a factor in the U.S.'s shale revolution because of the sensitivity of production to price. While wells produce more with horizontal drilling, they also cost more. One producer mentioned that a vertical well used to cost about $2 million, and horizontal wells cost about $7 million. But with $100 oil, the economics are favorable, since the resource recovery is initially a gush, which declines to a natural, steady production pace for decades.
While the "Majors" did not directly launch the energy revolution -- the independent producers did -- they are in competition with NOCs around the globe and in the U.S. National oil firms have partnered with various independents: Chesapeake (NYSE:CHK) and France's Total (NYSE:TOT); Pioneer (NYSE:PXD) and Sinochem; and Devon (NYSE:DVN) with Japan's Sumitomo and China's Sinopec (NYSE:SHI). Between 2008-2012, 20% of investments in shale have involved joint ventures with NOCs, says EconMonitor's Aaron Menenberg. Exxon's purchase of XTO, the largest U.S. gas producer, will eventually pay off. Fortunately for Exxon (NYSE:XOM), it can play the long game.
This heightened activity in U.S. shale plays between independent E&P firms and foreign, often state-owned firms, is an intriguing development. When the foreign firms learn what they need to know, they will take their newfound techniques and apply them to their home-country resources, if possible, or to their global asset portfolios. The major impediment to repeating the U.S. shale boom elsewhere is necessity, infrastructure to move the gas or oil, and distribution networks to markets and end users. But the U.S. has a trail of breadcrumbs to follow.
The rise of the NOCs has been well documented. But the large, global oil and gas firms have stayed in the game based on production, even gaining ground in crisis and post-crisis conditions. The independent E&P firms are leveraging their positions in U.S. energy assets, and there will be considerable investments needed in the whole energy value chain. Energy-intensive manufacturing and chemicals are beneficiaries of the added production capacity as well. The U.S. will continue to export liquids, which boosts trade balances. With the current black eye given to the U.S. government for its inability to run the country, thank heavens for the smart folks in the real economy.
Disclosure: I have no positions in any stocks mentioned, and no plans to initiate any positions within the next 72 hours. I wrote this article myself, and it expresses my own opinions. I am not receiving compensation for it (other than from Seeking Alpha). I have no business relationship with any company whose stock is mentioned in this article.