Enterprise Products Partners (NYSE:EPD) is a Houston-based master limited partnership [MLP] which owns and operates a national network of strategically located oil and natural gas pipelines. EPD is the largest publicly traded energy partnership in the world, with a market capitalization of around $55 billion. As usual within the MLP space it offers a high-dividend yield of 4.5%, which may be a good opportunity for income investors.
Enterprise Products Partners is a publicly traded Delaware limited partnership, founded in 1968 and listed on the New York Stock Exchange since 1998. Its integrated midstream energy system serves producers and consumers of natural gas, natural gas liquids [NGLs], crude oil, petrochemicals, and refined products. One positive factor of EPD is its high insider ownership with management and affiliates owning about 38% of EPD's outstanding units, which should be a strong incentive to align management interests with the rest of its unit holders. Moreover, over the past few years the partnership has simplified its corporate structure making it more transparent to investors, so it appears to exist a clear alignment of EPD's management and investors' interests.
The company owns more than 50,000 miles of natural gas, oil, petrochemicals, and refined products pipelines in the U.S., storage capacity to hold 200 million barrels of oil and liquid natural gas and 14 billion feet of natural gas. It also owns several natural gas processing plants, liquid natural gas and propylene fractionators, and two import/export NGL terminals. EPD has five reportable business segments: NGL Pipelines & Services; Onshore Natural Gas Pipelines & Services; Onshore Crude Oil Pipelines & Services; Offshore Pipelines & Services; and Petrochemical & Refined Products Services. Taking together all pipeline & services businesses, they represent about 86% of EPD's gross profit, with Petrochemicals being responsible for the remainder 14%.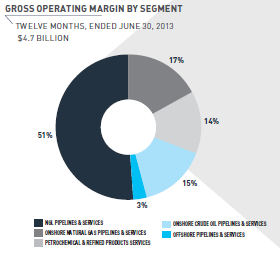 Enterprise's core business is NGL, natural gas, and oil pipelines & services, accounting for more about 85% of its gross profit. Petrochemicals is responsible for the remaining gross profit. EPD has long-term partnerships with some of the biggest energy companies in the world, such as ConocoPhillips (NYSE:COP) or Exxon Mobil (NYSE:XOM). The partnership strategy is based on jointly owning facilities with some of its suppliers or customers, thereby reducing its business risk. The major benefit of these arrangements is that EPD enters into take-or-pay contracts, in which a pipeline customer is obligated to either move a specific amount of gas or oil through its pipelines, or pay a predetermined annual payment. These contracts provide EPD with a very stable and predictable revenue stream over the long-term, which is a strong positive factor for income investors. Furthermore, EPD's revenues are derived from a wide customer base, with BP (NYSE:BP) being in 2012 its largest non-affiliate customer accounting for 9.5% of its revenues.
Another competitive advantage of EPD is the location if its assets. The partnership is located in some of the largest shale discoveries in the country, which naturally should benefit from increased oil and gas production expected over the next few years. This will translate to higher revenues and profits for Enterprise, making it a compelling investment for income investors. EPD is investing heavily on growth projects, with about $8 billion in major capital projects under construction. Most of these projects will be fee-based and therefore cash flow accretive for EPD, leading to higher growth over the coming years.
MLPs are an income-oriented investment: their organizational mandate is to pay out all earnings not needed for current operations and maintenance of capital assets to their unit holders in the form of quarterly cash distributions. Many MLPs are also growth-oriented, striving to increase their distributions as often as is possible and prudent. Regarding EPD's distributions, it has a very good history given that since its IPO in 1998 it has increased its quarterly distribution on 45 occasions. In July, the company announced its 36th consecutive quarterly increase to $0.68 per unit, an increase of 7.1% from the second quarter of 2012. This represents an annualized distribution of $2.72 per unit, which at its current unit price is a dividend yield of 4.5%.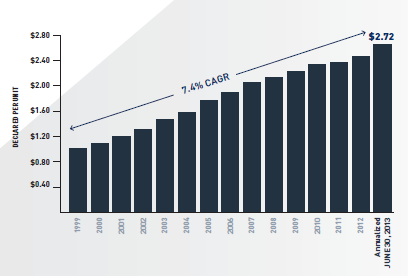 In 2012, EPD has increased its distributable cash flow by 10% from the previous year to $4.1 billion including non-recurring items. Its distribution coverage was very high at 1.9x, or 1.4x excluding non-recurring items, which shows that EPD's distributions are clearly sustainable. Over the first six months of 2013, its coverage was 1.5x despite the recent distribution increase.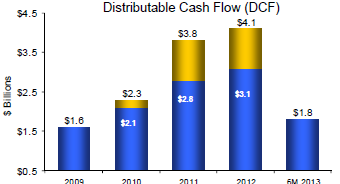 Conclusion
Enterprise Products Partners is a compelling MLP investment, offering a resilient business profile due to its fee-based assets. Its current dividend yield of 4.5% is not among the highest in the MLP space but it appears to be safe and should continue to grow over the foreseeable future, making EPD a good opportunity for a sustainable income stream over the long-term.
Disclosure: I have no positions in any stocks mentioned, but may initiate a long position in EPD over the next 72 hours. I wrote this article myself, and it expresses my own opinions. I am not receiving compensation for it (other than from Seeking Alpha). I have no business relationship with any company whose stock is mentioned in this article.