"Sailors belong on ships and ships belong at sea; haze grey and under weigh! A day in port is a wasted day!" - Liferdog Squid
Introduction
One of the slowest sectors of the economy to recover has been the shipping industry. Each aspect of it has been under the pressure of decreased demand caused by economic contraction and slow recovery due to austerity in Europe and stagnation in Asia. Not to mention over capacity in all areas of shipping; Dry Bulk, Container, and Tanker. Recently, we have seen what some have been calling the green sprouts of recovery.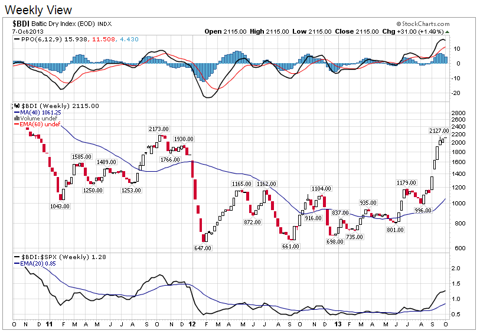 Most investors have heard of, but few track the Baltic Dry Index, and fewer know the range of indices available through the Baltic Exchange, which tracks a wide sampling of seaborne traffic. Subscriptions to their data are quite costly for individual investors (£3,790 per year), but if interested, can be accessed here.
Nevertheless, It is an industry that I have consistently followed and I maintain a screen of charts corresponding to my favorite shipping companies; including Seaspan Corporation.
Comparative performance with peers
One of the reasons I have followed Seaspan (NYSE:SSW) for so many years (almost as long as it has been traded on the NYSE) is the strength of the company and the performance of the stock when I first bought it. I (unfortunately) walked away with the tiniest of gains in the spring of 2008, and almost lost faith when the company cut the dividend to $0.10 in 2009. I put it back on my daily watch list in the summer of 2010, and have been kicking myself for not taking a position yet.
Of course the reason I have not, is Seaspan's peers. I have yet to garner the confidence in the industry, but every time I look at this relative performance I cringe. Plus, I have missed out on a growing dividend to boot.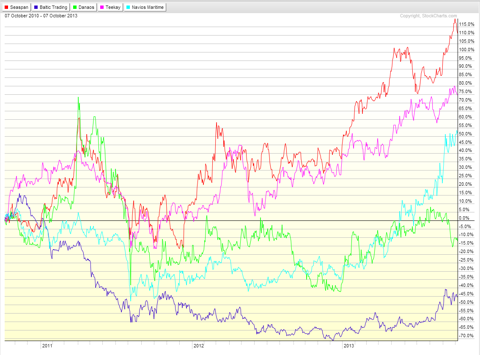 The Company
When the company first came public, it was only about 1/3 the size it is today. Now, Seaspan is one of the largest providers of containerships. It consists of a fleet of more than 70 ships, focuses on long-term fixed-rate charters, and has recently begun to expand again. The stock has just recently returned to its IPO era value.
Last month, Seaspan announced a repurchase of preferred shares paying a 9.25% coupon, and earlier this summer raised their quarterly dividend to $0.3125. However, their latest announcement has given me pause.
The Offering of Common Shares and Convertible Senior Notes
The company is going to offer 5.7 million shares of common stock and $125 million in convertible notes through a concurrent public offering. There is currently more than 60 million shares outstanding, so the dilutive effect of the offering is not punitive to existing stock holders. In addition, most of the proceeds are for "general purposes, which may include funding vessel acquisitions." (I'm sure part of the proceeds will cover the $25 Million repurchase of class C preferred). So, on the surface, this appears to be a run of the mill follow-on offering; until you get to paragraph four.
In addition to the Primary Offering and Secondary Offering of Common Shares, Seaspan expects to issue and lend 2,530,000 Common Shares to an affiliate of Deutsche Bank Securities Inc., an underwriter in the Convertible Notes offering, who will sell the Borrowed Shares in the public offering (the "Borrowed Shares Offering"). The Borrowed Shares Offering is intended to facilitate the offering of Convertible Notes.
I've read that a number of times, and I've passed it all around asking everyone else, "what does that say to you?" So let me see if I understand:
Seaspan is going to issue 2.5 million shares to themselves, and lend them to Deutsche Bank. Deutsche Bank will then, through one of their affiliates, sell them short in the market as consideration for their distribution of the Convertible Notes.
So, what kind of downside pressure is this sale of 2.5 million shares going to have on a stock that trades on average 125K shares a day? Is there any wonder once the announcement came out that the shares sold off almost 10%
Conclusion
Long shareholders may want to take an appropriate hedge against further downside, while the most risk tolerant investors can just hang on for a wild ride. For those looking for a good entry point, keep your eyes open; it may be just around the corner. Short-term traders may have a limited opportunity to capture some alpha using puts or shorting shares if available to borrow.
Batten down the hatches! There may be some rough seas ahead shipmates.
As an aside, and just because it is a cool feature on their website, you can view statistics and track the entire fleet of Seaspan in real time.
Disclosure: I have no positions in any stocks mentioned, and no plans to initiate any positions within the next 72 hours. I wrote this article myself, and it expresses my own opinions. I am not receiving compensation for it (other than from Seeking Alpha). I have no business relationship with any company whose stock is mentioned in this article.