By Jeff Bailey
The folks over at Outsourcing-Pharma.com are reporting that industry consultants are getting lots of business from drug makers that want to develop a generic, or biosimilar, to compete against the world's No. 1 selling drug, AbbVie's (NYSE:ABBV) Humira.
Humira is a treatment for rheumatoid arthritis and other immune-system disorders and had sales last year of more than $9 billion. It competes against Amgen's (NASDAQ:AMGN) Enbrel, sales of more than $8 billion; and Johnson & Johnson's (NYSE:JNJ) Remicade, sales of more than $7 billion. So, the combined $25 billion RA franchise is a huge plum for companies trying to develop biosimilars, which is the term used to describe generic drugs based on biologics.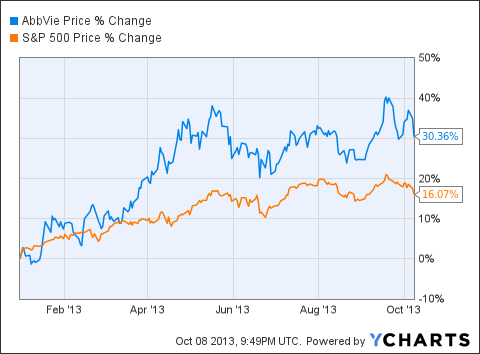 AbbVie, as seen in a stock chart, has shot up nicely since being spun off by Abbott Labs (ABT). But the company relies on Humira for about half of its sales and its other existing drugs include some losing sales of late. There have been some promising developments in AbbVie's new drug pipeline, however.
The activity by those wanting to sell a biosimilar based on Humira isn't surprising. But the timing of any such drugs is crucial to AbbVie. Holding them off for as long as possible will give the company a better chance to build up its pipeline, through either internal development or acquisition, and hope to avoid shrinking when Humira faces generic competition.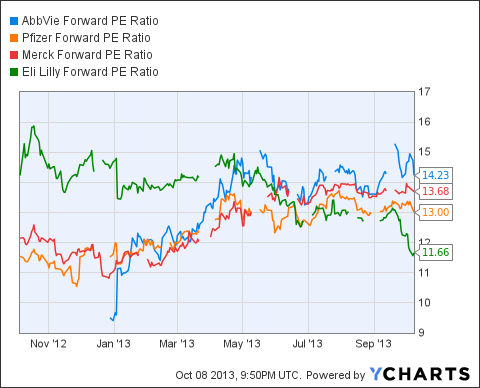 ABBV Forward PE Ratio data by YCharts
The rise in AbbVie's share price - and its valuation; the company's forward PE ratio is higher than pharma competitors Pfizer (NYSE:PFE), Merck (NYSE:MRK) and Eli Lilly (NYSE:LLY) - suggests investors believe AbbVie can pull off the transition from one-drug wonder. In the meantime, a dividend yield of about 3.5% isn't bad.
Disclosure: I have no positions in any stocks mentioned, and no plans to initiate any positions within the next 72 hours. I wrote this article myself, and it expresses my own opinions. I am not receiving compensation for it. I have no business relationship with any company whose stock is mentioned in this article.