Gildan Activewear Inc. (NYSE: GIL) is:
Operating at full capacity
Expanding well at retailers like Wal-Mart (WMT)
Improving margins amid volatile cotton prices
Successfully expanding in-house brands
The stock, which is up 15% in the last 6 months and trading at 14 times expected earnings, in the meantime is not fully reflective of the excitement shown by the results. The Street expectations may prove conservative especially with the capacity additions and rollouts at major retailers.
Gross margin trajectory should stay strong amid the current trend of cotton prices and free cash flow should get a boost next year, once the capacity upgrades are done. The company is leveraging all the primary drivers for the business be it cotton prices, manufacturing capacity utilization, launching new product families like active-wear or expanding into new distribution channels.
Doing well in a tough retail environment
The company grew revenue by 2.3%, earnings by 45% and gross margins by 7.6% in the most recent quarter even when the sales suffered on account of supply constraints. The company is the no.1 supplier of socks currently and expects to be the no.3 supplier in the U.S. for underwear by 2014.
Gildan, as most would know, is a manufacturer and supplier of knitted apparel like T-shirts, fleece, active-wear, underwear and socks to wholesale distributors and retailers in the U.S., Canada, Europe and Asia. The company reports as two operating segments - Printwear and Branded Apparel. The Printwear is primarily plain active-wear for wholesale distributors and Branded Apparel includes socks, underwear & active-wear, and caters to retailers. The company has licensing relationships for the Under Armour (NYSE: UA), New Balance and other leading consumer brands for socks and active-wear products.
There are few companies, especially in retail, where the biggest of investors' concerns are actually good for the business. Gildan investors are concerned about the high capital expenditure and higher inventory levels, both of which are caused by the strong growth of recent times as the company is expanding into new geographies and rapidly increasing the SKUs.
Managing the cotton prices well
The company was able to perform well for the last few quarters as shown by the gross margin trend in the worksheet below.
| | | | | | |
| --- | --- | --- | --- | --- | --- |
| | Q2 2013 | Q1 2013 | Q4 2012 | Q3 2012 | Q2 2012 |
| Gross margins | 31% | 29% | 27% | 29% | 24% |
Data Source: SEC Filings
This performance is even more impressive, when looked at in context with the cotton prices, which were not just increasing but highly volatile over the last few quarters as shown by the chart below. Any stability in cotton prices can only help the margins positively and looking at the chart, that might be the better case to work on.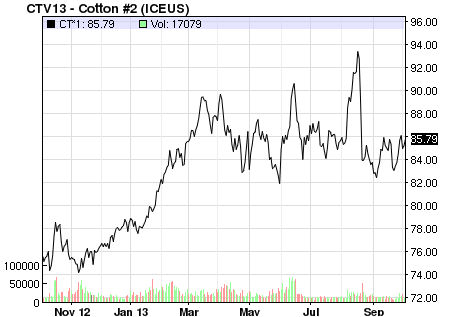 Source: Nasdaq
Additional capacity to help sales and margins
Gildan is losing sales due to capacity constraints and is actively building up capacity. The company is expected to spend $200 million on capital expenditure in 2014 and 2015. ROI for capital expenditure is set at 25-30%.

Source: Gildan Activewear
This capacity expansion is a positive vote for the growth as Glenn Chamandy, CEO, commented on the most recent conference call,
"We're going to bring on quite a significant amount of capacity. So I hope that's our problem, to be honest with you, but it's always a good thing to have. But we're very comfortable that we'll have a good increase in sales in 2014, based on the capacity we're bringing on."
Some other capacity rationalizations that may help the gross margins are:
The ramp-up of Rio Nance I that may allow product mix rationalization at other plants and improve the manufacturing cost efficiencies.
New ring-spun yarn manufacturing facility, which is expected to begin production by the second quarter of FY 2014 with cost savings to start by FY 2015.
The refurbishment and modernization of the open-end facilities at Clarkton and Cedartown that may be completed by mid 2014.
Yarn capacity addition can add significant value
Yarn cost is usually 25% of the total manufacturing cost. The company, in a step towards further integrating backwards, is in the process of adding 2 additional yarn-spinning facilities at a cost of $85 million in 2013. This should not just help the company increase capacity but also help the company on the margins front and differentiate over time, especially when "specialty fabrics" are on the rise.
The company is also in the process of setting up two additional yarn spinning facilities in the Southern U.S. This will be in addition to the investments announced in 2012 for a "ring spun" yarn manufacturing facility in Salisbury, N.C., and the refurbishment and modernization of the Company's 2 other facilities.
"Printwear" segment expansion
"Printwear" (70% of revenue) should benefit from the market moving towards high value active-wear, which is visible from running or yoga apparel sales at the likes of Under Armour (NYSE:UA) or Lululemon (NASDAQ:LULU). The company can especially benefit from penetration in national accounts, rollout in international markets and the impact of Anwil.
The "Printwear" segment that was capacity constrained could only grow volumes by 4% and revenues declined by 3.6% in the most recent quarter. European business increased by 10% and Asia saw an increase of 80% with the growth in China. With the upcoming capacity additions, revenues and margins should benefit in the coming quarters.
US Market expansion
The company's rollout of underwear at Wal-Mart is at least 30-40% ahead of its projections. Expect new program related details on the current quarter results. Glenn Chamandy, CEO, had this to say in the most recent conference call regarding upcoming programs
"In retail, we're definitely confident. We have a lot of options and programs in the pipeline now that we'll be able to bring to our December call, in both -- in all categories, in underwear, socks and activewear, that will materially increase our revenues in 2014."
Even the international sales are not lagging behind with a 20% CAGR over the last 4 years and the Asian market growing at close to 80% over last year.
Branded products expanding well
Branded Apparel, with revenue up 20% in the last quarter, offers one of the biggest opportunities for the company. The brands part of the division has increased from 35% of the business to 75% in last 2 years at the cost of private label sales. Both the volume increase and higher mixes of branded apparels positively affected the growth. Some important programs were
Gildan branded underwear and Activewear programs for retail customers
Increased sales to global athletic and lifestyle brands
Higher sock sales with "Gold Toe" piece now at no.1 position in U.S.
The "Gildan" brand sales have increased 300% over last year to make almost 1/3 of total business in Branded Apparel with programs like "Gildan Platinum" or "Smart Basics."
Expect the company to announce major campaigns for 2014 in upcoming news conferences. Branded programs can help both in revenue growth and operating margin improvements.
The Anwil business offers a long-term differentiator for the company. It is being positioned as a strategic partner to global athletic and lifestyle brands.
Valuation
The company primarily competes with Fruit Of the Loom, Russell and Hanesbrands Inc. (NYSE:HBI) in the knitted apparel market. Looking at the revenue growth expectations for Gildan compared to others, there is clearly room for estimates go higher.
Expected revenue growth

Knitted

Stock

P/E 2013

P/E 2014

EV/ EBITDA

P/Book

2013

2014

GIL

$46

17

14

13

3.4

11%

10%

HBI

$61

23

14

11

5.7

1%

12%

All Fabrics

$52

16

13

10

2.4

21%

21%

$122

17

15

12

2.5

34%

7%

Active wear

UA

$79

55

43

31

9.5

23%

22%

LULU

$76

39

30

23

11.2

20%

21%
Data source: SEC filings and Yahoo Finance
Free cash flow for the year is expected to come at $200-225 million for this year and next but should increase by 50-75% thereafter in lieu of falling capital expenditure and rising revenues and earnings.
Conclusion
The company is managing the primary drivers of the business well. Gildan's revenues should benefit from the capacity additions and earning and cash flows should benefit from the margin expansions related to scale and branding efforts. Target is $65.
Disclosure: I have no positions in any stocks mentioned, and no plans to initiate any positions within the next 72 hours. I wrote this article myself, and it expresses my own opinions. I am not receiving compensation for it (other than from Seeking Alpha). I have no business relationship with any company whose stock is mentioned in this article.