Some people, they just like to complain. Do something good, and they'll find a reason it isn't good enough. We all know someone like that, and they can be rather annoying at times. They want one thing, but when you give it to them, you get criticized anyway. If you don't know where I'm going with this, you probably haven't read some of my articles. I'm talking about Apple (NASDAQ:AAPL).
Perhaps the greatest company on earth, Apple gets criticized for almost everything it does, even if it was something they were supposed to do. Analysts that are wrong find faults with Apple, just to make themselves look better. Today, I'm here to explain another curious case when it comes to Apple, and how the tech giant can again prove the naysayers wrong in a couple of weeks.
Actual sales or channel fill?
The iPhone saga has continued for about a month now. Apple critics were arguing for a cheaper phone, but when Apple decided against it in an effort to most likely boost margins, those critics weren't happy. Yes, these are the same people that have been complaining about Apple's declining margins recently. Well, you really can't have it both ways. Just like those who wanted the dividend and buyback complained afterwards that Apple was spending too much on capital returns and not enough on R&D, these people seem rather foolish.
So when Apple had its big blowout opening weekend for the iPhone, a number of analysts stated that it was due to inventory building, or channel filling. One of the best examples of this was Peter Misek with Jefferies, who stated the following:
"We wanted to clarify a key way this past weekend varied from prior iPhone launches: sell-through did not match sell-in. Generally new iPhones have been completely sold out during the launch weekend. This time while the 5s is sold out, the 5c is not. We est that of the 9M+ number, 4M were 5s and 5M were 5c with half of those going into inventory. While 6.5M sell-through is still solid (vs. St 6M and ~5M last year), it is not a huge amount of upside." $425. Hold.
Misek has been a bit bearish on Apple at times, but then on Monday pulled a complete 180 when he upgraded Apple to Buy and raised his price target to $600. Apparently, he had recently been on a trip to Asia which he said "showed a significant shift in attitude towards Apple." Gee, I wonder if it has to do with the company picking up a key Japanese carrier for the iPhone and the ever increasing chance of a deal with China Mobile (NYSE:CHL)? Wouldn't it have been nice for him to up his price target a little after the opening weekend for the iPhone? Nope, didn't happen, and he rained on the parade. Also, despite what looks like a very positive note, he decides to just poke at Apple a little with a bit of negativity. Here's what he said:
"Despite still seeing risk to CQ4 and FY13 revs, we now believe better GMs will allow Apple to skate by until iPhone 6 launches with its 4.8" screen," Misek said. "We est ~50% of smartphone shipments have >4" screens and that iPhone 6 will catalyze a large upgrade cycle. The stock is attractive based on the attitude change, FY15 revs >+15%, and valuation."
So he upgrades the stock and puts a respectable price target on the name, but just has to put that little dagger in there, saying there still is a risk to Q4 (number of iPhones actually sold), and using the phrase "skate by." He makes it seem like this is a company in trouble, not one selling more than 30 million phones a quarter and producing tens of billions in yearly profits. But don't worry, they can "skate by" for now! These analysts are comical at times.
So what did Apple do with its opening weekend? We don't quite know. Maybe some of that 9 million number was part of an inventory build that didn't reach consumers upfront. Maybe they actually did sell that many. On Monday, October 28th, Apple will have its chance to tell its story, and the truth will set them free. Given that they updated their guidance for the quarter after the iPhone weekend, upping it to the higher end of the range, I'm more inclined to believe they will deliver, even if some analysts aren't. Yes, this date is a little later than normal, but I suggested the other day that it meant there would be an iPad event beforehand. With the Tuesday evening news, it appeared that my thought process was correct.
Icahn and his $150 billion:
I brought this up briefly in my discussion about Apple's fiscal 2014, which is underway if you didn't know. Apple's fiscal year ended on September 28th, so we really should start thinking about the next 12 months. A large part of that discussion will have to do with Apple's capital return plans. At this point, Icahn and Cook had their meeting, and Icahn is arguing for a $150 billion buyback.
Now I could easily one up Icahn and say that Apple needs a trillion dollar buyback. How could I say that for a company whose market cap is less than half of that? Well, it's all about timing. If I am arguing that Apple should do a trillion dollar buyback over the next say 200 years, something we can't even comprehend right now, you can get my overall point. As executive options do add further dilution to shareholders, Apple will always have more shares to buy back. Buying back 5 million shares a year for instance won't get the share count down by 5 million. It will help, but it won't cover it all.
So when it comes to Icahn, I agree that a larger buyback could be in the works. The point that needs to be made is one of timing. Microsoft (NASDAQ:MSFT) recently announced a $40 billion buyback as its current plan was about to end. They didn't provide an expiration date, so they could buy those shares back over 2, 5, maybe 10 years or more. That's where the interesting debate is with Apple. They could easily announce a much larger buyback than they have now, but the key to the whole idea is timing. Apple's current $60 billion plan is slated to finish by the end of calendar (not fiscal) 2015.
As for the issue of more debt for buybacks, it is an interesting debate to have. It would all depend on what maturity you are looking at and what interest rate Apple could get. Interest rates have risen a bit since Apple's large debt offering earlier this year. The following chart shows 30-year US Treasury yields over the past year.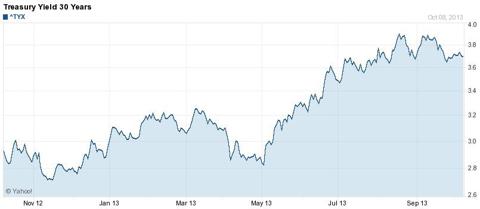 (Source: Yahoo! Finance)
Right now, it would not make sense for Apple to use debt for buybacks if their after-tax cost on 30-year debt was say 4.00% when the dividend yield is roughly 2.50%. Yes, there could be eventual cash flow savings, but right now it would be cash flow negative, and there are too many variables to truly project out over 30 years. Now if you are talking about short-term debt (say 5-10 years) with after-tax interest costs of 3% or less, that's another story. Again, like the timing issue above, there can be arguments made for either side, but it depends on the details.
Where estimates stand now:
I mentioned above that we are in the new fiscal year, and while that is extremely important, we are less than three weeks away from an earnings report. Apple's fiscal Q4 will be a very interesting report to watch for, and it will all come down the iPhone. The iPad numbers will not look good, since there has not been a refresh this year. The iPhone will represent a large portion of Apple's revenues, and will determine how the margin story plays out. The following table shows how Apple's Q4 estimates have changed over time.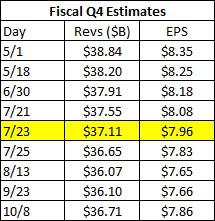 Apple estimates for the quarter are now at their highest point in more than two months. They are almost back to where they stood when Apple reported Q3 results, and that is a key number to watch. The yellow line above is the day when Apple reported Q3. Will Apple's estimates get to $37 billion and $8.00 a share by the time we get to the Q4 report? I've cautioned investors that if estimates get too high, you might want to step aside. Right now, I'm not worried, but if for some reason we were to get close to say $38 billion and $8.25, then I might have to take a step back.
Stacking Apple up against others in the space:
I'd be lacking in my analysis if I didn't provide some sort of competitive analysis. The following table shows some key statistics involving some of the large cap tech names. Obviously, names like Google (NASDAQ:GOOG) and Microsoft are on there. I also threw in Cisco Systems (NASDAQ:CSCO) and Intel (NASDAQ:INTC) for another interesting twist. Apple is battling those two names, as with Microsoft, for value investor money. With these three names having large buybacks and decent dividend yields, Apple is competing with them in a sense. The numbers below are for their current/next fiscal year, but all are periods ending in mid-to-late 2014. The growth numbers are current analyst estimates.

*Non-GAAP EPS numbers. P/E values reflect non-GAAP estimates.
While Apple has the lowest dividend yield of the four names that actually pay shareholders, it also has the best growth profile. Additionally, Apple has the largest buyback in corporate history, so it is reducing its share count quicker than any of the others currently. Yes, Apple has a long way to go before catching up to the others who have already spent tens of billions on buybacks. However, if Apple gets $60 billion repurchased by the end of 2015, it will catch up rather quickly. Google has no capital return plan, but gives a lot more growth potential than any of the other four names.
So when it comes to valuation, Apple has the lowest when using GAAP numbers. Cisco and Google analysts use non-GAAP numbers, so an apples-to-apples (no pun intended) comparison would either lower the valuations of AAPL/INTC/MSFT even more, or would make the GOOG/CSCO valuations even higher. Either way, Apple offers a great combination of growth, dividend, and buyback at a very low price. I already posted my price target table for fiscal 2014 in the above mentioned article, stating my belief that Apple could go much higher from here. Based on the current analyst average estimate for fiscal 2014, my price target on Apple is approximately $572 at this point.
Final thoughts:
No matter what Apple does, the critics still come out. A great iPhone weekend was sullied by channel filling remarks, and Apple will have to prove in a few weeks that it sold a lot of iPhones if it wants to beat expectations. Even when bearish analysts upgrade the name, they still manage to poke some holes regarding Apple. One thing is certain though. Apple is off to a great start in fiscal 2014, and more new product launches are coming soon. Analysts are raising their estimates, and rightfully so. The buyback could even be expanded, depending on your time frame, and the valuation remains low for a premium company. The stalemate in Washington might continue to pressure shares, but once that headwind is eliminated, Apple shares should go back to $500 in short order. In just a couple of weeks, Apple will have its chance to prove the naysayers wrong again, and that truth shall set it free.
Disclosure: I have no positions in any stocks mentioned, and no plans to initiate any positions within the next 72 hours. I wrote this article myself, and it expresses my own opinions. I am not receiving compensation for it (other than from Seeking Alpha). I have no business relationship with any company whose stock is mentioned in this article.
Additional disclosure: Investors are always reminded that before making any investment, you should do your own proper due diligence on any name directly or indirectly mentioned in this article. Investors should also consider seeking advice from a broker or financial adviser before making any investment decisions. Any material in this article should be considered general information, and not relied on as a formal investment recommendation.