It was amazing that Johnson & Johnson's shares (NYSE:JNJ) exceeded $94/share in July. JNJ's share price established an all-time high of $94.42 on July 31 recently even though its financial performance is unremarkable and its reported revenue and EPS growth is due to the Synthes acquisition. It was also surprising to see JNJ generate a total return of 27.6% since Warren Buffett's Berkshire Hathaway (NYSE:BRK.B) announced that it sold off nearly all of its position in November 2012 and it slightly outperformed the S&P 500 (24.4%) during this period. I attribute this performance to JNJ's above-average dividend yield. JNJ's annualized dividend yield of 3.08% is still ahead of the 2.02% yield of the S&P 500. JNJ has also tripled its dividend since 2002. However, JNJ's adjusted trailing twelve month price-to-earnings ratio has compressed from 35.8X in March 2002 to 12.5X in June 2012 (before rising to 16X recently) due to the following factors:
JNJ's $44B Cumulative acquisition spending spree on from December 2006 to 2012 failed to translate into significant revenue growth during this period.
JNJ has had $1B+ in "non-recurring charges" in four out of the last six years
JNJ's adjusted EPS growth has decelerated since 2008
JNJ's gross debt has increased from $2.4B in Q3 2006 to $15B in H1 2013
JNJ's net cash has declined from $12.3B in Q3 2006 to $2.9B in Q3 2012 before rebounding to $10.15B in H1 2013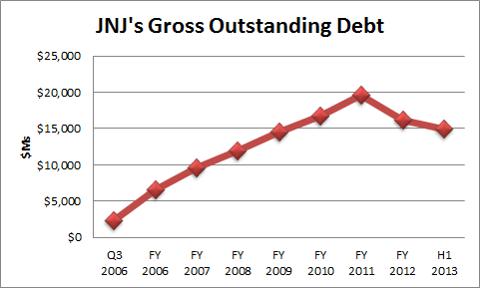 Click to enlarge
Source: Morningstar Direct
JNJ's first half results showed incremental organic growth and a one-time tailwind from its Synthes acquisition. The company generated organic revenue growth excluding currency headwinds of 5.6% in Q4 2012. Reported revenue growth was 8.5% during Q2 2013, currency headwinds reduced revenue growth by 1.5% and the Synthes acquisition boosted revenue by 4.4%. JNJ's Q2 2013 adjusted EPS increased by 13.8% versus Q2 2012 primarily because it was able to utilize $4.4B of its low-yielding cash assets in order to finance a portion of its acquisition of Synthes in H1 2012 and it benefited from a lower effective tax rate. JNJ's H1 2013 adjusted EPS grew by 9.4% and this was due to similar factors relating to its Q2 2013 growth. JNJ's Q2 2013 net reported earnings grew by $2.4B versus Q2 2012 and this was primarily due to the absence of $1.8B in "non-recurring charges" in Q2 2013 versus Q2 2012.
Berkshire Hathaway first reported a stake in JNJ in its Q2 2006 13-F Filing. Berkshire was able to keep its stake in JNJ confidential until it filed the Q2 2006 report. I think that Warren Buffett was irritated that JNJ's CEO Bill Weldon changed its business model from generating high levels of organic growth to a growth-by-acquisition model not long after Berkshire began investing in the company. Unfortunately, for Berkshire, JNJ's deal-crazed acquisition spree resulted in JNJ catching a mild case of sclerotic stagnation as its revenues and profits have seen underwhelming growth since 2006 even with the benefit of $44B spent on the plethora of companies that JNJ purchased since 2006.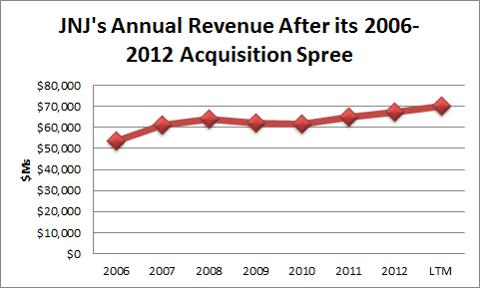 Click to enlarge
Source: Morningstar Direct
This episode with Berkshire and JNJ is relevant to investors because it shows us that even the best of investors can sometimes hold on to a position for too long. Warren Buffett considers John Maynard Keynes to be an influence on his investment mindset. Keynes was allegedly to have said "when the facts change, he changes his opinion." Regardless of whether Keynes said it or whether it is apocryphal legend attributed to him, the quote has some usefulness, just like any other tool. I think it is a useful maxim that investors should include in their tool-belts but not necessarily wed themselves to it. It is a useful tool when used appropriately but like anything requires proper use. In this case, I believe that the facts surrounding the investment case for JNJ began changing after Berkshire disclosed its JNJ stake in its Q2 2006 13-F Filing. To elaborate further, when Berkshire disclosed that it bought JNJ's shares, it had generated an impressive record of revenue and profit growth without the aid of acquisitions. A few months later, it began its acquisition spree. I believe that its acquisition spree distracted management from its core business operations and that led to a deteriorating growth trend since 2006 even with the benefit of $44B in acquisitions.
Click to enlarge
Source: Morningstar Direct
JNJ acquired Shanghai Elsker's Mother & Baby Co Ltd baby-care products subsidiary for $100M in January. JNJ also acquired Aragon Pharmaceuticals in August for $650M upfront and $350M in performance milestone payments. Even though these deals are tiny little bolt-on acquisitions, JNJ should not bother with any more deals until it can start generating improved levels of adjusted organic growth. JNJ's $44B buyout binge has failed to yield significant EPS growth. JNJ had $4.57 in EPS in 2008 and it is expecting to generate adjusted EPS of $5.47 in 2013 according to consensus estimates. This represents an unremarkable 3.6% compounded annual growth rate from 2008 to 2013. JNJ is a big, hulking ship that is lost at sea and is way off course in reaching its destination. The good news for JNJ is that it is too big to fail but the bad news is that it is too big to succeed.
One bright spot for JNJ shareholders is its dividend growth. JNJ's annual dividend in 2002 was $.82/share. JNJ has generated solid dividend growth since 2002 and its annual dividend is now $2.64/share. JNJ is one of the DRIP Investing Resource Center's Dividend Champions due to its 51 consecutive years of annual dividend growth. Standard & Poor's has also recognized JNJ as one of its 54 Dividend Aristocrats for increasing its annual dividend for at least 25 straight years. JNJ's dividend payout ratio for H1 2013 based on its free cash flows was 60% and investors should expect JNJ to maintain its dividend payout ratio going forward as well as increasing its overall dividend per share payments. Although JNJ's compounded annual dividend growth since 2002 was 11.1%, its compounded annual dividend growth since 2008 was only 7.5%.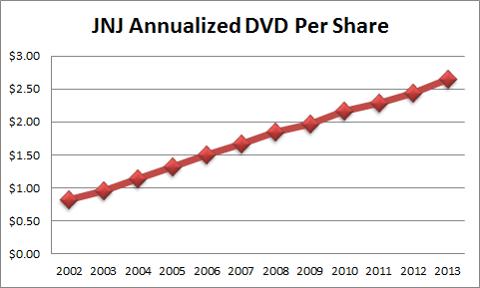 Click to enlarge
Source: J&J Investor Relations
In conclusion, I can see why Berkshire sold off its stake in Johnson & Johnson. Despite the fact that well-known value investor Ken Fisher of Fisher Asset Management also owns over 10M shares like Berkshire, I believe that Johnson and Johnson has a while to go before it is cured of its sclerotic stagnation. It will take time for Alex Gorsky and his management team to right the ship, especially with Bill Weldon continuing to serve as Non-Executive Chairman. JNJ should bring its focus away from acquisitions and towards organic growth. While I continue to expect the company to continue to boost its dividend, I noted that its dividend growth has decelerated since 2008.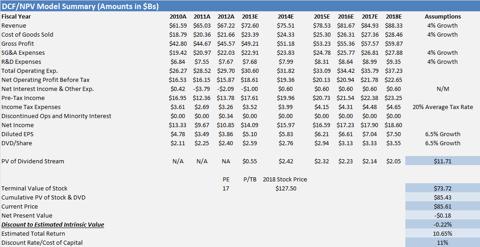 Click to enlarge
Source: My Estimates
Disclosure: I have no positions in any stocks mentioned, and no plans to initiate any positions within the next 72 hours. I wrote this article myself, and it expresses my own opinions. I am not receiving compensation for it (other than from Seeking Alpha). I have no business relationship with any company whose stock is mentioned in this article.