A couple of months ago, I told investors to wait before buying shares of beverage giant Coca-Cola (NYSE:KO). While I am a big fan of the company and it is a great dividend payer, I thought shares were slightly overvalued and that investors could do better. I encouraged investors to wait for a better entry price, specifically targeting the 3.00% annual dividend level ($37.33). Now that shares of Coca-Cola have breached that level, it's time to analyze the name again. Today, I'll look at Coca-Cola compared to others in the space, and determine whether now is the time for investors to purchase this dividend favorite.
Updating the industry comparisons:
It's been a couple of months now since I've discussed Coca-Cola against the other beverage giants. The table below shows some key comparisons for Coca-Cola against two other large beverage names, PepsiCo (NYSE:PEP), and Dr. Pepper Snapple (NYSE:DPS). I also threw in a smaller name, SodaStream (NASDAQ:SODA), to show what a growth company in this space looks like. The table shows currently expected revenue and earnings growth for 2013 and 2014, along with a two-year total. I've also included an annual dividend yield, as of Tuesday's close. I chose to separate SodaStream because that is a growth company, which will obviously show a lot more growth, and not pay a dividend. The yellow highlight is for the leader in each category, amongst the three large beverage names.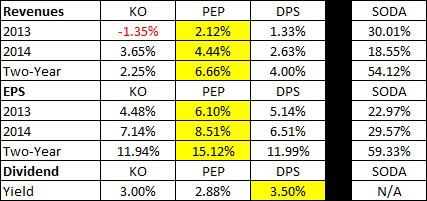 There's a lot of numbers in that table, so here are the key changes that you need to know about:
Coca-Cola's two year revenue forecast has been decreased from 2.94% to 2.25%. The two year earnings forecast has come down from 12.94% to 11.94%.
PepsiCo has seen its two year revenue forecast cut from 7.10% to 6.66%. The two year earnings forecast has come down from 15.37% to 15.12%.
Dr. Pepper Snapple has seen its two year revenue forecast decreased from 4.17% to 4.00%. The two year earnings forecast has declined from 12.33% to 11.99%.
Coca-Cola has seen the biggest reduction to both its revenue and earnings forecast for the two-year period. This is most likely a result of analysts continuing to change their forecasts after the disappointing Q2 period. Additionally, we recently saw a cut to the 2014 forecast for Coca-Cola by an analyst at JP Morgan, who cited shipment volumes and exposure to the yen. This analyst cut his earnings forecast from $2.27 to $2.20, and the current average estimate is $2.25.
PepsiCo and Dr. Pepper Snapple have also seen their forecasts come down, but not to the extent of Coca-Cola. PepsiCo is the clear leader in expected revenue and earnings growth for 2013 and 2014, but remember, it is coming off a down year in 2012. Dr. Pepper Snapple has the highest dividend yield, and it has for some time now. All three names have seen their dividend yields rise since my last update, mainly a function of their stock prices coming down. Coca-Cola has seen the largest dividend yield increase, by 13 basis points on an annual basis. PepsiCo's yield is up by 5 basis points, and Dr. Pepper Snapple has seen an 11 basis point rise.
The other important item to look at is SodaStream. If you are looking for a pure growth play in this space, SodaStream is the way to go. The company that allows you to make your own soda at home is in the early stages of growth, and the company continues to deliver. While the stock may be a bit more risky than the three established names above, you won't see Coca-Cola or PepsiCo showing double digit growth anytime soon. SodaStream is expected to show double digit revenues and earnings growth for many years to come.
Current valuations:
No matter what you are buying, whether it is groceries or stocks, you have to look at prices and valuations. The table below shows some valuation metrics for each name, based on Tuesday's closing prices and the currently expected revenues and earnings for each year.

I threw some price to sales numbers in last time to make a point about these names. For quite a while now, Coca-Cola shares have traded at a massive premium to the rest of the space on a price to sales basis. There really isn't a logical explanation for it, and I don't think it will change anytime soon. You won't see a 50% drop in Coca-Cola shares to get to a comparable price to sales valuation. If that happens, Coca-Cola's price to earnings number would be way out of line. Back to SodaStream for a minute. For the extra growth you are getting, the premium on a price to sales basis over PepsiCo and Dr. Pepper Snapple is not too bad. Again, these companies are on different levels, but investors looking for growth in the space should really consider SodaStream. If you are looking for value and a consistent dividend, that's another story.
Due to a larger decline in share price since my last update, the price to earnings numbers have flipped. Coca-Cola now trades at a lower multiple than PepsiCo. That would seem to make sense given that Coca-Cola offers less growth, although it does have a higher dividend yield than PepsiCo. Also, the dividend advantage has grown since my last article, which is helping to offset some of that growth difference. Dr. Pepper Snapple continues to have the lowest valuation. The important part here is that at my last update, Coca-Cola was more expensive on a P/E basis, which is why I suggested waiting for the pullback. Now that Coca-Cola is cheaper than PepsiCo, it makes the stock a bit more interesting.
Analyst opinions:
I always like to look at what the professional Wall Street analysts think when it comes to the names in this space. The following table shows the average analyst rating, where a 1.0 is a strong buy and a 3.0 is a hold. The table also shows the average, or mean, price target currently, and the upside to that target from Tuesday's close.

There have been two ratings changes since my last update. Coca-Cola has moved from a 2.1 to a 2.2, meaning analysts still rate it as a moderate buy, but with a little less conviction. Dr. Pepper Snapple has seen its rating go from 2.7 to 2.8, meaning analysts are almost neutral on that stock. As was the case in my last article, Coca-Cola shares have the most upside to the average price target according to analysts, when considering the three beverage giants. SodaStream has the most upside of all these names, which isn't a surprise given its tremendous growth potential.
Key technical levels:
In my last article, I mentioned that Coca-Cola shares had broken below their 200-day moving average. I thought that the breach of this key technical level was important, and that it might signal some further downside in shares. Again, that goes back to my point about waiting for shares to reach the 3.00% dividend yield level. Well, it turned out that about a month after my article, in mid-September, Coca-Cola shares had an even more negative event occur. Shares hit the technical point known as the "death cross", a bearish signal generated when a short-term moving average (generally the 50-day) crosses below a long-term (usually 200-day) moving average. You can see this technical event occur in the chart below where the green line moves below the red line.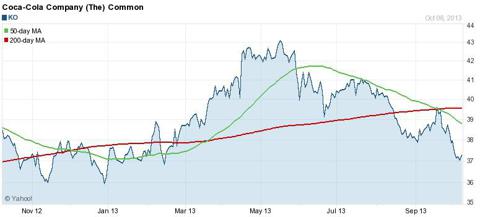 (Source: Yahoo! Finance)
Now I don't claim to be a technical analysis expert, but you can clearly see what happened to the stock once it hit the death cross. If you look back to late 2012, you'll notice the stock dropped about $2 when the level was breached. This time, we've dropped a little more, but that also has something to do with the government shutdown bringing markets down a bit. It also may be due to Coca-Cola recently losing its top brand value spot, which really says more about Apple (NASDAQ:AAPL) than Coca-Cola. I can't say if this is the exact bottom just yet, but the downward move has been made, and this stock certainly looks a lot more compelling at $37 than it did at $43 or even $40.
Final thoughts:
Now that Coca-Cola shares are yielding more than 3%, it is time for investors to start looking at the name again. While the growth forecast isn't tremendous, the recent decline in shares has made the valuation much more attractive. The break of a key technical level resulted in an expected drop of more than $2, and Coca-Cola shares are looking to turn higher from here. I can't say that a bottom has been reached, just because further stalemates in Washington could push the overall market lower, and that will impact shares. However, now that we've broken the 3% yield mark, Coca-Cola is a name worth looking at.
Disclosure: I have no positions in any stocks mentioned, and no plans to initiate any positions within the next 72 hours. I wrote this article myself, and it expresses my own opinions. I am not receiving compensation for it (other than from Seeking Alpha). I have no business relationship with any company whose stock is mentioned in this article.
Additional disclosure: Investors are always reminded that before making any investment, you should do your own proper due diligence on any name directly or indirectly mentioned in this article. Investors should also consider seeking advice from a broker or financial adviser before making any investment decisions. Any material in this article should be considered general information, and not relied on as a formal investment recommendation.