With shares of consumer electronics retailer Best Buy (NYSE:BBY) more than tripling in less than a year, it's easy to assume that the stock has gotten ahead of itself. But it's important not to forget that this 200%+ rise came after a monstrous decline to irrational levels, and much of the stock's performance so far this year was simply a recovery to a more reasonable price.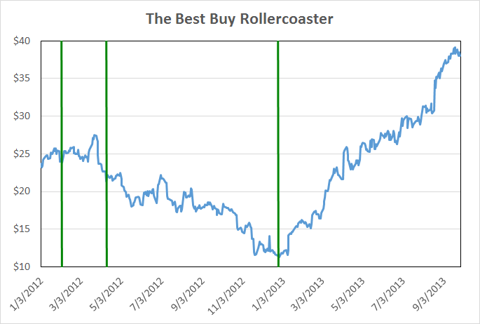 Green lines represent dates on which shares of Best Buy were bought for The Bargain Bin Report
With Best Buy currently trading near $36 per share, compared to a low of $11.20 last December, how much higher could it go? In other words, how much is Best Buy really worth?
The answer: at least $50 per share, and most likely more. Here's why.
The end of an era
The argument against Best Buy is simple - Amazon.com (NASDAQ:AMZN) and other online retailers are stealing business and making brick-and-mortar retail obsolete. There have been two developments, though, which stick a knife in this argument.
Amazon has begun to charge sales tax in many states, eliminating the built-in 8% price advantage enjoyed by the online retailer.

Best Buy has implemented an aggressive price matching strategy, making its prices the same or better than Amazon's.
The only advantage that Amazon ever had was price. That advantage is now gone.
Big changes
When current CEO Hubert Joly took the reins of Best Buy last year, he began his Renew Blue turnaround strategy. Part of this involved cost cutting, with plans to remove about $700 million from the annual budget. These costs cuts largely balance out the effects of the price matching strategy, meaning that worries about margin compression are likely exaggerated.
A big focus going forward for the company is e-commerce, and Renew Blue looks to make Best Buy more competitive on that front. The website, an outdated relic, is being completely rebuilt. Best Buy's conversion rate is about half of the average among its peers, leaving plenty of room for improvement. The company is also testing out its ship-from-store initiative, which will allow online orders to be fulfilled directly from stores. This effectively turns Best Buy's physical locations, once viewed as a liability, into a huge asset.
The addition of mini-stores from Samsung (OTC:SSNLF) and Microsoft (NASDAQ:MSFT) within Best Buy locations is also a big positive. There is a significant fraction of the population which knows little about technology and gadgets, and having specially trained associates to explain each company's offerings gives Best Buy a distinct advantage over online retailers.
Looking forward
It's clear that Best Buy is here to stay. The last earnings release showed that the comparable store sales declines were slowing, and in fact are flat if the effects of one-time items are removed, and that online sales are growing by double digits.
After selling its European business, Best Buy's annual revenue will be somewhere around $45 billion. A net profit margin of just 3%, well below its peers, would lead to per-share earnings of just about $4. A 4% net profit margin leads to per-share earnings of about $5.20.
Can Best Buy achieve these kinds of margins within a few years? I see no reason why not. A P/E ratio of 12 and a net income margin of 3% leads to a stock price of nearly $50 per share. Wal-Mart (NYSE:WMT), by the way, has a net income margin of about 3.6%. Target (NYSE:TGT) tops 4%.
Conclusion
Best Buy is the only nationwide consumer electronics retailer left standing, giving it a serious advantage. Best Buy's turnaround efforts are making progress, as costs are being cut and sales are being stabilized, and e-commerce sales could easily double over the next few years. If Best Buy can reach even average profitability, shares will be worth much more than they sell for today.
Disclosure: I am long BBY. I wrote this article myself, and it expresses my own opinions. I am not receiving compensation for it (other than from Seeking Alpha). I have no business relationship with any company whose stock is mentioned in this article.