Occidental Petroleum Corporation (NYSE:OXY) is an international oil and gas exploration company with operations in the United States, North Africa, the Middle East and Latin America. 61% of Occidental's oil- and gas production in 2012 took place in the United States, 35% in North Africa and the Middle East and 4% in Latin America. Since stocks fell off a cliff in 2009 Occidental Petroleum has made substantial progress in terms of financial performance:
Net sales have increased from $14,814 million in 2009 to $24,172 million in 2012: A compound annual growth rate of 18%
Net income has risen from $2,915 million in 2009 to $4,598 million in 2012: A CAGR of 16%
EPS over the same time period increased 17% per year from $3.58 to $5.67
Dividends grew 18% from $1.31 per share in 2009 to $2.16 per share in 2012
Accordingly, the shares have done well for investors. Occidental's five year return stands at 113% and the shares are up 20% year to date. Nonetheless, I think Occidental Petroleum can run up substantially higher: The macroeconomic environment lends its itself to oil- and gas producers which benefit from America's energy bonanza.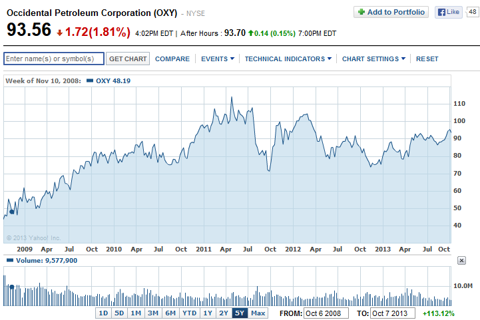 Favorable long-term drivers for the oil- and gas sector
While stocks, on average, seem to be fairly valued right now there are always opportunities in undervalued stocks with outsized return potential. Investors, therefore, are well advised to look for well-run companies with solid balance sheets and a track record of improving financial results. For long-term oriented investors underlying macro trends are more important than short-term market-timing strategies. Occidental Petroleum is exposed to favorable supply/demand dynamics: Energy demand is increasing as populations grow and the industrial sector expands. Under president Obama the US has pushed oil- and gas production to gain energy independence opening new opportunities in energy export.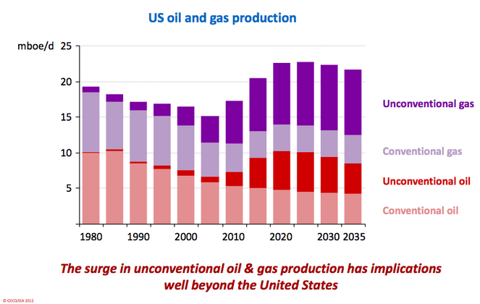 Another really interesting chart demonstrating the new found strength of the US oil and gas sector comes from the United States Energy Information Administration (EIA). In 2013 the United States will surpass Russia as the world's largest oil and gas producer by a respectable margin. Also noteworthy: In 2013 the United States takes more petroleum out of the ground than oil production hot-shot Saudi Arabia. Truly stunning facts that will continue to give Occidental Petroleum with its US-focused production base strong tailwinds .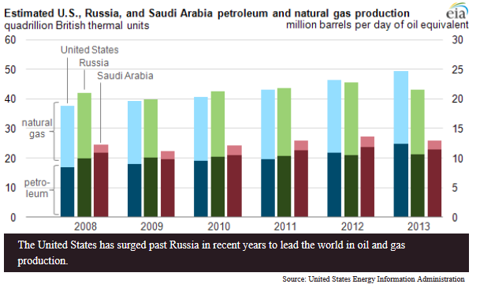 Don't time the taper
I said it before and I will say it again: It seems some investors have sort of a strange understanding of why the FED will begin to taper at some point. Basically investors argue that the end of the FED's bond purchases will restrict fund flows into stocks which will work as a catalyst to send stock prices lower. Here is the reality: The Federal Reserve will stop artificially lowering interest rates because the economy is strong enough to grow by itself and does not depend on artificial life support from the monetary authorities anymore. This is a big positive for stocks in the long-term. Timing short-term events is, on average, a loser's gamble.
Increasing oil production
Occidental's total domestic oil production increased 7% y-o-y with Occidental now producing 262k boe per day in the first half of 2013. Future production growth is likely to come from Occidental's California and Permian operations. A breakdown of Occidental's production levels and growth rates is supplied below: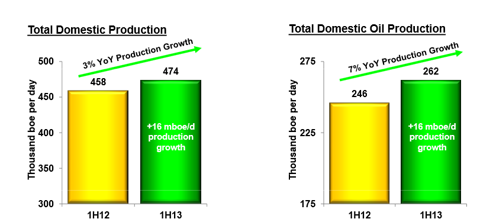 Efficiency gains in production costs and operating expenses
Occidental's production costs ($/boe) have consistently declined since 2012. Domestic production costs stood at $17.43/boe in 2012 and have come down to $14.28 in Q2 2013 (a decrease of 18%). Total production costs have decreased 11% from $14.99 in 2012 to $13.40 in Q2 2013. Overall, Occidental is proving substantial efficiency by cutting of an estimated $500 million off its cost structure compared to 2012.

In addition, Occidental remains committed to reduce operating expenses giving a guidance of a $175 million cut in expenditures. While Opex/boe came in at $23.20 in 2012 they are estimated to decrease to $19.70 in 2013: A sequential decline of 15% underlining Occiental's ambitious cost savings program.
Valuation
Occidental's valuation is still low. The company currently trades at 12.5 times forward earnings producing an 8% earnings yield with substantial upside coming from increasing oil production, efficiency gains and multiple expansion. Anadarko Petroleum (NYSE:APC) for instance trades at 17 times forward earnings but has vastly outperformed the sector with gains of 235% over the last five years. Occidental also pays a 2.74% dividend which compares to 0.78% for Anadarko.
I do not believe that income investors would necessarily be interested in Occidental Petroleum as the majority of shareholder gains are likely to come from share price appreciation rather than cash flow. In addition, Occidental is likely to be exposed to a higher-than-average degree of volatility due to its cyclical business characteristics and fluctuating oil prices that can have material effects on results.
Summary
Occidental has performed extraordinarily well since 2009 with all important financial metrics such as sales, net income, EPS, dividends increasing at double-digit annual rates. The long-term business drivers favor the US oil- and gas exploration sector with new opportunities in export. Occidental also makes continued progress toward reducing operating expenditures and production costs which are further estimated to decline. Production activity is upward trending supported by Obama's push to get the US energy independent. An increase in economic activity over the next years will likely benefit Occidental both in terms of volume and achieved market price. Last but not least, Occidental still trades at a very reasonable valuation considering the financial performance it has achieved over the last years. Undervalued long-term Buy.
Disclosure: I am long APA, OXY. I wrote this article myself, and it expresses my own opinions. I am not receiving compensation for it (other than from Seeking Alpha). I have no business relationship with any company whose stock is mentioned in this article.