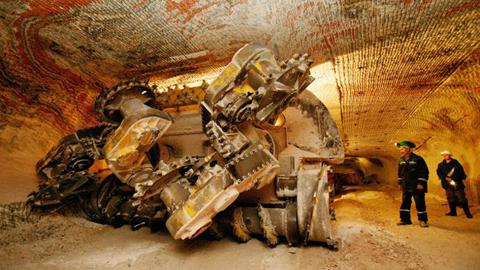 Click to enlarge
Mosaic (NYSE:MOS) is a company which is engaged in major phosphate and potash production and is a logical play on world population increases.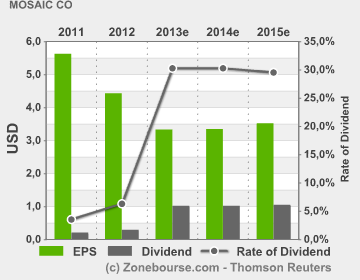 We believe prices for potash and phosphate may not have major drops as predicted earlier and that this 'not as bad as expected' differential will create 20-30% upside in shares of Mosaic over the next year or so. We also see some new huge joint venture projects will create long term value for shareholders.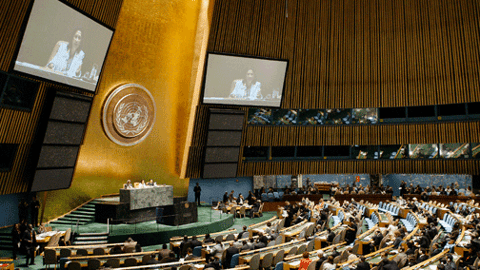 Click to enlarge
What are the differences between potash and phosphate?
Potash and phosphate play important but different roles in the development of crop growth. The chemical nutrients are both used to produce fertilizers that have become increasingly important as demand for more resource-intensive food grows in response to rising incomes across the world.
Neither potash nor phosphate can be used interchangeably. They both provide specific functions in supporting plant growth and are often judiciously and precisely applied to meet the specific requirements of a particular crop, climate, soil type or topography."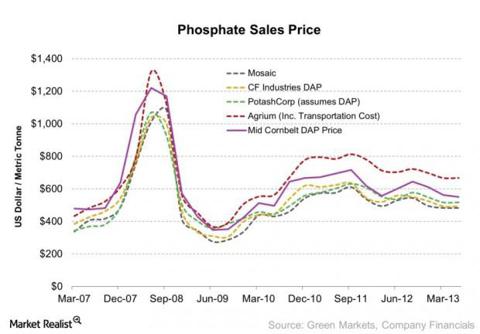 Click to enlarge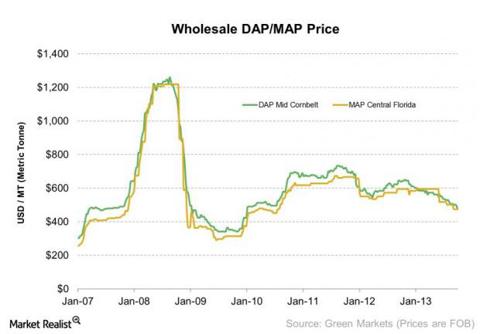 Click to enlarge
The Mosaic Company is one of the world's leading producers and marketers of concentrated phosphate and potash crop nutrients. Mosaic is a single source provider of phosphate and potash fertilizers and feed ingredients for the global agriculture industry.
Mosaic was recently hit by industry developments involving Urakali:
Russia has told bidders for Suleiman Kerimov's 22 percent stake in Uralkali they should repair a rift with Belarus that led to the end of a joint venture controlling 40 percent of global potash exports, Dow Jones reported today, citing unidentified people close to the discussions. The Uralkali stake will probably be sold to a local investor, Dow Jones reported.

Producers including Potash Corp. plunged on July 30 after Uralkali, the world's largest potash maker, exited the trading venture and said it would boost output of the crop nutrient. The $20 billion potash market was "paralyzed" by Uralkali's move, Potash Corp. Chief Financial Officer Wayne Brownlee said Sept. 18.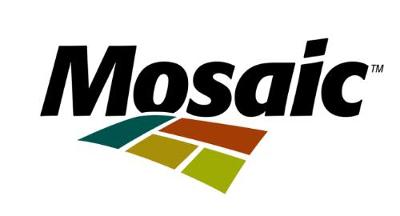 There has also been some chatter in the past few months about BHP Billiton (NYSE:BHP) possibly interesting in acquiring Mosaic:
Unlike BHP's thwarted 2010 bid for Potash Corp. of Saskatchewan, bidding for Mosaic wouldn't likely trigger a review by the Canadian government since U.S.-based Mosaic's assets in Saskatchewan are already foreign owned, it added.

BHP has one of the strongest balance sheets in the mining sector, and could support more than $50 billion in incremental debt, Merrill Lynch said. Mosaic wouldn't cost so much.

Assuming a 20% premium for Mosaic, an $18.5 billion deal could boost earnings by 12% in the first year of ownership, rising to 14% two years later, it said. At a more stretched 40% premium, a $23.8 billion deal would boost earnings by 11% in year one and 13% in year three, but wouldn't initially produce a positive return on capital.
In conclusion, we believe Mosaic is a bargain at these levels. We believe a buyout of Mosaic could come to pass if Mosaic stock declines a bit more. Mosaic will be more of a bargain long-term for shareholders and potential acquirer paying a premium.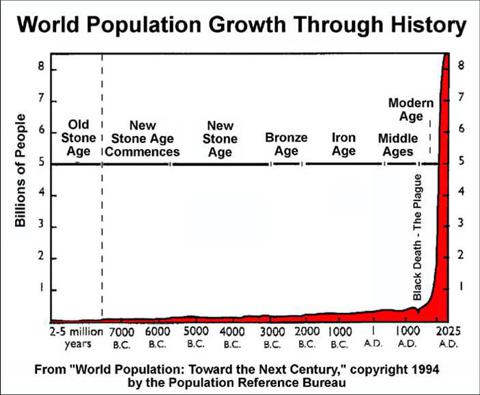 Click to enlarge
Disclosure: I have no positions in any stocks mentioned, but may initiate a long position in MOS over the next 72 hours. I wrote this article myself, and it expresses my own opinions. I am not receiving compensation for it (other than from Seeking Alpha). I have no business relationship with any company whose stock is mentioned in this article.