Today it seems that the retail sector is in full focus with Jos. A. Bank (NASDAQ:JOSB) offering to buy Men's Wearhouse (MW) and Wal-Mart (NYSE:WMT) severing ties with their partners in India. Both situations will require investors' attention moving forward and we think that Wal-Mart might be the bigger piece of news this morning as it seems that their former partner will quickly turn into a competitor. Also, there is a reason we wanted readers to rotate into the SPDR S&P Retail ETF (NYSEARCA:XRT) and its outperformance versus individual names such as Gap highlight this reasoning.
We are still waiting for a deal in Washington, but investors did get a carrot from the President as Janet Yellen will go before Congress to get confirmed to be the next Federal Reserve Chairman, and first chairwoman. This should be an easy confirmation as all Democrats seem to be behind her and many Republicans also support her. We view her confirmation as a formality, one of the few this administration has had.
Chart of the Day:
Is anyone else wondering where all the excitement for Japan went? We were and when we checked out the charts we were somewhat surprised to see that the market has not gone anywhere over the past six months! Six months! Granted they had one of the most spectacular runs leading up to this sideways movement, but to move neither up nor down after a move like that...it sounds bearish but we believe it to be bullish long-term. It sure looks like strength.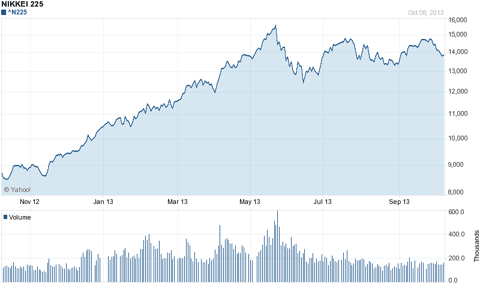 Click to enlarge
(Click to enlarge)
Source: Yahoo Finance
We have economic news today and it is as follows:
MBA Mortgage Index (7:00 a.m. EST): Est: N/A Actual: 1.3%
Crude Inventories (10:30 a.m. EST): Est: N/A
FOMC Minutes (2:00 p.m. EST): Est: N/A
Asian markets finished mostly higher today:
All Ordinaries -- up 0.07%
Shanghai Composite -- up 0.62%
Nikkei 225 -- up 1.03%
NZSE 50 -- down 0.59%
Seoul Composite -- CLOSED
In Europe, markets are mostly higher this morning:
CAC 40 -- up 0.58%
DAX -- up 0.21%
FTSE 100 -- up 0.01%
OSE -- down 0.07%
A Merger In The Retail Space...
We have been critical of Jos. A. Bank in recent months as the company missed sales and estimates the past few quarters and simply sat idle on a huge pile of cash as they have done for many years. They are even behind on rolling out their seasonal offerings this year, which we learned when we ducked into a store this past week which was dead and had only one store employee in it. As bad as all of that is, this deal for Men's Wearhouse is easy to like because it will consolidate the industry and should allow the combined company to better control pricing nationally. The company has offered $2.3 billion, or $48/share, for Men's Wearhouse in a deal that is all cash and a 36% premium to Men's Wearhouse's closing price yesterday. Jos. A. Bank will fund the deal with cash-on-hand, new equity and debt. Regarding the new equity, it was announced that Golden Gate Capital will make a $250 million equity investment in the company as part of their raising cash for the deal. The press release announcing the deal is located here.
It has been a tough year for both names but this merger might end the cut-throat competition. Both stocks are up in pre-market with Men's Wearhouse up nearly 30% and Jos. A. Bank rising around 10%.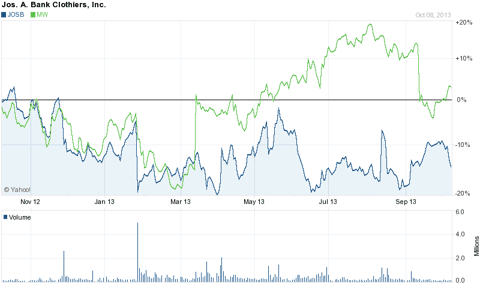 Click to enlarge
(Click to enlarge)
Source: Yahoo Finance
A Break-up In India's Retail Sector ...
Wal-Mart has many partners worldwide which help them penetrate local markets. It is a blueprint that the company has used for years with mixed results, but mostly successfully. From time-to-time they company divests assets, closes them down or buys out partners and that is what is happening in India. Wal-Mart announced that they were ending their joint venture in India and will buy out their partner Bharti Enterprises for an amount that has not been disclosed for the wholesale retail outlets the two set up. It appears that Bharti will now become a competitor and that Wal-Mart will face obstacles in expanding in one of the world's largest countries.
What Gives ...?
The underperformance in Gap shares versus the general retail sector has been real and measurable. Since August it has trailed the broader sector by 10% and in many circles that either makes or breaks your year!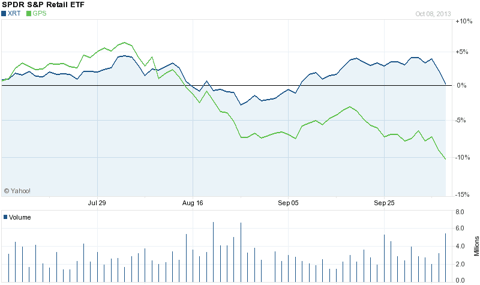 Click to enlarge
(Click to enlarge)
Source: Yahoo Finance
As readers who have followed our picks in the retail sector know, we have slowly been advising to shift the focus away from stock picking, which led U.S. to such winners as Gap (NYSE:GPS), and instead shifting towards an industry bullishness with the SPDR S&P Retail being our favorite ETF to accomplish this. Do we still like names that are outperforming as it relates to their business? Absolutely, but if one looks at the price action of Gap in recent months there has been a lot of profit taking as investors rotate out of apparel names, and more importantly the stocks which have been on a tear, and into names they are banking on for turnarounds. It is because of this that we think the ETFs such as the SPDR S&P Retail instrument are ideal. It gives one diversification and exposure to these turnaround stories, but also insulates one from the losses like we have seen in the discount space and the teen retailers over the past few quarters.
Disclosure: I have no positions in any stocks mentioned, and no plans to initiate any positions within the next 72 hours. I wrote this article myself, and it expresses my own opinions. I am not receiving compensation for it (other than from Seeking Alpha). I have no business relationship with any company whose stock is mentioned in this article.