Over the past week, there has been some evidence that Google (NASDAQ:GOOG) may be planning to release a smartwatch of its own design by the end of October. The question investors are asking is whether such a product will be meaningful for the stock. If we use the recent release of Samsung's (OTC:SSNLF) Galaxy Gear as a benchmark, the answer would appear to be no. Recent reviews of Galaxy Gear, including one from the New York Times' David Pogue have been decidedly negative.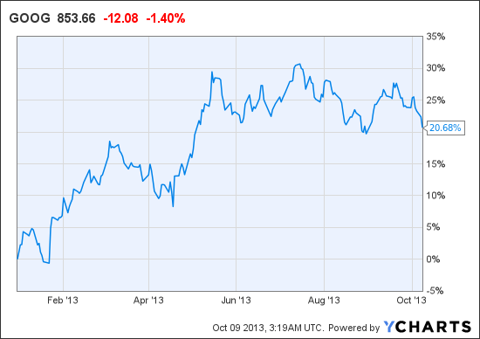 GOOG data by YCharts
In the video below, I discuss Pogue's review of Galaxy Gear, rumors on Apple's (NASDAQ:AAPL) apparent plans to introduce an iWatch, and what it all means for Google stock. Ultimately, whether the Search King ever goes to market with the product - and I see it as a potentially positive catalyst for Google if it does - Google looks attractive after its recent selloff and is worth a careful look by investors.
Disclosure: I have no positions in any stocks mentioned, and no plans to initiate any positions within the next 72 hours. I wrote this article myself, and it expresses my own opinions. I am not receiving compensation for it (other than from Seeking Alpha). I have no business relationship with any company whose stock is mentioned in this article.