Pinnacle Foods Inc. (NYSE:PF) (Market Cap, $3B) is a manufacturer, marketer and distributor of branded food products primarily in North America. The company operates through three segments: the Birds Eye Frozen Division, the Duncan Hines Grocery Division and the Specialty Foods Division. It also manufactures and distributes canned meat, shelf-stable pickles and frozen seafood. Its brands are well known by consumers and include the Birds Eye, Duncan Hines, and Mrs. Paul's product lines. It recently acquired Wish Bone, adding to the mix of strong brand names. Its message to investors is "Reinvigorating Iconic Brands." Brand strength is evidenced by the lineup shown below: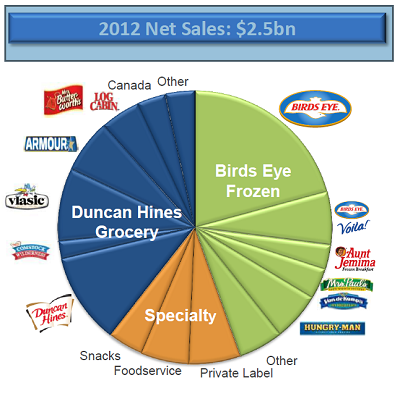 The company claims to have 85% U.S. household penetration, to be No. 1 or 2 in 10 key categories, and to be one of the top 5 frozen food companies.
Pinnacle Foods sells its products through supermarkets, grocery wholesalers and distributors, mass merchandisers, convenience stores, dollar stores, drug stores and warehouse clubs.
Dividends
At its March 2013 IPO, the company targeted a dividend yield of 3.75%. Currently it is paying a respectable 2.79%, so it expects to be growing that dividend yield by 36%. It has targeted a payout ratio of 50%. Current payout is 42.9%; at the targeted 50% payout, yield would rise to 3.25%.
Growth
Growth prior to the IPO was through mergers and acquisitions which have continued, most recently with the October 1, 2013 acquisition of Wish-Bone.
Analysts are projecting EPS growth of 11.6% through 2014.
First half of 2013 results show a drop in net sales of -2% YoY, but other metrics are solidly in the green
| | | |
| --- | --- | --- |
| | 2013 | Vs. 2012 |
| Net Sales | $1,182M | -2% |
| Gross Margin | 25.7% | +250 bps |
| EBIT | $159M | +17% |
| Diluted EPS | $0.63 | +80% |
| Operating Cash Flow | $112M | +66% |
| | | |
There have been 2 quarterly earnings reports since IPO. Both have exceeded estimates (1Q13 by 26% and 2Q13 by 7.5%).
Valuation
Price to earnings is reported over a wide range from various sources, probably as a consequence of there being only 2 earnings reports since IPO. NASDAQ's analysis page puts it at 16.7 compared to an industry average of 20.7, which appears to be in line with reported earnings. Others list a much higher ratio (S&P lists P/E as 61.7). PEG ratio is 1.26. Price to book is 2.6 vs. industry average of 8.7.
Debt
Debt to equity is among the highest in the industry, but the company has been reducing debt at an encouraging rate. Current Ratio stands at 2.1x and Quick Ratio is 0.7x.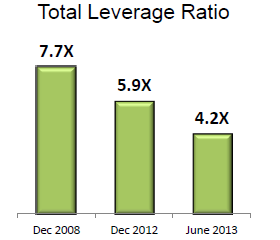 Pinnacle Foods has paid down $1B of debt since 2007. 100% of the IPO proceeds ($667M) went to deleveraging, reducing annual interest expense by ~$50M and leading to upgrades by S&P and Moody's. Refinancings and the issuance of new 4.875% notes (2012) reduced interest expenses by an additional ~$30M and locked in interest rates on 80% of outstanding debt.
Net Operating Losses
PF has accumulated tax losses of $1.1B that can be applied against future income to reduce cash taxes. They expect to be able to use about 75% ($875M) through 2015.
Analysts' Opinions
Analysts are broadly bullish on PF's prospects. NASDAQ's stock analysis page lists 6 recommendations, 5 Strong Buys and 1 Hold, 2 upward and 1 downward revision in the past 10 weeks, and a consensus price target of $28.50.
Summary
Pinnacle Foods is a attractive small-cap, consumer staples play for sustained growth. Its current 2.79% dividend yield is respectable income for its sector, and projected by the company to grow to 3.75%. Debt is the greatest downside here, but there are hopeful signs. The company has made substantial progress in bringing debt down, and seems committed to continuing efforts on this front.
The company's brand lineup consists of iconic names, although some have lost their lustre. If, as is its stated goal, Pinnacle Foods can successfully reinvigorate those brands, significant growth should be expected.
While I'm attracted to PF as a small-cap, dividend play with good growth potential, I'm also a bit hesitant at this time. I would consider opening a position here at a dividend yield of 3% or higher. At the present quarterly payout of $0.18, that would take a price drop to $24. Or, more to my liking, a dividend hike that brings the yield to above 3%. This would represent an 8 to 9% growth in the dividend and would clearly demonstrate management's commitment to getting dividend yield to their target of 3.75% in the near future.
Disclosure: I have no positions in any stocks mentioned, and no plans to initiate any positions within the next 72 hours. I wrote this article myself, and it expresses my own opinions. I am not receiving compensation for it (other than from Seeking Alpha). I have no business relationship with any company whose stock is mentioned in this article.