With the federal government shutdown, partisan bickering showing no signs of slowing, and the debt ceiling just around the corner, the week started with gold and silver taking a step higher. The SPDR Gold Trust (NYSEARCA:GLD) was higher by 1% and the iShares Silver Trust (NYSEARCA:SLV) was up nearly 3%. Miners followed the trend, seeing Barrick Gold (NYSE:ABX) climb 1.4%, Newmont Mining (NYSE:NEM) was up 1.4%, and First Majestic Silver (NYSE:AG) was up 1.6%. Despite the bump, prices declined on Tuesday, demonstrating that up or down, precious metals are likely to see increased volatility.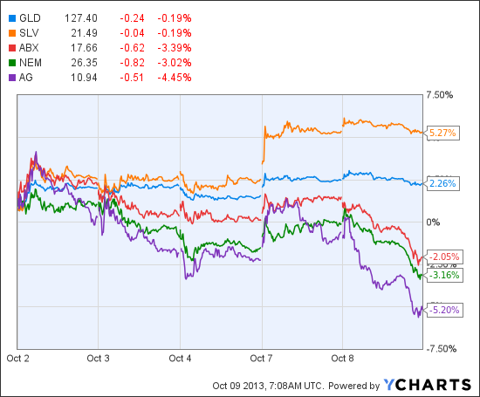 GLD data by YCharts
In the video below, I discuss why precious metals are likely to trend higher until the debt ceiling issue has been resolved, and why, if the debt ceiling is not raised before a default, we are likely to see a significant spike in the prices of both commodities.
Disclosure: I have no positions in any stocks mentioned, and no plans to initiate any positions within the next 72 hours. I wrote this article myself, and it expresses my own opinions. I am not receiving compensation for it (other than from Seeking Alpha). I have no business relationship with any company whose stock is mentioned in this article.