On September 10, 2013, Hewlett-Packard (NYSE:HPQ) was delisted as a Dow Jones Industrial Average component stock. This event confirmed the ongoing decline of the personal computer industry. In anticipation of secular shifts in demand, PC twin engines Microsoft (NASDAQ:MSFT) and Intel (NASDAQ:INTC) have made a commitment to build out mobile sales through research and development spending and acquisitions. Alternatively, Hewlett-Packard has taken the conservative approach to doing business. Hewlett-Packard managers have prioritized slashing costs, instead of taking aggressive measures to build long-term revenue growth. As such, Hewlett-Packard is locked into a deflationary cycle of heightened competition, unwanted inventory, and massive asset write-offs. Microsoft Windows 8 has failed to reverse the damage.
2012 HP Letter to Stockholders
CEO Meg Whitman's 2012 letter to stockholders laid out the ongoing turnaround plan for Hewlett-Packard. Whitman begins the letter with her highlight of the fact that HP generated $10.6 billion in 2012 cash flow from operations. The CEO goes on to claim that Hewlett-Packard made "significant progress," after paying off $5.6 billion in net debt, while also having returned $2.6 billion to shareholders through stock buy backs and dividends. The company initiated a restructuring plan to consolidate multiple product lines. For example, enterprise servers, storage, and networking businesses were to be centralized beneath one management team. The apparently radical measures arrived largely in response to disastrous 2012 financial results that included $20.3 billion in asset write-downs and restructuring charges. HP had ultimately racked up $12.7 billion in net losses by 2012 fiscal year ended October 31.
Whitman intimated that cost savings would be allocated towards increased research and development spending. R&D spending at HP, however, has remained minimal. In 2012, Hewlett Packard spent $3.4 billion on research and development, which calculated out to a mere 2.8% of its $120.4 billion in net revenue for the year. This trend has largely continued through 2013, as the company has spent only $2.4 billion, or 2.8% of net sales, on research and development through the first nine months of this year. For the sake of comparison, Silicon Valley neighbor Intel ramped up R&D spending from $8.4 billion to $10.1 billion between 2011 and 2012, despite revenue actually declining during this same time frame. Intel spent roughly 20% of its 2012 revenue on research and development spending. Again, Intel has already articulated a firm commitment to establish itself as a real player within the mobile chip space. Intel, at least, has shown its willingness to embrace calculated risks, in reaction to sharp PC market deterioration.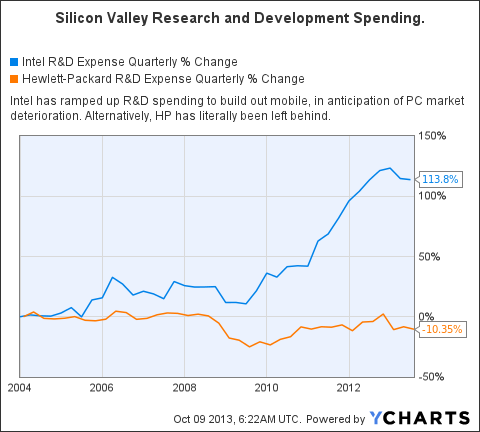 INTC R&D Expense Quarterly data by YCharts
On April 28, 2010, Hewlett Packard announced that it had agreed to acquire Palm for $1.2 billion. For mobile, HP salesmen have been referring customers to its near irrelevant line of iPAQ handheld computers. The remnants of Palm were to be unceremoniously folded into the general Corporate Investment division at Hewlett Packard. In all, HP Corporate Investments had burned through $1.8 billion in operating losses upon a mere $316 million in revenue between 2011 and 2012. In effect, Hewlett-Packard has remained largely beholden to the success, or lack thereof, of PC market performance.
The Windows 8 Boondoggle
On October 26, 2012, Microsoft released its Windows 8 platform as the first major operating system upgrade out of the software company in three years. Like clockwork, the Microsoft marketing apparatchik fully mobilized to describe the product as "endless entertainment" and "revolutionary." Immediately upon first review, however, critics Dan Rowinski of Tab Times and Woody Leonhard of Info World were to both rip Windows 8 as a "boondoggle." On October 18, 2013, Microsoft is set to launch what Brad Chacos and PC World have described as "The Great Compromise," in Windows 8.1. Windows 8.1 has been designed to be more accommodative to traditional PC users, who scoffed at the modern tablet look of Windows 8. In any event, all statistical and qualitative evidence has suggested that customers have rejected efforts out of Microsoft to integrate traditional smart phone, tablet, and personal computer interfaces beneath one operating system umbrella.
Recent data out of research firm Net Market Share has indicated that Windows 8 sales have lagged significantly behind those of the much-maligned Vista at similar points within both product life cycles. As of last September, Net Market Share research confirmed that Windows systems do operate 90% of all desktop computers. Windows 8 and Vista then accounted for respective 8% and 4% shares of desktop computers. Windows 7 was still the most popular operating system - with a 46% share of this market. The data may serve as evidence that consumers have opted to maintain older Windows 7 machines, instead of upgrading to newer Windows 8 computers. Hewlett-Packard investors have therefore unwittingly bought into a business representing the lead car within the PC supply chain bottleneck.
Recent information out of research company Gartner confirmed that Windows 8 has failed to jumpstart the PC market. Going forward, Hewlett-Packard will find itself locked into a debilitating price war against Chinese rival Lenovo, as the PC market slogs through this inevitable decline. According to Gartner research, the global PC market contracted by 10.9% during the second calendar quarter of 2013, in terms of year-over-year unit shipments. During this time frame, Lenovo surpassed Hewlett-Packard as the world's leading PC manufacturer, according to volume. Be advised that Gartner also claimed that the PC consumer market in Western Europe collapsed by 25.8% through Q2 2013. A somber Meike Escherich, Gartner principal research analyst, then said that looming Windows 8.1 and Intel Haswell upgrades "will not fully compensate for the ongoing PC decline."
The Bottom Line
Again, Hewlett-Packard posted $20.3 billion in asset write-downs and restructuring charges for fiscal 2012. That year, HP racked up $12.7 billion in losses upon $120.4 billion in revenue. Be advised that the massive 2012 charges taken by HP do make for difficult year-to-year earnings comparisons. As such, revenue figures will be more so beneath the microscope. Going forward, sharp declines in revenue may put the company at risk for another round of asset impairment charges within the next three years. In the near term, the stock remains at risk for taking heavy losses into 2014, after investors realize that near obsolete HP computers have begun to pile up at the Best Buy (NYSE:BBY) bargain bin.
On October 8, 2013, Hewlett-Packard closed out the trading session at $20.75 per share. Wall Street then valued HP at $40 billion, in terms of market capitalization. Hewlett-Packard may finish up its 2013 fiscal year with $5 billion in net income, which would be a dramatic improvement above the $12.7 billion in 2012 losses. The $5 billion 2013 net income projection would mean that HP now trades at eight times current earnings. On paper, bulls may argue that HP stock is cheap trading at single-digit multiples, while undergoing an obvious turnaround in business. A more nuanced view of the Q3 2013 report, however, would indicate that HP financials largely deteriorated over the past year.
Hewlett-Packard recently generated $83.2 billion in revenue, during the latest nine months ended July 31, 2013. For the sake of comparison, HP had already amassed $90.4 billion in revenue at this very same point in time last year. Year-over-year revenue and cost of sales both declined by 8% at HP. As such, it would appear that the aggressive cost-cutting measures proposed in Whitman's 2012 letter-to-shareholders have failed to materialize in real terms. Research and development spending has also declined slightly from $2.5 billion to $2.4 billion between the first three quarters of 2012 and 2013. As such, all avenues to realize future growth have been blocked off at this PC supply chain bottleneck. Hewlett-Packard is a strong sell.
Disclosure: I have no positions in any stocks mentioned, and no plans to initiate any positions within the next 72 hours. I wrote this article myself, and it expresses my own opinions. I am not receiving compensation for it (other than from Seeking Alpha). I have no business relationship with any company whose stock is mentioned in this article.