One should wonder if there is much upside for a stock that has risen 400% year-to-date. SunPower (NASDAQ:SPWR) has benefited immensely from the overall recovery of the solar industry. Recent developments should serve as catalysts for further upside for solar stocks, and particularly, SunPower, which is currently the leading performer among the U.S. solar stocks.
Earnings beat and rising expectations
SunPower reported earnings in late July that easily beat analyst estimates. Second quarter EPS of $0.48 was far ahead of the estimates for $0.11. This was a substantial increase over the last year's EPS of $0.08. Revenue in the second quarter was $650 million, slightly below last year, and 12% ahead of analyst estimates. The substantial earnings beat can be attributed to cost reductions, as revenue remained flat. As a result, gross profit margin expanded 440 basis points to 19.5%, but was down 330 basis points when compared to the first quarter of the year.
Management full-year revenue guidance remained the same, while EPS guidance was raised to a $1-$1.30 range from $0.60-$0.80. As a result, analysts were busy increasing their own EPS projections. This was truly great for the stock, as rising estimates lifted the share price substantially this year. However, the increased expectations are a result of rising profit margins, whereas the revenue was lower in the previous four quarters. Given the circumstances, this is an impressive turnaround after the painful declines that the solar industry endured in previous years.
Industry trends
There was no shortage of good news for the solar industry in recent months. U.S. solar panel installations were up 15% to 832 megawatts of photovoltaic solar panels. Booming business for utility-scale systems was responsible for much of the increase, which helped offset weaker demand for residential and commercial projects. And there might be improvements in the residential projects, at least judging by the new financing deal SunPower signed with the Digital Federal Credit Union (DCU). The deal provides up to $100 million in loans for residential solar projects featuring SunPower panels. This initiative is a part of the SunPower Loan program, which covers all 50 states. GTM Research estimates that U.S. home solar financing will reach $5.7 billion by 2016, up from $1.2 billion last year. GTM also states that "There is virtually limitless growth potential relative to the current size of the market" and that the solar providers often offer homeowners "something akin to 10 percent savings on their current bill." SunPower is one of the best positioned companies in the industry, since it sells to both large power plants and to commercial and residential customers. The company is fully vertically integrated from making wafers to taking care of customers. SunPower also has the highest cell efficiency in the industry around 24%.
The situation in the global markets is also getting better with China and India increasing their solar power generation. India aims to reach 10GW solar target by 2017. This is a part of the long-term goal to reach 20GW by 2022. China has substantially increased their 2015 PV target from 21GW to 35GW (China previously increased the target to 21GW from 15GW). Most of the Chinese solar stocks have more than doubled since the government announcement in mid-July. Chinese solar stocks have in fact taken leadership in the market, while the U.S. stocks largely underperformed during the same period, especially SolarCity (NASDAQ:SCTY) and First Solar (NASDAQ:FSLR).
In fact, First Solar was responsible for the meaningful correction of solar stocks in August, after guiding full-year earnings and revenue lower. But, it wasn't all bad news for First Solar, since the company acquired General Electric's (NYSE:GE) thin-film (CdTE) solar patent portfolio in exchange for 1.75 million shares. First Solar also bought a 1.5GW pipeline of U.S. and Mexican solar projects from private Element Power.
Another important development in the solar industry is the EU-China compromise that averted a trade war over solar panels, and the US Solar Energy Industries Association (SEIA) intends to do the same.
Price performance
SunPower has performed very well this year. It has performed better than First Solar and SolarCity, since it made new highs on two occasions in the last six months, whereas First Solar and SolarCity failed to do so, making SunPower the best relative performer. The weight of the general market might dampen the short-term prospects of all solar stocks, at least until the government shutdown and the debt-ceiling issues are resolved.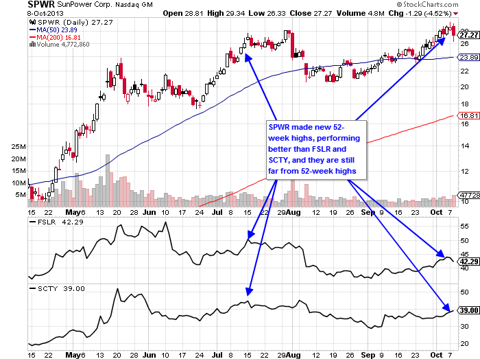 Source: Stockcharts
Conclusion
SunPower is very well positioned to benefit from the solar industry recovery. The company boasts best-in-class cell efficiency; it is selling to both large power plants and commercial and residential customers. Profit margins and earnings have increased significantly over the last several quarters, mainly as a result of cost cutting. Revenue growth is still missing, but the turnaround has been impressive so far. Although the stock might seem extended after rising more than 400% since the start of the year, there is still more room for improvement. I believe that SunPower will easily beat Q3 earnings estimates, which are at mid-point of the company guidance, which should drive the stock higher. The broader industry trends are also positive, and should serve as a catalyst for SunPower and other solar stocks.
Disclosure: I have no positions in any stocks mentioned, but may initiate a long position in SPWR over the next 72 hours. I wrote this article myself, and it expresses my own opinions. I am not receiving compensation for it (other than from Seeking Alpha). I have no business relationship with any company whose stock is mentioned in this article.