Finally the US/global Q3 earnings season is here...
The aluminum/alumina company Alcoa's (NYSE:AA) Q3 EPS came in at 2 cents per share. However back out various "special items" and this figure rises to 11 cents, which was better than the 6 cents hoped for. So a "beat" in earning parlance terms. Of course, the "earnings shuffle" means that expectations were reduced before the numbers were released. In the case of Alcoa...these "hope" reductions have been huge over time (original Link here).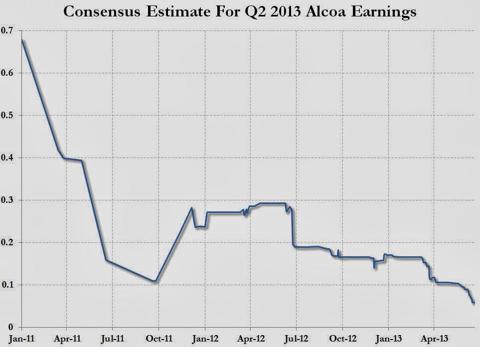 So back to these Q3 numbers. What a mess to get from 2 cents a share to 11 cents in order to beat hopes as this chart from the presentation document shows: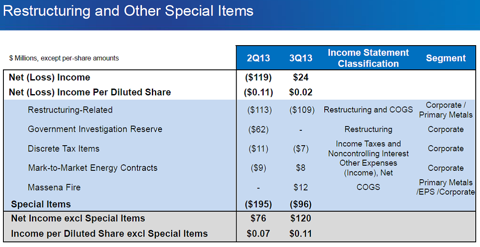 A far better insight on earnings progression comes from this chart. Alcoa has made some progress over the last year, despite lower aluminum prices, due particularly to higher productivity offsetting core cost increases.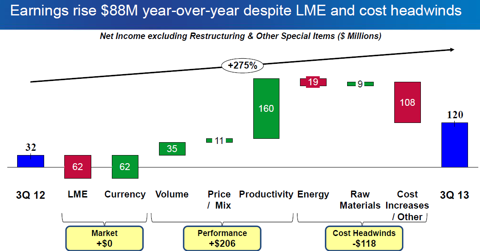 However despite this operational progress, free cash flow remains frustratingly patchy. Add up the last four quarters and you get $422m versus $357m over the prior 12-month period. Better but patchy. This is why the net debt line is not showing any improvement.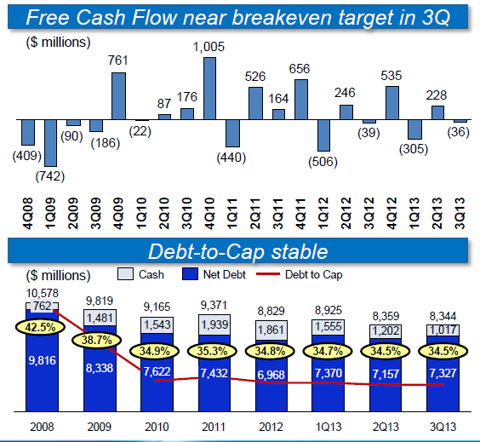 Still, I like the company's focus as shown below, as cash flow is a far better guide to the worth of a business. Year-to-date free cash flow - due to the dropping out of the strong Q4 2012 number used in the rolling four quarter number above - is still negative. Note on the chart above that seasonally Q4 appears to be a strong cash flow generating period, so this target should be achieved. For reference purposes, the $422m quoted above is equivalent to a just sub 5% free cash flow yield.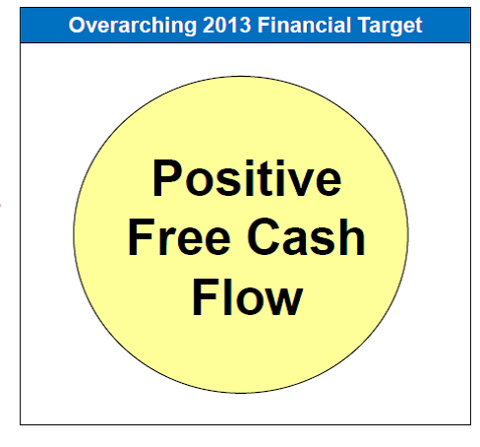 Turning to aluminum sector fundamentals, I note the slightly unusual mix of the company's comments 'market fundamentals are stable, pricing pressure continues'. China is a huge part of global demand (as shown in the chart below on the left), whilst markets may be 'essentially balanced' (as shown in the chart below on the right) but given the absolute size of the market, it would not take much to push them into relatively sharp surplus or deficit. The markets Alcoa is in are highly geared.

Everyone's favorite Alcoa chart is this one. I think it says a lot about the world today. 'Global' is good/opportunistic driven by China, whilst North America is mixed but ok whilst Europe is generally still poor.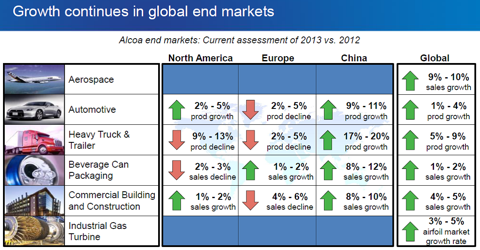 So what to conclude about Alcoa and what does it say about the Q3 earnings season?
Well, Alcoa numbers remain horribly patchy. The numbers beat but the quality in my opinion was low. Headline free cash flow remains mixed and ultimately the company is not paying down its debt. Sector-wise, the aluminum/alumina sectors remains geared towards China and prone to sharp shifts in surplus/deficit. The shares are kicking around a 1-year low, as shown in the graph below, and at x0.66 price:book this will attract some value buyers.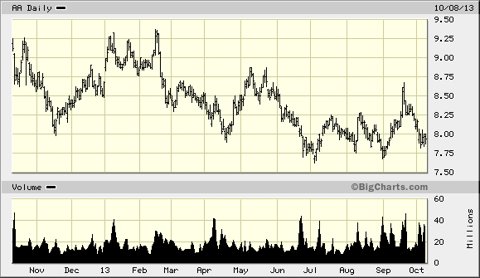 I am struggling though to get very excited, even though the shares today are called up 3%. Market consensus has the shares trading on a P/E in the mid 20s reflecting many of the current trading issues, so to buy the shares today is centered on hopes of a cyclical recovery. The company is trying - and spent much of its presentation/conference call talking about new initiatives to boost its relevance/importance across various global sectors - but as a pan-market investor there are better focused metals/mining companies around with equivalent correlation to emerging market growth.
So, have another look at $7?
As for the read across for the wider world, well it remains patchy and it is important to look into the underlying quality of earnings closely.
Disclosure: I have no positions in any stocks mentioned, and no plans to initiate any positions within the next 72 hours. I wrote this article myself, and it expresses my own opinions. I am not receiving compensation for it. I have no business relationship with any company whose stock is mentioned in this article.