We all have choices to make as investors dependent on our experience, where we are in our investing life and our goals. My wife and I now have about a decade before we have to make a decision about retirement and transitioning from accumulation of assets to enjoying the fruits of our labor.
One question that is always in the back of my mind is how can I improve the portfolio while retaining diversification across industries?
First Dividend Growth Investment
Somewhere around 2008, as the market was starting to deteriorate into what is now called the Great Recession, I discovered Seeking Alpha where I learned about dividend growth investing. Look for good companies that have history of increasing their earnings and dividends, buy them at a reasonable price and reinvest those dividends. Then, monitor your progress and let time do its work building an income stream. Finally, not only did I find an investment method that was logical, but the results could be seen in the brokerage statement every month.
This is not to say that dividend growth investing is a 'set it and forget it' methodology. A dividend growth investor needs to monitor the companies they own. Not just to make sure the company can keep growing its earnings and dividends but, just as importantly, to see if it's doing enough to meet your own goals and projections.
As a neophyte dividend growth investor, one of the first stocks I bought in my wife's IRA portfolio was Becton, Dickinson (NYSE:BDX). At the time, BDX had taken a big drop bringing the yield to slightly over 2.5% and pushing the P/E to the very low teens. When you looked at BDX's history at that point, you already saw a company that was a Dividend Aristocrat and Dividend Champion, was steadily increasing earnings and dividends and trading significantly below its normal P/E trading range.
As expected, BDX continued to grow and increase its dividend. It was quite comforting to see the dividend check deposited into the account every quarter and promptly reinvested. Every Christmas season, BDX's board would give us a 10% raise (give or take a few cents) just like clockwork. In short, BDX was doing what I want every company to be doing in my portfolios.
One of the goals for our investments is to have dividends cover a large portion of our fixed expenses in retirement. After 5 years of BDX ownership, with steadily increasing dividends and the compounding from reinvestment, BDX still wasn't adding a large amount to our income stream. This was partly due to the lower starting yield.
I have to blame myself for this predicament. Just turning 50 you think you have a lifetime for your investments to work for you. Then suddenly you're in the downside of the 6th decade of your life and realize you need to boost your returns to meet your goals. One way of doing that is to boost the yields of your investments to give compounding more to work with.
Looking For Alternatives
Another of the investment goals in our portfolio guidelines is diversification across industries. Since BDX was the only company in the healthcare sector in my wife's portfolio, I wanted to keep it in the healthcare field.
I had already taken a small position in Baxter International (NYSE:BAX) recently in my own portfolio, so I had already done the due diligence and felt comfortable with its outlook. BAX was yielding 2.7% at the time. Not great but above Becton Dickinson which kept oscillating around 2% current yield. I also took a closer look at Medtronic (NYSE:MDT). MDT is another Dividend Champion & Aristocrat I have been following. Like BDX, Mr. Market had bid up the price of Medtronic bringing the yield down to around 2%. There are others in the medical devices category but, since they were all yielding as little or less than Becton Dickinson, they were omitted from my consideration at this time.
To compare:
| | | | |
| --- | --- | --- | --- |
| | BDX | BAX | MDT |
| P/E ttm (Note 1) | 18.0 | 17.9 | 15.2 |
| Dividend Yield (Note 1) | 1.97% | 2.71% | 2.11% |
| Payout Ratio | 35.6% | 48.8% | 32.2% |
| Expected 5 Yr EPS Growth | 9.1% | 8.8% | 6.5% |
| 5Y Forward PEG | 1.9 | 2.0 | 2.3 |
| 5 Year Dividend CAGR | 13.5% | 16.4% | 16.5% |
| Market Cap (Note 1) | $19B | $36B | $53B |
Note 1: BAX's numbers estimated before the recent price drop.
Note: data from Yahoo Finance, S&P Capital IQ and David Fish's CCC list
Trouble With Baxter
I was still comparing notes and looking at a few other companies. Baxter was still the lead choice due to its higher dividend yield. Then September 2013 came and BAX was dropping 6% during a routinely random day for the market. I scrambled to find any news that could cause such a precipitous drop. The only thing I could find at the time that could be attributed to the drop was a short article in Forbes online.
According to the article, JPMorgan's analysts had started coverage of BAX with a Neutral rating. JPMorgan had been in a silent period since they were involved with BAX's purchase of Gambro AB, a Swedish maker of dialysis products with a growing business in Europe, Asia and Latin America. In the interim, Biogen Idec (NASDAQ:BIIB) finished trials on a new, longer-lasting drug for hemophilia, which is about 30% of BAX's profits.
There has been more information published in the last couple of weeks. For a very good article on the subject, see Left Banker's article here.
In short, I felt Baxter was still a promising investment, but the question is would it improve our portfolio in some way? The drop in price had brought the yield on BAX up to almost 3%.
The Decision Tree
I wanted to keep the replacement in the healthcare field. Since Becton Dickinson was primarily a device company, I focused on them first. Most were yielding the same or less than BDX, so they were cut. I also didn't want a drug manufacturer. I have other plans for that as more cash becomes available in the portfolio. I left MDT in the decision tree for comparison. How can you overlook a Dividend Champion with 36 years of increasing dividends?
With the drop in price, BAX's trailing P/E of 16.6 was now closer to MDT of 15.2 and below BDX's P/E of 18. Also somewhat better than BAX's average P/E of 18.2 over the last 9 years.
At $66.25 per share, the price at the time I did a quick dividend comparison, the current yield was 2.96%, remaining the best of the three. It's also the highest yield BAX has seen for almost a decade.
All three are expected to grow earnings in the 5-10% range over the next five years. I like to compare forward earnings growth since that is where the money will come from to fund those dividends. Being so close together, I figured earnings would not adversely affect any of the outcomes.
I don't believe that Biogen Idec will take Baxter's entire market share in the hemophilia medication market. After all, the FDA has not given final approval of their new drug yet but is expected to in 2014. This also assumes Biogen can price it competitively with 3 other suppliers already in that marketplace: BAX, Novo Nordisk (NYSE:NVO) and Bayer (OTCPK:BAYRY).
Additionally, BAX's recent purchase of Gambro AB is expected to be accretive to earnings in 2014 in the range of 10 to 30 cents per share. This should cushion any market loss to BIIB's new drug.
All 3 have comfortably low payout ratios, so I believe the dividends are safe and have room to grow in the future.
The one big downside was BAX froze their dividend in the first part of the 2000-2010 decade. I could find nothing specific for the reason other than a temporary big earnings drop in FY2004. Perhaps the board was being cautious at the time.
Lastly, I estimated what I can expect for income over the next 5 years.
Security

# Shares

Current Price

Value

Div/Sh

Expected DGR

Cumulative 5 Yr Div

Stock Planning to Sell

BDX

22.90

$100.66

$2295.11

$1.98

11.8%

$320.75

Stocks Planning to Buy

BAX

34

$66.25

$2252.5

$1.96

9.6%

$442.36

MDT

43

$52.81

$2270.83

$1.12

8.8%

$312.34
In the table above, I used the lowest of the 3, 5 and 10 year dividend growth rates listed in the CCC spreadsheet. For the candidates, BAX and MDT, I calculated the number of whole shares I can purchase with the proceeds of the BDX sale including commissions. I prefer using conservative estimates, especially when I am thinking about moving out of a quality long-term holding like BDX.
As can be seen, by switching from BDX to BAX, I can increase our earnings by about $120 over the next 5 years not including the compounding from reinvesting the dividends. For MDT, it was maintaining the status quo. I was leaning heavily towards BAX.
My next question was, how will the income stream work out over a longer period using those same dividend growth rates? For that, I continued my calculations further out and created a graph to show the total dividend amount paid each year for the next 15 years - just when we're deciding if we want to settle into the next stage of life. I again used the 11.8% dividend growth rate for Becton Dickinson and 9.6% growth rate for Baxter from the table above.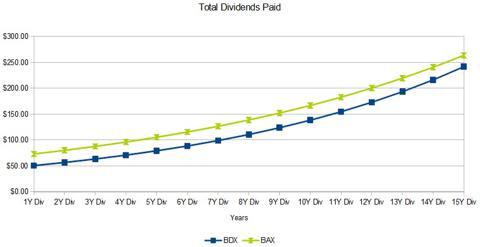 Even after 15 years, we'll still be getting more income from BAX disregarding any reinvested dividends.
Conclusion
I decided to sell my wife's shares in Becton Dickinson and purchase Baxter International. Medtronic didn't make the cut because of its current yield. I will now have to monitor Baxter's earning announcements a little closer throughout 2014 to see how the Gambro merger works out and any effects from Biogen's new drug therapy. I'll also be watching their dividend record closely going forward. I really don't want to trade a stock every few years.
I was not satisfied with the progress BDX was making to reach our goals of living off the dividend income in retirement. Our starting yield was too low and, with the rising market over the last few years, the juicy yields from high quality dividend growth stocks are not so prevalent. With only a decade left before we evaluated our work/life plans, I needed to make the best use of the time left to build an income stream. Concurrently, I wanted to keep a diversified portfolio by size, geographic location and industry.
For those of you new to dividend growth investing, you'll notice I didn't mention anything about the capital gains we accrued because of Becton's price rise over the last 5 years. Because I'm building an income stream for retirement, I was looking at the possible future income, so I won't have to sell shares to pay the bills.
The purpose of this article was to point out the thinking process I used to improve the income stream going forward. It was not an analysis of these three companies specifically. I believe Mr. Market was overreacting to news about one of them, Baxter International. In fact, I believe all three would be fine additions to any portfolio as long as they help reach your goals.
I appreciate any of your thoughts on the process in the comments sections.
Disclosure: I am long BAX. I wrote this article myself, and it expresses my own opinions. I am not receiving compensation for it (other than from Seeking Alpha). I have no business relationship with any company whose stock is mentioned in this article.