The market continues to be held "hostage" by the current nonsense coming out of Washington. One stock that has held up remarkably well is Apple (NASDAQ:AAPL) despite a significant selloff in the NASDAQ this week. After underperforming the overall market for ~9 months after peaking at $705 a share in Mid-September, AAPL has easily outperformed the S&P recently.
This is true not only over the last three months...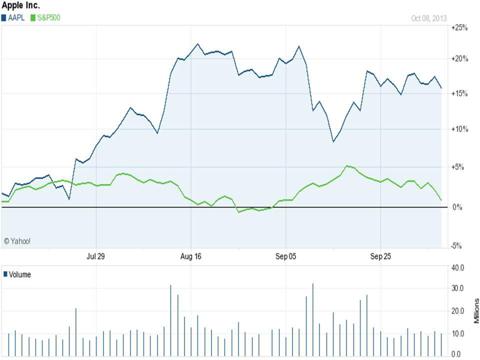 ...but also over the last five trading sessions as the partial government shutdown took effect.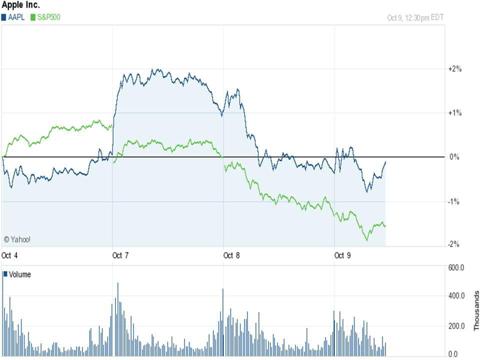 This outperformance should continue for three basic reasons and once the politicians start to behave like adults and resolve the budget/debt limit issues, I believe the stock will permanently put the $500 a share level behind it in the rearview mirror.
Reason #1 - A positive product cycle
Not only is the recently launched iPhone 5C/5S selling much better than expected but the company appears poised to announce the new version of iPad in two weeks. The iPad is obviously an important product within Apple's portfolio but it pales in comparison to the iPhone where Apple gets ~70% of its global revenues.
The initial launch weekend of new iPhones brought in 9mm unit sales, more than 50% higher than the consensus calling for 5mm to 6mm units. In addition, the company will roll out these new iPhones to Russia, Italy, Spain and more than 25 additional countries on October 25th which should provide additional sales momentum.
The successful launch of the 5C/5S is generating numerous positive comments and upgrades from analysts including ones from Cantor Fitzgerald, Cowen & Co., Piper Jaffray, Robert W. Baird, Jefferies and Sanford Bernstein. Some of the most interesting calls are summarized below.
Cowen & Co.'s Tim Arcuri states he remains confident that the Street is underestimating the company's sales and margins. Cowen estimates for the iPhone are ~36MM in the September quarter and ~56MM in the December quarter which are above the consensus Street numbers. The analyst also sees iPad sales of ~15MM in the September quarter and ~23MM in the December quarter.
Cantor Fitzgerald's Brian White reiterated his Buy rating and $770 price target as he is positive about the company's near term prospects.
Jefferies' Peter Misek took the stock to a "Buy" with a $600 price target. He also sees the iPhone 6 having a version with larger screen of 4.8 inches.
As Apple launches the next version of iPad and continues to rack up sales at an impressive pace with its new iPhones, investors can expect these positive analyst comments and upward revisions to continue to power the stock higher.
Reason #2 - A fortress balance sheet
As the government shutdown continues into its ninth day, money is coming out of high PE/story stocks like Tesla Motors (NASDAQ:TSLA), Netflix (NASDAQ:NFLX) and LinkedIn (NYSE:LNKD). It is flowing into the defensive sectors like Consumer Staples. This "risk off" environment should continue until DC puts the train back on the tracks.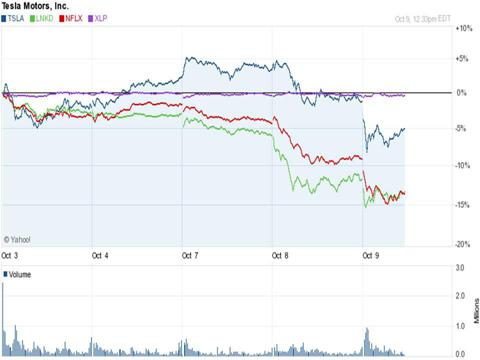 Apple is attractive here as a defensive play as unlike Washington, it has a fortress balance sheet with over $140B in cash & marketable securities on its balance sheet. It valuation of just ~8x forward earnings after subtracting its cash hoard is also extremely cheap especially as earnings estimates are on the upswing. Finally, the stock is buying back stock at a robust rate ($18B worth in the last completed quarter) and also pays a 2.5% dividend yield.
Reason #3 - A deal with China Mobile is in the cards
A distribution deal with China Mobile (NYSE:CHL) should occur this quarter. China Mobile has ~740mm subscribers and a deal according to most analysts could add 15mm to 30mm in additional iPhone sales in 2014.
The deal makes almost too much sense for it not to occur. Apple needs to boost sales in one of the biggest consumer markets in the world. China Mobile's sales growth has stalled and it needs the additional revenue from increased data traffic as well as possibility a cut of App sales.
The company's management has made positive comments about deal over the past month, is spending some $7B this year to build out its 4G network and Apple has told its main Chinese manufacturer to add China Mobile to its approved carrier list. I would look for this deal to be announced in the next six weeks to allow both companies to benefit from sales from the upcoming end of year holidays. This will be a significant positive catalyst for further stock gains in APPL.
For intrepid value investors who bought AAPL for under $400 a share when sentiment was hugely negative on the giant from Cupertino; congratulations on your great investing decision. For those still on the fence, it is not too late to pick up a few shares. With the positive catalysts ahead, current price levels will soon like the bargain they are in hindsight. STRONG BUY
Disclosure: I am long AAPL. I wrote this article myself, and it expresses my own opinions. I am not receiving compensation for it (other than from Seeking Alpha). I have no business relationship with any company whose stock is mentioned in this article.