Amazon (NASDAQ:AMZN) just launched a new service called Login and Pay with Amazon that could capture market share from eBay's (NASDAQ:EBAY) PayPal and Google's (NASDAQ:GOOG) Wallet.
Amazon has been offering payment services for some time, which directed users to Amazon to authorize one-time or recurring payments. The new service streamlines how customers transact with online merchants and lets shoppers pay for purchases on 3rd-party sites by simply logging in with their Amazon accounts.
Companies encourage their customers to create online accounts in order to offer personalized buying experience. Since the majority of buyers get bothered by the hassle of registering on new sites, most tend to choose to shop on sites they have already registered on before.
Login and Pay helps replace guest checkouts with recognized customers, which leads to an improved online experience that include: managing and tracking orders, purchase history detail, special discounts, instant access to shipping addresses and payment methods. The service works seamlessly on tablet, mobile, and desktop devices.
By adding an Amazon button to their ecommerce sites, online merchants get a simple payment service and fraud protection from Amazon and shoppers can simply login using their Amazon credentials. The service allows online merchants to create long-term relationships with more customers.
eBay's PayPal
eBay entered the online payment processing business when it acquired PayPal in July 2002 for $1.5 billion. At the time, PayPal, handled payment for one in four winning auctions on eBay so the auction giant, like many of its customers, decided to use PayPal as its electronic payment system.
PayPal is currently the "gorilla" in the online payment space with nearly 123 million active registered accounts. In 2012, PayPal processed $145 billion in total online payment volume, including $14 billion in mobile payments alone, up more than 250% from 2011.
In September 2013, eBay bought Braintree, a Chicago start-up with a focus on mobile payments processing, for $800 million and added it to its PayPal unit.
Braintree owns Venmo, a popular application that lets people pay each other through text messages. At the time of purchase, Braintree was processing more than $12 billion in web and mobile payments per year.
Google Wallet
Google entered the online payment processing space in June 2006 when it launched Google Checkout. In November 2011, Google rebranded Checkout as Google Wallet and announced that it will be retiring Checkout in November 2013.
Google Wallet is an open platform mobile payment system that allows users to store debit cards, credit cards, loyalty cards, and gift cards among other things, in a Google account.
Shortly after Google Wallet launch, which is in direct competition to PayPal, eBay filed a lawsuit against Google alleging misappropriation of trade secrets since Google hired two PayPal executives that were familiar with the technology.
Google seems to have ambitious plans for the Wallet and has recently launched some add-on useful apps that support loyalty cards and allow easier tracking of in-store, online and mobile purchases.
Implications
Google has struggled with its digital payment processing platform since its inception. However, Google's Wallet constitutes a tiny fraction of Google's revenue, so no impact on Google's performance could be expected.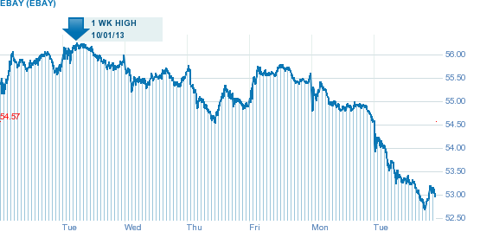 Since about 40% of eBay's revenues come through PayPal, direct competition is definitely a threat. PayPal has fought off competition from Google Checkout before. However, Amazon has 215 million active customer accounts and Google has recently integrated the Wallet with Gmail, which supports some 425 million Gmail users, so competition is bound to heat up in this space.
PayPal continues to drive digital payments innovation. The recent addition of Braintree and its Venmo app, which lets consumers make payments on smart phones and tablets, is bound to maintain PayPal's dominance in the online and mobile payments space.
eBay shares were down 4.8% from their peak for the week, however that might be related to the recent down trend in the S&P 500, rather than a reaction to the news from Amazon.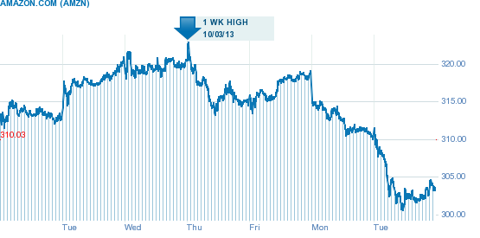 Amazon Login & Pay is definitely in direct competition to both eBay's PayPal and Google Wallet. Amazon is bound to share some of the $145 billion of online payment processed by PayPal and some of the billions processed by Google.
Amazon's shares have also been down by 5% from their peak for the week, another confirmation that eBay's slide is more of an overall market trend, probably related to the debt ceiling standoff, rather than a response to Amazon's news.
| Company | Ticker | P/E | P/S | Mrkt Cap |
| --- | --- | --- | --- | --- |
| Amazon | AMZN | - | 2.3 | 139 Billion |
| eBay | EBAY | 26.2 | 4.9 | 69 Billion |
| Google | GOOG | 26.2 | 5.7 | 285 Billion |
PayPal is currently the only one of the three that offers online payment solutions worldwide. Both Amazon's and Google's services are limited to US user base. So we can expect eBay to maintain its dominance for quite a while.
There is an ecommerce revolution under way with consumers expecting a seamless, frictionless, web-enabled, multichannel and multiscreen ecommerce experience from their providers.
We see the whole space as a growth opportunity, which should be positive news to the three players. Competition is definitely welcome in the space and independent online merchants and shoppers will be the ultimate winners in this race.
Disclosure: I have no positions in any stocks mentioned, and no plans to initiate any positions within the next 72 hours. I wrote this article myself, and it expresses my own opinions. I am not receiving compensation for it (other than from Seeking Alpha). I have no business relationship with any company whose stock is mentioned in this article.