AT&T (NYSE:T) has struggled to grow in the U.S. over the past few years amid competition from Verizon, Sprint (S) or T-Mobile (NASDAQ:TMUS). In 2012, its revenues amounted to $126 billion, an increase of only 2.4% from the previous year. During the first six months of 2013, AT&T's operating revenues were $63.4 billion, up by only 0.1% compared to the same period in 2012. Given AT&T's huge size and the high mobile penetration rate in the U.S., AT&T should continue to post relatively small growth over the next few years. The company has initiated a $14 billion investment program from 2013 to 2015 to upgrade its networks, which should help to gain market share from its competitors but most likely will only give a temporary boost to AT&T's top-line growth.
AT&T has made public over the last few months its intentions to grow abroad, mainly through acquisitions in Europe. According to media sources, the company has explored potential deals with Telefonica (NYSE:TEF), but its efforts were blocked by the Spanish authorities. AT&T has also interest in some assets of Vodafone (NASDAQ:VOD) or the whole company, a bid that would be easier to be approved by industry regulators after the sale of Vodafone's stake in Verizon Wireless (NYSE:VZ). However, the likelihood of a major purchase in Europe is quite low due to political opposition, such as in the case of its approach to Telefonica. Moreover, as the European economy has been quite weak over the past few years leading to lower revenues across the sector, Europe may not be the best option for AT&T to look for growth.
A better alternative may be available in TIM Participacoes (NYSE:TSU), the Brazilian unit of Telecom Italia (NYSE:TI). Recently, Telefonica has reached a deal to raise its stake in Telecom Italia and going forward it may take control of the Italian company. As Telefonica owns Vivo (NYSE:VIV), the largest mobile operator in Brazil, TIM Brazil would certainly be required by the Brazilian telecom regulator to be sold due to concentration issues if Telefonica increases significantly its position in Telecom Italia's shareholder structure. An international operator would be the most likely bidder, and AT&T is profiled as one of the leading candidates.
TIM Participacoes
TIM Brasil is currently the second-largest Brazilian mobile operator with more than 72 million customers. The company provides telecommunications services with a nationwide presence in Brazil. TIM Participacoes is a publicly-held company whose shares are listed on the São Paulo Stock Exchange and ADRs are listed on the New York Stock Exchange. Its main shareholder is Telecom Italia with an equity stake of 67%. Its current market capitalization is around $12.4 billion.
As of 30 June, 2013, the Brazilian market reached more than 265 million customers, which is above the country's population of about 194 million people. This implies a high mobile penetration rate of 134%, which is leading to lower subscriber growth rates than in the recent past.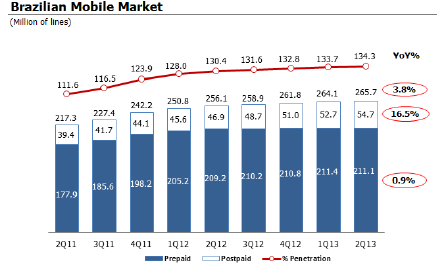 TIM Brasil is still enjoying above-average subscriber growth rates, increasing its market share. At the end of the second quarter, its subscriber base was 72.2 million lines, an increase of 4.8% against 2Q12, reaching a market share of 27.2%. The vast majority of the company's subscriber base is mobile, the market segment which is showing higher growth rates justifying Tim Brasil's above-average performance. In the first six months of 2013, TIM Brasil was the company that most expanded its customer base in the Brazilian market and the company considers that a pure mobile approach is the most suitable strategy to capture growth opportunities.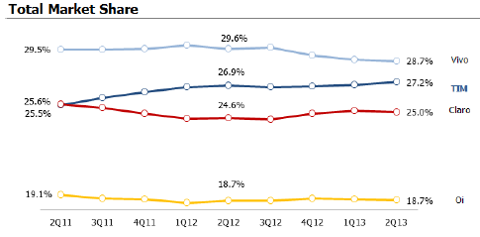 In 2012, TIM Brasil achieved more than $8.5 billion in revenues, an increase of 10% from the previous year. This compares quite well with AT&T's revenue growth of only 2.4% in 2012. Over the next three years, TIM Brasil expects to increase its revenues by high-single digit growth and achieve more than 90 million customers in 2015. Its profitability is good given that during the past year its EBITDA amounted to $2.3 billion, or an EBITDA margin of 27%. This EBITDA margin is higher than AT&T's, which in 2012 stood at only 22%. Therefore, TIM Brasil would give AT&T higher growth prospects and profitability than its current assets, making it a compelling takeover target.
Furthermore, TIM Brasil's balance sheet is very strong due to its very low level of debt. As of 30 June, 2013, its net debt was only around $900 million, representing a very low net-debt-to-EBITDA ratio of 0.39x. This level of debt makes this acquisition even more interesting for AT&T, as it would increase its leverage by a negligible amount.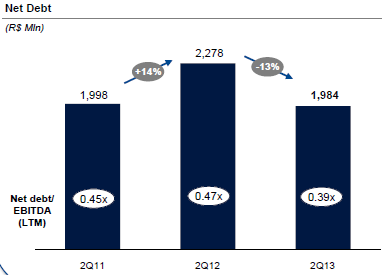 Financing the Deal
AT&T is a cash cow, with a very strong cash flow generation capacity. In 2012, its free cash flow amounted to $19.4 billion. However, its shareholder remuneration policy is very aggressive, given that it returned about $23 billion during the past year to shareholders through share buybacks and dividends. This implies some part of the shareholder remuneration was financed through debt, increasing the company's balance sheet leverage.
At the end of the second quarter of 2013, AT&T's net debt was about $47 billion. Its net-debt-to-EBITDA ratio was 1.67x, which is not worrisome for a stable company like AT&T and could be even higher. Therefore, AT&T could easily buy TIM Brasil completely through debt, or a combination of debt and organic free cash flow generation. During the first six months of 2013, AT&T's free cash flow amounted to $7.9 billion, of which $4.9 billion was spent in dividends. The cash spent on share buybacks was $9.2 billion, which given the relatively low balance sheet leverage is still reasonable. If AT&T would successfully bid for TIM Brasil it could suspend its share buyback program for a few quarters and finance the deal entirely through organic cash generated. However, this seems unlikely as management would most likely finance the deal only trough debt.
Assuming that AT&T would bid for 100% of TIM Brasil and would pay a 30% premium to its current stock price, the transaction would amount to about $16 billion. AT&T would then consolidate TIM Brasil's debt, which is currently about $900 million. This implies AT&T would increase its net debt to about $64 billion, or a net-debt-to-EBITDA ratio of 2.27x. This leverage ratio is acceptable for a company like AT&T, and could be reduced rapidly over the next couple of years if the company decides to reduce temporarily the cash it spends on share repurchases.
Conclusion
AT&T has been desperately looking for growth abroad, targeting Europe in particular but so far without much success. However, given Europe's woes this may not be its best choice and an opportunity may be present in TIM Brasil. Due to the increasing ownership of Telefonica in Telecom Italia, the Brazilian regulator could require an asset sale over the coming months and this seems to be a better alternative for AT&T than exposure to Europe. It would give AT&T better growth prospects and an increase of its profitability, without leading to much higher balance sheet leverage depending on the way it decides to finance this deal. Therefore, I think AT&T should definitively forget a purchase in Europe and focus on TIM Brasil as a better takeover target.
Disclosure: I have no positions in any stocks mentioned, and no plans to initiate any positions within the next 72 hours. I wrote this article myself, and it expresses my own opinions. I am not receiving compensation for it (other than from Seeking Alpha). I have no business relationship with any company whose stock is mentioned in this article.