Fellow author Paulo Santos (if you enjoy quality content, please hit the "follow" button under his avatar) recently put out an interesting note with respect to Intel's (NASDAQ:INTC) latest "Bay Trail" system-on-chip titled, "Bay Trail Tails". In the article, Mr. Santos offers up the observation that Intel's latest tablet chip suffers from an Achilles' heel, namely graphics performance. This conclusion was reached by examining a (limited) set of benchmarks published by tech site Engadget.
I believe that this view is incorrect and that Bay Trail actually does offer competitive (but not leadership) graphics performance.
Putting It In Perspective: Leadership CPU Performance
In a typical tablet system-on-chip (Bay Trail is for tablets, and the upcoming Merrifield chip is for smartphones), the key performance metrics are graphics performance and general purpose CPU performance, both of which are dependent on memory bandwidth. I believe that Intel's Bay Trail offers leadership CPU performance (and performance/watt) by a fairly large margin.
Indeed, a look at benchmarks run by AnandTech shows that in CPU-dependent benchmarks, Bay Trail offers a very clear performance lead against competitive ARM (NASDAQ:ARMH) solutions: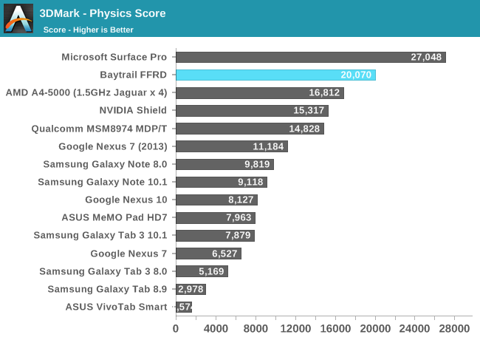 Click to enlarge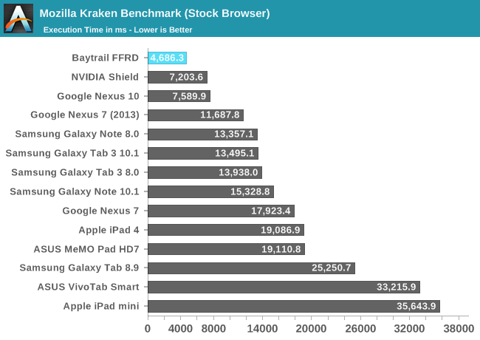 Click to enlarge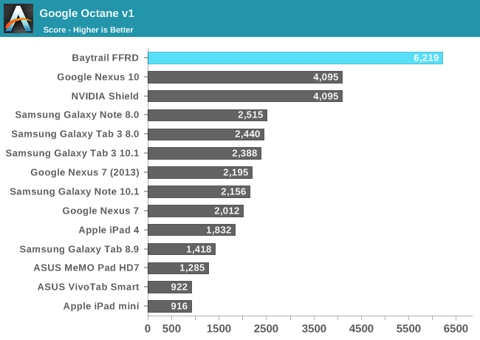 Click to enlarge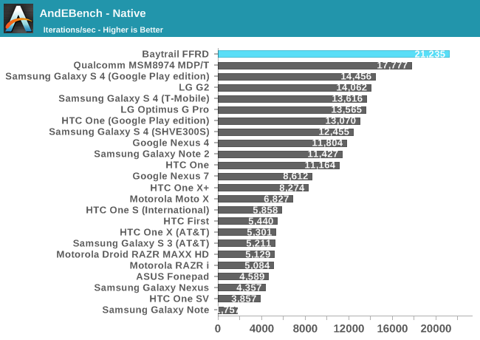 Click to enlarge
This means for the vast majority of tasks that users will perform on a tablet, Bay Trail is more than competent from both a performance standpoint as well as a power consumption standpoint (at IDF, I saw the system-on-chip power measured and it never exceeded 2.5W in a highly intensive PC CPU benchmark).
But what of graphics?
Bay Trail Graphics Performance: Competitive, But Not Leadership
Over the last few years, Intel has begun to wake up and recognize that the graphics processing unit ("GPU") is much more than a second class citizen. Indeed, while general purpose performance is important, having a high quality, low power video decode engine, as well as good 3D gaming performance, is integral to the user experience. So, how well does Bay Trail hold up in GPU-bound situations? Pretty well.
In the 3DMark (for mobile) graphics score, the Bay Trail reference design (a slim, 10.1" design) posts numbers that clearly trail the Nvidia (NASDAQ:NVDA) SHIELD (a fan-cooled system) and the Qualcomm (NASDAQ:QCOM) development tablet (a very thick, 11.6" device), but are slightly ahead of the Snapdragon 600 found in the Google (NASDAQ:GOOG) Nexus 7 (2013):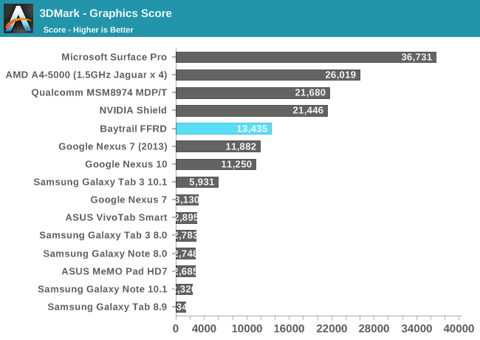 Click to enlarge
Now, a look at Basemark X, a benchmark that Anandtech claims is "more GPU bound than 3D Mark," shows the Bay Trail tablet again trailing the Nvidia SHIELD and the Qualcomm Snapdragon 800, but matching the iPad 4 and pulling ahead of the Nexus 7: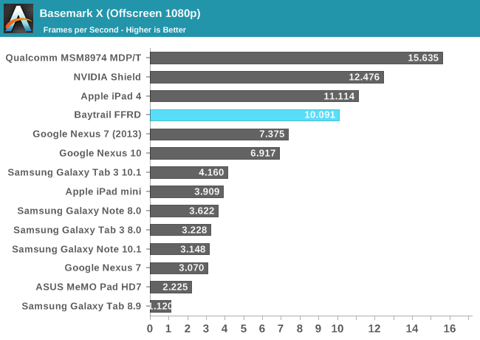 Click to enlarge
Is the Bay Trail GPU leadership against the 11.6" reference tablet or the fan-cooled handheld gaming device? No, it's not. It's competitive, and it's above the majority of shipping devices today, but I agree that it's not leadership.
So, What Happens?
Intel's GPU performance in Bay Trail is pretty good, but not "great," but its CPU performance and power consumption are indeed leadership. So, what does this mean? It means that Intel's chip is unequivocally competitive.
Luckily, on the Windows 8.1 side of things, the ARM vendors don't stand a chance as all of the OEMs have abandoned Windows RT (except for Microsoft itself), so any share gains from designs based on Windows will be a positive for Intel. What's encouraging is that the Dell Venue 8 Pro, the Lenovo Miix 2 and the ASUS Transformer T100 (a best seller even in pre-order on Amazon) are all well-thought out designs at great price points.
On the Android side of things, it gets tricker. On one hand, the same OEMs that are building Windows tablets are building Android devices. Nobody knows what the mix between Windows 8.1 and Android tablets will be this winter and going into 1H 2014, so what I suspect could happen is that Bay Trail could be chosen simply on the basis that it substantially reduces the risk for the OEMs. Think about it - the OEMs can use the same exact same designs, from exterior to interior, if they simply build around an Intel chip. Just ordering a bunch of Bay Trails in bulk from Intel (and I'm convinced Intel is pricing very aggressively), building the tablets, and then loading the correct OS and attendant firmware depending on the demand environment has to be a major competitive advantage in itself.
On top of this simplification of inventory management, the OEMs get a chip that has best-in-class power consumption, best-in-class CPU performance and the favor of the chip giant that also supplies all of the chips that they use in PCs. Do you really think a "less-than-leadership" score in 3DMark or GLBench (but still an excellent user experience in all tablet games) will offset these advantages? No!
But what it does mean for Intel is that it can't charge a premium. In order for Intel's strategy to really work (i.e. own the tablet space and make PC-like money at it), the parts it builds on the leading edge process need to be miles ahead of what the competition can do on the foundries' leading edge processes and then the n-1 generation part from Intel needs to be very competitive with the leading-edge part from the vendors relying on foundries. Why? Because Intel's wafer costs will be much lower (n-1 factories likely to be fully depreciated by the time Intel is on generation n, yields will be excellent, and Intel's restricted design rules typically lead to processes that are harder to design for, but lower COGS than competitors doing the same thing).
So Intel, in this case, ends up undercutting the top end of the fabless guys who are on an a generation-behind process (the yields on these processes won't be as good as an Intel n-1 generation, the foundry needs its "cut", and ARM needs its royalyies - and the royalty percent only goes up with ARMv8), and then charging a premium at the very top. Even better, is that Intel's bigger "Core" products are coming down into tablet form factors (indeed, next year's 14nm "Broadwell" will go into fanless tablet designs), so it will have pricing power and unequivocal performance leadership at the top.
Intel's strategy is sound, Bay Trail a competitive product with some real advantages, and its higher end Core products will also come in from the top to lock-down fanless tablets with premium performance. All of the pieces are there for Intel to win. It's just a matter of watching the plan unfold over the next year with an initial read on track for next week's earnings call.
Disclosure: I am long INTC, NVDA. I wrote this article myself, and it expresses my own opinions. I am not receiving compensation for it (other than from Seeking Alpha). I have no business relationship with any company whose stock is mentioned in this article.