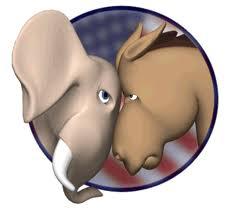 The current crises is a travesty. Since when is it OK to only enact the laws you personally agree with? Regardless of which side you are on Obamacare, and I am not taking sides, it is the law that was passed by Congress under the Constitution. Clearly this makes for a dangerous precedent.
We the people are being held hostage. Almost every day we hear from Jack Lew, our Treasury Secretary, warning us that the government will be officially broke, that the bills for what the U.S. government has already spent will go unpaid.
How have the Republicans responded? By having an official U.S. senator read Dr. Seuss' "Green Eggs and Ham," into the Congressional Record. Anybody see a disconnect?
The Democrats know that time is on their side and are astutely playing their hand accordingly. They know that the last time the Republicans closed the government, they took a big hit in the next elections.
Even more interesting is that the Democrats know that they are winning the demographics battle. As you know from my book "Facing Goliath - How to Triumph in the Dangerous Market Ahead," I love the study of demographics because from it you can accurately forecast and predict economics, the stock market and politics.
You see, every year the Democrats pick up 3 million new voters through no effort of their own. Some 2 million young voters turn 21 every year, and 80% of these vote Democratic, if they show up to vote of course. Additionally, another 1 million newly naturalized legal immigrants join the voter rolls each year. Practically all of these new voters back Obama, and they DO show up, since citizenship is such a hard fought prize.
This means Democrats will gain a substantial percentage of 12 million votes nationally by 2016. Unfortunately, even though this information is public record, the Republicans continue to shoot themselves in the foot. While the Democratic Party is moving toward the middle, the Republicans are moving further to the right.
Please understand that I am not taking political sides here, nor do I wish to upset half of my readers, clients and friends. I am a neutral investor. I just want my clients to make money no matter which silly party is in control.
The bottom line here is that all the childish theatrics in Washington are simply nothing more than irrelevant headlines, and will prove to be little more than a speed bump for investors.
The real test will be when the Fed ends the stimulus, inflation roars back, and when our aging population stops working all together and they demand the entitlements that were promised to them all their life.
The bottom line is that once the Washington games are over, the market will soar.
Investors Strategy
With no taper on the horizon expect a stronger market ahead, the budget battle sure to end soon and earnings likely to be better than expected, investors can load up on quality growth stocks, focusing on technology companies that possess an advantage in business innovative and personal solutions that will lead to greater efficiencies for years to come. Investors who can withstand volatility with a big potential reward can buy Apple (NASDAQ:AAPL), which just brought out its new line of goods and is seeing strong sales: Google (NASDAQ:GOOG), which has new products out with many more on the horizon, and many periphery companies that will support these new innovative developments that will revolutionize the communications market such as Intel Corporation (NASDAQ:INTC), Qualcomm (NASDAQ:QCOM), Microsoft (NASDAQ:MSFT), Cisco Systems (NASDAQ:CSCO) and VMware Inc. (NYSE:VMW). For a more diversified approach, buy the broad market ETFs like the SPDR S&P 500 (NYSEARCA:SPY), PowerShares QQQ Trust Series 1 (NASDAQ:QQQ) and iShares Russell 2000 (NYSEARCA:IWM).
Gold and silver have had a little resurgence with the Fed's announcement, but I am still wary and would sell the metals, such as the SPDR Gold Shares (NYSEARCA:GLD), PowerShares or Market Vectors Gold Miners ETF (NYSEARCA:GDX) on any strength.
Disclosure: I have no positions in any stocks mentioned, and no plans to initiate any positions within the next 72 hours. I wrote this article myself, and it expresses my own opinions. I am not receiving compensation for it. I have no business relationship with any company whose stock is mentioned in this article.