Veeva Systems Inc. (NYSE:VEEV) and selling stockholders are offering 13,045,000 Shares of its Class A common stock in the price range of $12.00 and $14.00 per share. The expected listing date is October 16, 2013 on New York Stock Exchange (Source: IPO prospectus)
Business overview:
Veeva is a leading provider of cloud-based software solutions for the life sciences industry. Its solutions include customer relationship management solutions ("CRM"), content management and collaboration solutions, and newly launched customer master solutions that help life sciences companies create and maintain a single, complete and accurate record of the healthcare professionals and healthcare organizations with which they interact. Its CRM solution, which contributes more than 95% of its subscription revenues, is based on Salesforce (NYSE:CRM) Platform.
Its solutions also meet compliance and regulatory requirements of the industry. Its prominent competitors include Oracle Corporation (NASDAQ:ORCL), EMC Corporation (EMC), Microsoft Corporation (NASDAQ:MSFT), etc.
Financials:
The company generates its revenues, mainly from subscription fees and professional service fees.
| | | |
| --- | --- | --- |
| ($ in thousands) | FY 2013 | H1 FY 2014 |
| Revenues |   |   |
| Subscription services | 73,280 | 62,000 |
| Professional services and other | 56,268 | 30,369 |
| Total revenues | 129,548 | 92,369 |
| Cost of revenues |   |   |
| Cost of subscription services | 18,852 | 14,898 |
| Cost of professional services and other | 38,164 | 21,954 |
| Total cost of revenues | 57,016 | 36,852 |
| Gross profit | 72,532 | 55,517 |
| Operating expenses |   |   |
| Research and development | 14,638 | 11,884 |
| Sales and marketing | 19,490 | 17,272 |
| General and administrative | 8,371 | 8,350 |
| Total operating expenses | 42,499 | 37,506 |
| Operating income | 30,033 | 18,011 |
| Other income (expense), net | -940 | -564 |
| Income before income taxes | 29,093 | 17,447 |
| Provision for income taxes | 10,310 | 6,604 |
| Net income | 18,783 | 10,843 |
| Pro forma net income per share (Basic) |   | 0.09 |
| Pro forma shares (Basic) |   | 122,252,440 |
Industry:
The global life sciences industry is a large industry, with over 23,000 life sciences companies. International Data Corporation, estimates that life sciences companies spent approximately $44 billion on technology in 2012, including $28 billion on software.
Addressable market for the company:
As per the company's own analysis, the total addressable market for the company is estimated to be about $5 billion (at-least).
Key points:
Key positives:
1. Cloud based solutions:
The cloud base solutions are rapidly replacing the traditional solutions in all kinds of industries, including the life-science industry, due to its benefits like instant availability, scalability, cost-effectiveness, simplicity and the availability of more reliable, fast and secure Internet connectivity.
2. Rapid growth:
The company is growing at a rapid pace, in the last two fiscal years its revenues grew by more than 100% as compared to revenues from the prior fiscal year. Other financial parameters (operating income and net income) are also showing a healthy growth trend (see the chart below).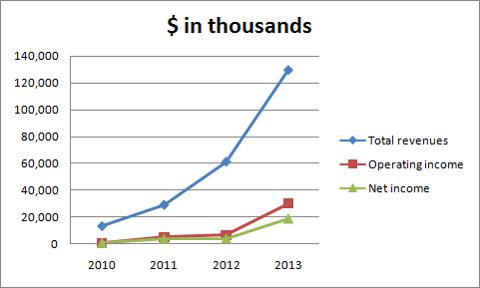 3. Rising subscription revenues:
As compare to its Professional service revenues, its Subscription revenues are growing at a faster rate. Subscription revenues are more recurring in nature and offer much higher margins as compare to other revenues (see the chart below).

4. Quality of products/solutions and customers:
The quality of the solutions offered by the company is excellent as evident from the quality of its customers. Its solutions are used by nearly 33 of the top 50 global pharmaceutical companies such as Bayer AG, Eli Lilly, Merck (NYSE:MRK), and Novartis. As of August 31, 2013, the company's solutions are used by approximately 170 life science customers.
5. Focused on single industry:
The company is totally focused on the life-science industry this leads to a number of benefits like effective resource deployment and focused R&D approach. This shall lead to higher margins and better products.
6. Compliance and regulations:
Its solutions are used for business activities that are subject to a complex regime of global healthcare laws and regulations. The company maintains a dedicated team of quality and compliance experts that makes sure that its products meet the requirements of the FDA and other global life sciences regulatory agencies.
7. Geographically diverse operations and global reach:
Though the company generates large part of its revenues from North but it is rapidly expanding its global reach by entering into new geographic regions. This is evident from the fact that today the company generates nearly 40% of its revenues from Europe and Asia-pacific regions as compare to under 10% in FY 2011 (see the table below). Today the company has a significant international presence and its solutions has been deployed in over 75 countries. This geographic spread, to some extent, shall save it from any region specific slowdown.
(as a percentage of total revenues)

 

2011

2012

2013

H1 FY 2014

Revenues by geography:

 
 
 
 

North America

93

78

65

60

Europe

7

17

23

24

Asia Pacific

-

5

12

16

Total revenues

100

100

100

100
8. Very healthy revenue retention rate:
The company's revenue retention rate is very healthy. Its subscription services revenue rate was 192%, 159%, and 187% for the fiscal years 2011, 2012 and 2013, respectively.
(This calculation includes the impact on our revenues from customer non-renewals, deployments of additional users or decreases in users, deployments of additional solutions or discontinued use of solutions by our customers, and price changes for our solutions.) (Source: IPO prospectus)
9. Huge addressable market (discussed above)
Negatives:
1. Very competitive industry:
The company operates in a very competitive industry where it competes with numerous players, some of which are much bigger and financial much stronger than the company. Some of its prominent competitors are: Oracle Corporation , EMC Corporation , Microsoft Corporation , etc.
2. High dependence on single product:
Currently generates 95% of its subscription revenues from its CRM solution, most of its other solutions are either in their initial stage of growth or are yet to be fully launched. There is no assurance that the company will get same encouraging response from the customers for new products as for its CRM product. Moreover, the company may have to accrue additional sales and marketing expenses to promote these new products which can put pressure on the margins.
3. Normal business risks:
Normal business risks like emergence of the new competitors with the better product/service offerings, any adverse change in the Govt. regulations, any economic slowdown, etc.
Valuations:
At $13 (mid range of offer price) the company's valuations stand at $1.6 billion. At $13, the company is available at P/E of about 71.5x (trailing twelve months).
Conclusion:
In the near future, the company is expected to carry on with its revenue expansion, though the growth rate may come-down due to the rising scale. Its product quality is excellent as evident from the quality of its customers and its exceptionally high revenue retention rate, but over-dependence on its CRM solution is a cause of concern.
The immediately addressable market size is huge so the company holds immense growth possibilities, these possibilities will only grow as the company intends to introduce new products in the market. Considering both the growth potential of the company and also the valuations that the cloud based companies currently attracts in the market, the valuations look reasonable.
The company holds all the ingredients for a successful, long-term, growth story. Nowadays, these types of profitable growth stories generate a lot of enthusiasm among the investor-community and found a lot of favor among investors.
Data source: IPO prospectus.
Disclaimer: Investments in stock markets carry significant risk, stock prices can rise or fall without any understandable or fundamental reasons. Enter only if one has the appetite to take risk and heart to withstand the volatile nature of the stock markets.
This article reflects the personal views of the author about the company and one must read offer prospectus and consult its financial adviser before making any decision.
Disclosure: I have no positions in any stocks mentioned, and no plans to initiate any positions within the next 72 hours. I wrote this article myself, and it expresses my own opinions. I am not receiving compensation for it (other than from Seeking Alpha). I have no business relationship with any company whose stock is mentioned in this article.