Microsoft (NASDAQ:MSFT) recently announced that it was extending its trade-in program to include "gently used" the Apple (NASDAQ:AAPL) iPhone 4S and the iPhone 5. The program extends the one that gives consumers a minimum of $200 for iPads that are turned in at Microsoft stores. The brilliance of the plan is that it allows consumers to use the credit toward any Microsoft product they want, including a new Xbox or a new PC. While Microsoft would ideally like to drive sales of either its Nokia (NYSE:NOK) Lumia series Windows Phones (or other Windows Phones) or the company's recently announced Surface 2 tablets. Either way, if Microsoft can use the program to drive sales, it is something for investors to take note of when considering the stock.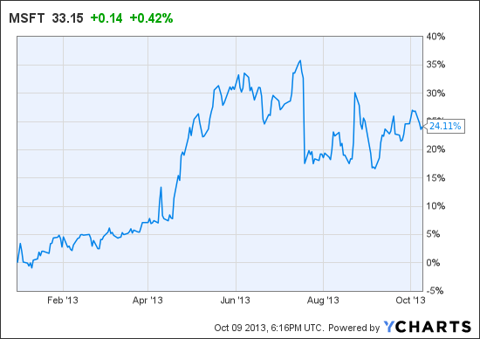 MSFT data by YCharts
In the video below, I discuss the significance of the trade-in program, what it means for Microsoft stock, and why, with a dividend yield of 3.3% and a P/E under 13, I remain bullish on the stock.
Disclosure: I have no positions in any stocks mentioned, and no plans to initiate any positions within the next 72 hours. I wrote this article myself, and it expresses my own opinions. I am not receiving compensation for it (other than from Seeking Alpha). I have no business relationship with any company whose stock is mentioned in this article.