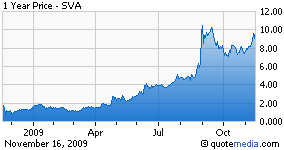 Sinovac Biotech Ltd. (NSDQ: SVA) announced it has won a $3 million contract to supply its hepatitis A vaccine, Healive, to the Shanghai government. Sinovac said five companies vied for the contract, but Sinovac was chosen the sole supplier. Sinovac will supply Healive to Shanghai over the next twelve months.

The order came as a result of expanded government purchase programs for vaccines, which are part of the national expanded immunization program (EPI) funded by the Chinese government.

In its Q3 earnings release Monday, Sinovac reported that revenues of Healive were down slightly from the year-earlier quarter, but sales of its flu vaccines absolutely soared, lifting Sinovac's Q3 revenues from $8 million a year ago to $21.2 million this year, an increase of 142%. Net income rose 606% to $5.2 million or 12 cents per share (fully diluted.)

The biggest increase came in the company's seasonal flu vaccine, Anflu, which has never been a huge seller in the past. With this year's flu scare, however, it has become a highly desired product.

Most of the company's sales for its swine flu (H1N1) vaccine, which is known as PANFLU.1, will be recorded in Q4. So far, Sinovac has announced orders for 11.5 million doses of PANFLU.1, but it booked revenues from just 586,000 doses during Q3.

In Q3, the company sold the following number of doses for its flu vaccines:

2009
Seasonal flu (Anflu) 4,312,000
Pandemic flu (H5N1) 20,000
PANFLU.1 (H1N1) 586,000
2008
Seasonal flu (Anflu) 512,000
Pandemic flu (H5N1) 0
PANFLU.1 (H1N1) 0
Disclosure: none.