Data released by the Energy Information Administration ("EIA") show a boom in gasoline and distillate exports (distillates include diesel). While domestic gasoline demand is relatively flat, and almost all domestic gasoline is now ethanol blended E10, refiners like Phillips 66 (NYSE:PSX), Marathon Petroleum (NYSE:MPC), and Valero (NYSE:VLO) are nicely positioned to cash in on the export trend. Ethanol blending is not required for gasoline exports.
As a recent article by the Wall Street Journal's Ben Lefebvre points out, in addition to growth from the traditional Latin American and Middle Eastern export markets, exports to Africa and Asia are growing much faster (see chart at right). Exports to Europe actually showed a decline.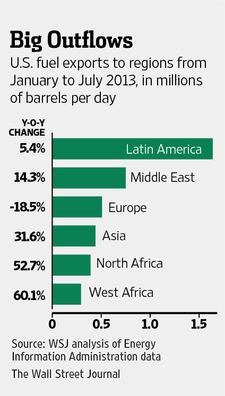 U.S. refiners exported a record 3.8 million bpd of refined product in July. That is ~65% above export levels in 2010. Diesel exports passed the 1 million barrel/day mark for the first time this summer - up from only 300,000 bpd in 2010.
Total US exports to China have risen dramatically from under 1 million barrels a month in 2009 to over 4.3 million barrels in July of this year. Many foreign customers, struggling from urban smog, are seeking low-sulfur diesel that meets stringent US air-quality standards.
U.S. refiners, facing higher RIN costs as a result of hitting the much publicized "ethanol blend wall" are seeking relief from an export market that does not require ethanol blending.
Who Wins?
In a Seeking Alpha Q2 transcript, Marathon Petroleum reported light product exports from its Garyville and Galveston Bay refineries increased to 190,000 bpd during the second quarter of 2013.
As for Valero, President and Chief Operating Officer Joe Gorder said in Q2 transcript the company exported 70,000 bpd of gasoline and 170,000 bpd of diesel. He said the company has a potential export capacity for 225,000 barrels a day of gasoline and 280,000 barrels a day of diesel.
In Q2, Phillips 66 increased its refined product exports to 181,000 barrels per day - an increase of 75,000 bpd from the same period last year and 31,000 bpd more than Q1. About 80% of exports was distillate and 20% was gasoline.
At a recent Barclays Energy Conference, Phllips 66's Greg Garland spoke about US refiners' cost advantage over European and Asian competitors:
When you look at U.S. refiners in general, they have an energy cost advantage over European and Asian refiners of $1 to $3 a barrel. I think we're going have some advantaged crude. We have the close geography. So I think that not only can we take the growth, we can compete and win in displacing others that are exporting into those markets today.
PSX is positioned perfectly to cash in on the export trend. The company has 7 domestic coastal refineries and according to a Barclay's Energy Conference presentation plans to grow export capacity to 500,000 bpd.
Garland discussed the company's desire to invest in refining infrastructure on the front end to capture advantaged crudes, and on back end export infrastructure. Yet it is clear the company views investments in its refining operations as optimization and maintenance. PSX is targeting its midstream and chemicals segments for the bulk of the company's long-term growth prospects.
Summary & Conclusions
Refined product exports are becoming an increasingly important market for US refiners as domestic demand is expected to fall in the coming years. In addition, gasoline exports do not require expensive ethanol blending. Domestic refiners have natural gas and crude feedstock pricing advantages over its foreign competitors and a $1-3/barrel energy cost advantage. While several US refiners are positioned nicely to profit off the export trend, I continue to favor Phillips 66 for its stronger growth prospects due to the company's significant midstream and chemicals operations. The midstream segment is poised for growth due to demand for capacity to satisfy growing US energy production. The midstream segment will also provide a growing tax advantaged income stream via asset drop downs to its Phillips 66 Partners (NYSE:PSXP) MLP. The CPChem segment, a 50-50 chemicals joint venture between Chevron (NYSE:CVX) and Phillips 66, has significant capacity expansion plans and is also benefiting from low natural gas and natural gas liquids ("NGLs") feedstock. As noted in a previous article, Phillips 66: The Gift That Keeps On Giving, PSX has announced $3 billion in share buybacks and has raised the dividend three times since its IPO in May of 2012. The stock new yields 2.6%. In spite of the recent pullback, I reiterate my 12 month $70 price target and BUY rating. As the chart below shows, PSX has outperformed its pure refining peer group and I expect this outperformance to continue well into the future.
NOTE: PSX will announce Q3 results on October 30 at 8am EST.
PSX data by YCharts
Disclosure: I am long CVX, PSX. I wrote this article myself, and it expresses my own opinions. I am not receiving compensation for it (other than from Seeking Alpha). I have no business relationship with any company whose stock is mentioned in this article.
Additional disclosure: I am an engineer, not a CFA. The information and data presented in this article was obtained from company documents and/or sources believed to be reliable, but has not been independently verified. Therefore, the author cannot guarantee its accuracy. Please do your own research and contact a qualified investment advisor. I am not responsible for investment decisions you make. Thanks for reading and good luck!